After a lack lustre January that saw us fail to show our hand at any of their happenings and with so many new clubs & events launching elsewhere this month, this coupled with an undercurrent of uncertainty as promoters & key players have been pulled from the picture, we start our new series of "Seventh Day Sermon's" by entering the lion's den that is Orange Nation and share our thoughts on why we are finding our favour faltering.
 
Striking an independent balance is part & parcel of our core aims and achievements when we promote the clubs, events, music producers, businesses & publications that we do, while we also apply plumes of passion as well as conviction, both which have built the reputation we have today for not just spreading the love, but balancing our coverage in terms of reviews, previews, recommends & other posts fairly & consistently. And while many are hugely appreciative of our support, remarks such as "…one of the industry's most loved columnists…" contributing to a continual stream of gracious gratifications that make our work worthwhile, we are all too often accused of being biased by and to certain quarters of the clubbing circuit, this never having been an issue with the internationals we support, but right here in London. Indeed, if we had a penny for every crumb of criticism, every moaning message, every conflictual comment and every enraged e-mail we have received over the years, our piggy bank would be brimming by now. However, we would be the first to admit that, for persistent periods over the last twenty four months, but particularly in the last twelve, our appearances & our posts have leant too far much in the direction of Orange Nation and its collection of clubs, our excuse, while no real defence, is that in both Beyond and certain key players & promoters in the Orange Nation mix, we have had a favourite frolic & a flock of firm friends.
Indeed, our support for Orange Nation has, in the main, been extremely positive in the last few months, the controversial edge that used to be a feature of our early work, all but disappearing, a casual comment from a D.J. pal on the Beyond dance floor recently confirming this, when part of the conversation included, "…I really miss your controversial posts…", those so called critical & contentious articles, reviews & features never posted simply to poke & provoke, but based on actual beliefs and witnessing of shortcomings. And we have never been one to skirt issues or avoid tricky matters, while as we said earlier, we have always sought to strike a reasonable balance when faced with the difficult dilemma of saying it as we see it, particularly when recommending clubs & events, recent examples of parties falling into that bracket including Matinee "Pervert", Beyond & Manic Panic! That said, when great things happen and when really good events come up, we are the first to throw our wholehearted support behind them, in the case of Orange Nation, Deelooded benefitted from one of our most positive previews ever, while we boosted their January Free Clubbing offer, the new February pass and, as recently as this weekend, their As One "In The Park" festival which, on paper at least, looks to be one of the best gay gatherings in years. 
However, the phrase, "…what a difference a day makes…" or in this case, a handful of 2013 weeks, has come to bear upon our brow, as we have found ourselves taking off those rose tinted glasses that, in the case of Orange Nation, we have been accused of wearing for far too long and in so doing, clouding our judgement and prejudicing our publications, although with those glasses now off, our eyes have re-opened to a host of other clubs & events that we have been overlooking, we  find ourselves, once again, sharing our coverage more evenly & fairly, while naturally picking out those clubs & events we consider deserve our full blown attention, shifting the emphasis away from the Orange Group & their events. Yet while we haven't turned our back on Orange Nation, far from it, following a disturbing set of developments in recent weeks, we find our favour towards them faltering, a whole set of circumstances changing the way we both view the group and feel we can actively propel & promote some events of theirs in a positive way. And this is manifested in the fact that the mainstay brands, such as Beyond, A:M, Later & Orange, have been subject to constant tampering, many damaged as a result, some irreparably so, while D.J.'s, promoters and organisational individuals within & connected with the organisation have been treated dreadfully, reports of abuse and other shocking incidents & irregularities, many inexcusable in our eyes, leaving us asking questions of our own opinion of the Orange Group. Furthermore, of the spartan new ventures & club concepts Orange Nation has brought to us recently, they have either consisted actually of nothing new, or the idea & concept of the so called new is flawed on so many levels, thus rather than adding to the capitals clubbing circuit choice, they are simply replacing what has been lost with the same old same old, that or doomed for disaster drudgery.
Now, while a whole host of the accounts, claims & stories surrounding the mistreatment of individuals at the hands of Orange Nation leave our skin crawling in disgust, it would serve no purpose to either reveal the details of cases, circumstances, issues or indeed individuals, but rather to highlight this as a significant reason why we have found our favour to this clubbing group faltering. But what we can account for, are those club brands which have fallen prey to either Orange Nation's greed or their desire to fix something that isn't broken, Beyond right at the top of our list, not least that we have made no secret of the fact that it attained the status of our favourite club of all time. However, that very status is now in serious danger of dissolving, as we are left bemused by the sheer volume of "Midnight" events in 2013 alone, while the timings continue to chop & change as often as the wind direction, the same being said for the resident team of D.J.'s, some of whom are left off the weekly roster completely, while others are snubbed for their audacity to play for other promoters. So, as a result of this, Beyond, for us, has lost its appeal & draw and while the numbers may not be reflective of our view, the club is nowhere near as great this year, as it was last, the year before last, or the year before that, other examples extending to A:M, which was inappropriately used to fill a Friday clubbing schedule, lost its afterhours appeal as a result and now,  having now switched back to its Saturday morning status, looks like struggling to survive, Orange, the emblem of the group, a pale of its former self, like many of the brands, having changed promotional hands as often as hot dinners, while the less we say about Manic Panic & District XXX the better, the concept of the former probably the worst we have ever seen, while the latter is a copycat of what proved to be one of our favourite frolics of 2012.
However, it goes much deeper than all of this, as with the benefit of hindsight, we look back over the last two or so years and see how the scene has changed and not for the better but for the worse, much of this lying at the doors of Orange Nation, how the scene schedule on Saturday's for example, is not a patch on what it used to be, as promoters & clubs have been squeezed out of the partying picture, certain promoters throwing in the towel on Vauxhall and moving elsewhere, while others have been forced out of business completely. Moreover, with Orange Nation's seemingly insatiable desire to dominate the capitals clubbing circuit, many of those Saturday scene shindigs are now no more, yet have not been replaced by Orange Nation events, the group's creativity on what should be the biggest clubbing day of the week being to simply extend the opening hours of Beyond. Indeed, as a result of the crushing of competitors to Orange Nation's own perceived clubbing crown, what it has simply served to achieve is that Vauxhall is left as the only playing ground for what we would call mainstream &/or big style regular gay clubs, the lack of any decent new brand blood to replace the ones lost, leaving the existing ones both monotone & mundane, for us, verging on the downright boring. But there is more that has dented our demeanour towards Orange Nation, that being the instantaneous & irreverent jumping of ship of many of those involved with Profile/Lo-Profile, moving not just themselves but brands associated with the former, all to Orange Nation and seemingly without a blinking of an eye or with any sort of respect for what has been a genuine loss to the scene, not just in Soho but London wide, the legacy that our Wardour Street wonders could have left, rather simply gobbled up by Orange Nation, the spotlight specifically on Society, while more indiscriminately, PLAY>TIME, which when you look at District XXX, is that copycat clubbing we referred to playing out for all to see.
On the positive, we can breathe a sigh of relief that ventures such as East Bloc in Shoreditch and its clutch of club nights is serving up viable & now very popular alternatives to the Vauxhall same old same old, while real success stories like WAR, DISH, SOS & Heroes, are offering both vitality & variation to Vauxhall. Indeed, it has been pleasing to see previously pushed out promoters returning to the scene, bringing with them fresh new ideas & clubbing concepts, This Is Prohibition one such example, we also finding new blood sprouting up in Soho, Bakebox a couple of weeks away from its second showing, Swallow another newbie and Manbar finding its feet & stride with a whole set of soiree's sprting some of the biggest D.J. stars on the London scene, while existing parties Room Service & Gigolo remain as popular and packed as ever. And scratching beneath the varnish & veneer of Vauxhall itself, there is much happening to rock that so called dominating world of Orange Nation, Union fighting back with the likes of Booster, Wrong & others, Hard On! (now based there) reporting one of its best ever turnouts just last night, while Barcode looks like it may be coming back into its own, The Eagle having just celebrated its ninth year and still pulling in the numbers now as it did then, clubs such as Tonker, Carpet Burn & Horse Meat Disco major contributors. Plus with a big announcement imminent, one which will pave the way for a fairer, more fun-filled & positive playing field in Vauxhall and beyond, the inclusive nature of the players & performers within the scene the main thrust, it seems that competition crushing is a thing of the past and with this exciting news about to erupt, it may be more than just our favour towards Orange Nation that falters, but a cataclysmic change to the capitals clubbing circuit that sees a future bright and not just one that is Orange. (DISCO MATT)
Continuing to find a new niche for our Best Bites within our weekend newsletter, this time we have decided to ditch the former format further, simplifying our selections into our top three choices of where to be & be seen on the scene, whether in London or internationally, we then squeezing in a small selection of short shouts along with news nibbles of some more February frolics to look forward to.
Well, the closure of Profile & Lo-Profile continues to leave us at sea with sustaining our former newsletter format of bringing you our Weekend Best Bites choices one each from Soho, Vauxhall & Shoreditch, last week seeing us introduce an international flavour, one we are keen to keep up. And a week on finds us with another fresh pair of eyes on the recommendations prize, deciding to ditch the former format further, making it as simply as possible, picking our top or the tree three from wherever they may be, the question remaining, will Vauxhall sweep the board or will our continental cousins get a look in?
So let's get to answer that question, our first choice from Vauxhall, A:M making it here two weeks in a row, not least that there is big news on the promotions front, although for us mixed emotions as it seems that Steven Sharp, in our books the best in the game, is no longer the clubs promoter, this news having passed right under our radar save for an inkling when we saw this week's events page. And as if we had already had enough bad news following those sudden Profile/Lo-Profile closures, this is a major blow both for the club and for the scene in general, Mr Sharp, without doubt, the most adept in PR, in artwork ideas, in networking, well in all aspects of promotion really, while its was Steven that turned the fortunes of A:M around, cleaning up its crowd act, focusing on the music and bringing in some big named guests to propel AM's profile. So, it is a sad day indeed for us and we wish Steven well with his further promotional aspirations, while we are sure he will throw himself into his D.J.'ing & production with studio & playing partner George Sharp who together, naturally, make up The Sharp Boys.
With Steven gone , who has taken over?, Well by all accounts the marvellous Mauricio Ortiz has stepped into the breach and will, at least, be holding the fort while a fully fledged promoter can be found. That said, Mauricio's experience n & around the promotions game speaks for itself, from SuperMartXe to Beyond, CasaLatina to Matinee, our brilliant Brazilian has seasoned promotional hands, while he is a real grafter, often being the one that puts in the hard work while others bask in the glory, so we feel that A:M is certainly in a safe pair of hands. So that's the news, what about tomorrow's (Fri 25th Jan) event?, well it is quite a special one, as it marks the long awaited & much anticipated return to the capitals clubbing circuit of international playboy D.J. Paul Heron, who had taken a leave of absence to get married & soak up the sun in Southern Africa. But he is back and headlining this event, which takes place at Fire in Vauxhall from 11 p.m., others on duty including D'Johnny, Matt Bogard & (wait for it) The Sharp Boys, while Onyx holds on by the skin of its teeth to the second lounge space, DMS serving the pop, while it's tech & euphoric house heaven in the main room. Hosted by Andre Hellstrom & Louise Port, entry is free before 4am with a brand new Orange Nation membership card, otherwise with a flyer or ad its £3 before midnight, £6 before 5 a.m. and £10 after, while that full price £10 is for all others, further info out on the events page at https://facebook.com/events/322450467855010/.
One down, two to go and we stay in Vauxhall moving from Saturday to Sunday morning, which can only mean one thing, yes it's Beyond which, in reality, is never far from our attention, even if NYD was the last time we trod its dancefloor boards. However, with Paris the first weekend, then DISH the second, plus with the prospect of a string of "Midnight" format frolics to contend with, we made it clear that we would give our favourite club of all time a bit of a break. Indeed on the subject of this "Midnight" format, we still can't quite understand the package, a club that has always been in the amazing afterhours bracket, not once, twice or three times, but six in the last eight stretching an extra 4/5 hours back into Saturday, seems to us quite ludicrous. And it's not as though the main room is open from that time, not at all, as it's just the terrace till 3, then the chapel space till 5 or 6 when the sardine like squash forces the promotions team to react and open the main room, this the reality of what clubbers come up against and feel about this format. That said, on the special occasions, like for example a Beyond vs. Matinee party, this "Midnight" format makes inherent sense, but on a dark, dank & cold January Saturday, no, not at all!!, we having made our views perfectly clear to the promotions team on more than one occasions.
So, are we relieved, pleased & ecstatic that Ben Kaye & his crews have woken up and smelt the roses, as Beyond from this week kicks off at a much more reasonable 4 a.m. start, this sure to make all the difference to the D.J.'s, the atmosphere and the whole feel of the club, returning that hedonistic feel that starting your clubbing in the wee early hours brings. And Sunday (26th Jan) also marks the return of Beyond's all-star resident, a man who has been there since the start and continues to have the pulling power & prolific performance credentials that he had back then, yes of course, its Steve Pitron, an extended 2 ½ hour set from 7 a.m. sure to pack that Area main room to the rafters. As for the rest, well Fat Tony follows Steve until close at midday, while the chapel sports the dynamic duo of David Jimenez & D'Johnny, girl power the name of the game in the terrace, with Ania (still not sure about her music) & the back-to-back Maze & Masters. And as Ben tells us, "…come and see what all the fuss is about as London's best weekly party takes centre stage. ON memberships are still valid on this the last weekend of January and the Guest List will be open but only for a few hours; so make sure if you are on it…" while advance tickets are on sale online at http://orangenation.co.uk and at Soho outlets Prowler, Clone Zone & Fifty Dean, as well as at both Ku-Bars and at Rupert St which, every Saturday, hosts the Beyond pre-party from 9 p.m. till midnight, more details up at https://facebook.com/events/199497296862075/.
Now how are we doing so far with that answer? Well, Vauxhall gets two, who's going to get the third, well we stay with London this week as it's all about Europe for us next, our third Best Bite choice seeing us head out east to the place on City Road that has been a major contributor in transforming the Shoreditch scene into one of the hottest & hip happening hangouts in London. And the same could be said for East Bloc, the brainchild & inspiration of Wayne Shires, the man behind the truly legendary underground club Crash, which itself transformed Vauxhall into the clubbing mecca it quickly became. So it seems this transformation trend runs through Wayne's veins, as he is virtually replicated what Crash achieved with East Bloc, the club sporting some of the most amazing & alternative clubbing brands on the scene, DISH, Guttersult, TheMenWhoFell2Earth, Songs Of Praise, Super Electro Party Machine &, of course, WAR, while the depth of D.J. talent speaks for itself, Tom Stephan, Borja Pena, Kris Di Angelis, Per Q.X. & Jim Warboy, just five among a fantastic flock, Wayne also keen to push & promote new talent that truly sets East Bloc and its events apart from the same old same old merry-go-round resident regurgitation that all too often plagues Mr Shires' former playing ground. And having witnessed East Bloc just a couple of weeks ago, we saw the fruits of his labour paying dividends big time, the underground feel of the place emulating Crash, albeit on a smaller scale, while the crowd is delightfully different and gives the place that true club feel that takes us back to the days of our youth.
So that's the venue, what about our event pick? Well East Bloc pulls in another party to add to its already illustrious list, as the Get With Me! Crew take over this Saturday (26th Jan) with big plans to transform this compact & cavernous club "…into your next holiday destination…" which, in itself, is intriguing enough to draw us right in. But this outing is truly alternative as not only does it combine the musical genres of what the team call, "Dancehall", "Kpop" & "Reggeaton", with some good old R&B throw in too, but the cast of D.J.'s are names unfamiliar to us in their entirety, so yet another intriguing draw. But maybe you will recognise the names of Matthew Stone, Theo Adams & Richard Mortimer, while the likes of Chris & Mathew, Anarchic Female, Jonbenet Blonde, Gabriel Gabriel and Sharna & Hermes will, in combination with all the others, spread the super Get With Me! Sound across East Bloc's three spaces. So it seems that this alternative antic is definitely one to watch and actually indulge in, East Bloc's doors opening for Get With Me! this Saturday (26th Jan) from 10 p.m., the club running through to a planned 6 a.m. finish, entry on the door a mere £5 before midnight and then £8 after, while with happy hour drinks between 10 & 11 and the fact that this will be yet another event that will pack out Wayne's place, early arrival is advisable, details on the venue up at http://eastbloc.co.uk and more on the event itself out at https://www.facebook.com/events/472070932828639/
Now, with our plans to re-separate our Short Shouts back out into their own fully fledged newsletter in the next couple of weeks, we have time & space for just a small handful here, a real pick of the bunch, the first going to Delice, who land on London tomorrow night (Fri 25th Jan) at The Shadow Lounge in Soho, for another pre-party for their "Dream" dance festival, more info up at https://facebook.com/events/103722013131480/, this looking to be the hottest Soho ticket in town this weekend.
So, skirting Vauxhall completely, its back to Shoreditch & East Bloc we go, as Friday night frolic, Super Electro Party Machine, grabs our attention, not least that promoter Larry Tee welcomes back Jodie Harsh to proceedings, she joined with superb Room Service sidekick Munroe Bergdorf, while there is a Vauxhall influence as Maze & Masters creep across to spin some sounds too, the free vodka bar another reason why you should head out to City Rd, a summary of this soiree up at https://facebook.com/events/134989263329260/.
Okay, so we head onto the continent now for our two final Short Shouts, flying across to Rome first for Muccassassina, we having pretty much fallen in love with the brand since its showing at the huge LGDF gathering three years ago, while when we visted the club itself, we were blown away. And since that marvellous May with Danny Verde & Micky Galliano, Mucca has benefitted from our weekly support, Friday's (25th Jan) event, "Porca" right up there, their event page  at https://facebook.com/events/276699969122473/ telling the superb story much better than us.
Then, another love affair that we made as recently as three weekends ago was with Scream, the Parisian party that has been cutting a significant stride since 1996 and never fails to hit the mark with its weekly meets, Ludo & his terrific team joining forces with the superb Spyce to bring a specialist celebratory "Circus" event this Saturday (26th Jan), a full-on French feel from a D.J. team that includes Messrs Boumati, Nucci & Triumph, more detail available at http://scream-paris.com &/or https://facebook.com/groups/53427623634/.  
Now to those news nibbles of  February frolics that are worthy dates into your disco dance dairies, next Saturday (2nd Feb) serving up a splendid selection, Puscha's "Undercover" party at Brixton Electric heading a London field that includes Matinee "Pervert at Fire & new night "Baked" at Green Carnation in Soho, while for us, it's all about Propaganda at Red & Blue in Antwerp, this our second European trip of the year. Back in London and to the following day (Sun 3rd Feb) and a slice of Soho moves south, "Society" launching at Area in Vauxhall from 6 p.m., an event an news item that will be covered in an upcoming "Extra Bites" post, as will be Deelooded's news of its second space line-up, this prolific party also on the move the following Sunday (10th Feb) to a new Shoreditch spot and is already looking like THE place t be & be seen that weekend. Internationally again, and WE Madrid will be in carnival mood the day before (Sat 9th Feb) at La Riviera, Phil Romano joining resident Manuel de Diego, while we zoom back to London for our final piece of clubbing news and a new club launching in Mayfair on Tuesday 5th February with Micky Galliano & Zach Burns, more info on this to come too.
So, that is it for another weekend, these our choices of where to be & be seen on the scene, while a veritable feast of London frolics can be found by heading to the listings in both http://boyz.co.uk & http://qxmagazine.com making for a world is your oyster array of outings, while our "Top Of The Tree Three" along with our short shouts given you plenty to party with. As for us?, well a nasty knew injury looks like confining us to the comfort of our sofa, but with lots of heavenly happenings to hone in on, we trust that this weekend will see you "Go There! Be There!" (DISCO MATT)   
With a rapidly expanding portfolio of presences & productions, on the back of naming his latest compilation our podcast of the week and  just ahead of this burgeoning beatmaster's birthday, we couldn't think of a better bloke to devote our first D.J. focus of 2013 to than the amazing & terrific Adam Turner, we dealing a detailed devotion on this marvellous man & his music.
If you have followed our reviews, our recommends and all our other posts & features, whether religiously or not, you will be pretty familiar with the fact that we have been treading the capitals clubbing boards for many a moon (some would say too many), while our informative dancefloor years stretch back to our surrogate South Africa, meaning that we have been there & done that, the real passion within all the clubbing expeditions we have amassed, being the music & the music makers. So it is also true to say that, given our experiences, we are pretty qualified to speak for and spot out terrific talent when we see it and while recently we have dropped our favourite guard, we hang our hat on certain incredible individuals for good reason, not because they have become great friends of ours, but because, most importantly, they are exemplary exponents of their art, some right at the top of the game both here in London & internationally. Yet, while an ever increasing list of D.J.'s & producers that we promote are firmly established within their field, there are a handful that are emerging & relatively fresh faced in what is a highly competitive clubbing circuit, meaning making their mark these days is even tougher than it was when we were young & fresh faced. But there is one such individual that is making his musical mark magnificently, so much so that he has made it into our own coveted category of "protégé players",  the brilliant of this burgeoning beatmaster richly deserving this position as well our focused attention here.
Adam Turner is a talent with whom we only became introduced to formerly under a year ago, yet having seen his name appear on club flyers, in the popular press and on the pages of social networking sites for a while longer, we quickly connected with this chap & his compositions. Indeed, not long after that intro , Adam made a magnificent mark on our musical minds with his "House Of Summer 2012" mix, one which for a while toppled our premier player from his playlist pedestal, a captivating & compelling compilation that would see it split Steve Pitron's podcasts in our Y.E. top five chart. Yet, the Adam Turner production story goes much deeper than just this podcast, his roots firmly founded in track compsotions, this love of mixing, re-mixing & producing stretching back into his teenage years, his first set of decks purchase at just 13 setting him on a career path both in clubs & the recording studio that was cemented following his graduation from The Guildhall school in London in 2011, sporting a music degree to his name and in just over a year, this emerging talent has made significant strides on the scene, quickly assembling an impressive list of both residencies & guest spots across the capitals clubbing circuit. From Circa in Soho, Popcorn at Heaven, both considerable & constant cornerstones, Adam also boasts roving residencies at A:M/Onyx & Sunday's at The RVT in Vauxhall, The Kensington Roof Gardens and, most recently for The Shadow Lounge in Soho & Bridge Bar in Clapham, all meaning that Adam is becoming busier with every brimming beat, he now also part of the Room Service residency team on top of tripping to Glasgow regularly to star in the city's & one of Scotland's most famous clubs, the Polo Lounge.
So, given that repertoire of residencies & gigs, Adam richly deserves both the burgeoning beatmaster brilliance tag & that coveted protégé player position of ours, while in the relatively short time we have been tracking this tremendous talent, we have become so proud of what Mr Turner has achieved. But the Adam success story doesn't stop there, as he also hosts a
weekly radio show every Friday night on Westside FM, a two hour show split into track devotions during the first half, while he goes into the mix for the second hour, a perfect platform to propel both his own productions & those he plays in his live sets, while his passion for promoting other producers is also evident in the show. Yet, the circle of Adam achievements always leads back to his studio recordings, he having ht the high notes back in the summer of last year with his "Amazing" release, one that features his very own vocals (yes the man can sing too!) and was a collaboration with the dynamic production duo, Mars & Vans, Mr Turner continuing to work closely with them, while also mixing his own mash-up's & remixes, incredible interpretations of "Don't Wake Me Up" & "Let Me Love You" added to his superb sample of tracks "Titanium" & "It's Not Right Buts It's Ok". Indeed his latest track project on the latter, which he has called his "State 53 Mix" is hot off the production press (literally a day ago), one that hit our musical mark immediately and is sure to feature in forthcoming live set showings, this & all his track productions out on his Soundcloud site at https://soundcloud.com/adamturnermusic/. However, we still have a penchant for his podcast productions, no less than nine produced in the last year or so, although with a gap between his "Summer Sessions 2012" and his latest, interestingly called "Not Another Fu@king House Session", we can't get enough of an Adam Turner compilation, this latest his first in over five months, so the words "not another" perhaps slightly inappropriate, while the podcast itself proves just how he is grown in both stature & musical maturity, so one destined for DM 2013 chart greatness and  an essential addition to your collection by going to http://adamturnermusic.podomatic.com/.
So that's the past & the present in the wonderful musical world of Adam Turner, but what of the future?, well if he continues to rise & rise in the next twelve months as he has in the last, the world will surely become his oyster, we predicting an international emergence along with more capital clubbing circuit residencies. And as this marvellous man prepares to celebrate his birthday, we couldn't think of a more perfect present than propelling him to our "prime protégé player" position, with even dizzier accolade heights to come for sure. (DISCO MATT)
Having turned tails on our regular format following the shock Soho scene closure stunner, we have reverted to combining our Best Bites & Short Shouts, tripping from Vauxhall to Shoreditch & then to Paris for our top of the tree choices, while mini mentions go to our best of the rest both in London & internationally, along with news of new & noteworthy disco dance diary dates.  
With over a week having gone by but the news still shaking the scene that Profile & Lo-Profile are no more, it has also crushed us to the core, our Friday frolics to PLAY>TIME now mere memories and our favourite Soho spot no more, the impact has reached our recommends newsletter, as the Soho, Vauxhall, Shoreditch format has been smashed to smithereens. However from the ashes of that former format comes a new avenue of opportunity to propel parties over the continent, as well as retain the Vauxhall & Shoreditch elements in a revised Best Bites that will, in time, again break away from our pack of picks, while for this week it all gun-ho, as we combine our top of the tree choices with mini mentions & disco dance diary dates.
So let's get into the recommends mix first heading to Vauxhall and to A:M, which this coming Friday (18th Jan) goes into birthday celebration mode, not its own but of its hostess, the marvellous Minty (HRH to those in the know), a true scene sister who has been superbly steering party people through the doors of some of the capitals biggest & best clubs, a list that has included Crash, Beyond, Matinee, Orange & WE, while she has been holding sway at A:M for many a moon now. However, this will be her first birthday celebration at the club, we having been used to marking the occasion for a handful of years at Industri, the Thursday frolic that will forever be Minty's (along with Brent & Paul too), although with this superb soiree no more and A:M now her delectable dive into dancing debauchery, it certainly makes a perfect place for her to party, the birthday event PR tagline being "…get the London look with Minty as she celebrates her Birthday A:M style…" while the team go on to say "..join the queen of the disco and her gang of beautiful dirty Vauxhall bunnies on an epic journey of dance, music and glamour through till Saturday morning…". And with a D.J. line up to die for, The Sharp Boys joined by D'Johnny, Gonzalo Rivas and special guest Fabio Luigi (a Minty request) in the main room, A:M still have splashes of Onyx within it that make it an "Ultra" event, DMS delivering the pop-tastic tunes in the second space, all this taking place at Fire, doors opening at 11 p.m., the club running through till 9 a.m. Saturday morning, entry charges as follows, with a flyer or ad, £3 before midnight, £6 before 3 a.m., £8 before 5 a.m. or £10 thereafter, more info, including that Orange Nation membership free entry offer up at http://orangenation.co.uk or via http://facebook.com/events/181258335331581/.
To a couple of Vauxhall Short Shouts now and how could we avoid mentioning Beyond, even though the seemingly never-ending "Midnight" sequence of sessions seemingly continue unabated which, for us, are becoming yawn worthy. However, with special guest D.J. GSP (of XLsior fame) commanding the main room from 6 a.m., others on duty including Fat Tony, Jamie Head & Rob Sykes and doors opening at midnight this Saturday (19th Jan), more detail in true Ben Kaye promotions style up is out and available at http://www.facebook.com/events/523689437663032/
And making it at Orange Nation threesome inclusion here, Orange is certainly soaking up a splendid citric squeeze, a fresh yet familiar format from a few years ago back with a bang, new promoter Fat Tony having taken the helm just last weekend and is already making subtle changes, including the resplendent return of the gregarious Glendora this Sunday (20th Jan), regular resident The Oli joined on the decks by Jamie head, more detail on the full line-up out at http://facebook.com/events/104636443047790/,  
Our other mini mention goes to a club night that just like the three already mentioned, is a capital clubbing circuit colossus come institution, Horse Meat Disco still in birthday celebratory mode, the ad saying it all when it exclaims that the club has been "…proudly serving disco burgers for the last 10 years…", one of its residents that was there from the start, Severino, doing his own serving with a special six hour set, doors opening a hour earlier than usual at 8 p.m this Sunday (20th Jan)., more detail out via http://facebook.com/Eagle.London/.
So, skirting Soho, we head across to Shoreditch and to our second top of the tree choice, another birthday bash too, as the superb SOS celebrates its second this Saturday (19th Jan) at the exceptional East Bloc, Jim Warboy's club one of the most popular on the calendar at this heavenly hangout, so sure to be a packed out affair. Indeed, having gained a reputation for being a "…tri-sexual underworld…" event, the crowd is a colourful as you will find anywhere, all up for partying & playing to the full and, in the process, saving their souls from mundane boredom, while the philosophy of the club is very simple, "…tune in, turn on, drop the attitude…" hinting towards a warm & welcoming Warboy wonder. And it seems that, in celebration of the second birthday milestone, Jim has gone to great lengths to bring the best in beats, he joined in the main room by east end & SOS favourites Hannah Holland & Joe Robots, while the second space gets a boost with special guest, the queen of the socialite scene, Room Service's Jodie Harsh, headlining two back-to-back sets from the duo's Chris Murdoch & Matthew Josephs and Anton Douglas & David Motta. But it doesn't stop there as the marvellous Mark-Ashley Dupé masterminds the music in the back bar, accompanied by The Plastic Boy & Iccarus, while the big news for this brilliant birthday bash is the introduction of special host (or is that hostess?!) Jonny Woo, who is sure to spice up proceedings significantly, while can only be intrigued by fellow host Oozing Gloop, one very much boggling our mind. That said, this is one birthday you won't want to miss, doors at East Bloc opening at 10.30 p.m. and the club running through till 6 a.m., entry £6 before midnight or £10 thereafter, more detail up at http://www.sosnow.co.uk/ and/or via the Facebook events page at http://facebook.com/events/478290032211425/.
To a couple of Shoreditch Shouts and we stick with East Bloc for our first and this Friday (18th Jan) when Larry tee rolls our another Super Electro Party Machine, this week welcoming new hip hop clubbing sensation, Hard Cock Life, who take over the main room madness from 10 p.m., while Mr Tee mixes it in the second space with Attack Attack Attack, more info up at http://facebook.com/groups/255553057341/.
As for the second, weill its goes to The Joiners Arms who have a pretty busy weekend, Friday seeing Rob Sykes on the decks for the weekly outing "Yes", while the following evening, it's the second instalment of new club night "Pantastic" with Alessandro Londra on the decks, Sunday's "SPQR" with resident Julian de Apostate serving up the sounds, the club's Facebook profile at http://facebook.com/joiners.arms.9 the place to go for further info.
So we move to the new & exciting part of our weekly recommends newsletter as we go international, although not literally as it will be February before we hit the continent again (more on that in a mo), although having trodden the dancefloor boards of this Parisian pleasure just two weeks ago, selecting Scream as our top of the three third Best Bite choice has come very easy indeed. But what has made it even easier, is that our premier protégé player, Zach Burns, stars in this Saturday's (19th Jan) showing, this his second appearance for this brilliant brand which has been partying in Paris since 1996, no mean feat when you consider how tough the scene in the French capital has been and how much turmoil it has gone through in recent years. However, with a main room that compares with the best in Europe, a second space that serves up pure pop classics and a third play area where dancing is replaced by dark (we get our drift?!), there is no shortage of delightful distractions & diversions to keep even the most demanding of dancers sufficiently satisfied. But in Zach Burns, Scream has a D.J. that will surely have the main room packed and party heads eating oout of his funky, progressive & vocally infused house heaven, our mr Burns having laid down a compilation to mark the occasion and one well worth a listen via https://soundcloud.com/djzachburns/dj-zach-burns-house-sessions in advance of heading down to  what is labelled as "…the biggest weekly French gay party…", one that has welcomed the likes of Peter Rauhofer, Hector Fonseca, Offer Nissam & Pagano, Zach finding himself in amongst great company. Plus, with regular resident Tommy Marcus kicking the party off from 11 p.m. and special host Mika Paoleti caring for your every need,  should you find yourselves in paris, this is definitely the place to be & be seen, more info out at http://scream-paris.com and/or http://facebook.com/groups/53427623634/.
To a couple of international Short Shouts now, a mini mention having to go to Muccassassina, which holds its "Play" party this Friday (19th Jan), welcoming special guest D.J.  Danny Tor, joining resident Luigi Rosi in the main room, but with no less than three other dance come play spaces to choose from, this Rome club now into its 23rd season and still going as strong as ever, more info out at http://facebook.com/events/425666644169750/.
As for our second?, well we head much further afield, to Mexico in fact, although with a birthday theme running through this newsletter, plus with a Parisian pick under our belt, we couldn't help but  propel Heaven Queretaro, which celebrates its fifth anniversary this Saturday (19th Jan) and welcomes our Parisian pal, Leomeo to the decks, he sure to go down a storm with the Mexican crowd, more detail out at  http://facebook.com/pages/Heaven-Club-Queretaro-Official/225745691617.
So, that's just about it for our Best Bites & best of the rest Short Shouts, while we did promise to give you some disco dance diary dates, we looking ahead into February, Saturday 2nd, seing new club night "Baked" launch in London at Green Carnation in Soho, pitting its wits against big boys Matinee Pervert at Fire in Vauxhall & Pushca at Electric in Brixton, while the menWhoFell2Earth add to your choice, the boys back to East Bloc on the same night. However, if you want to hang your hat internationally that weekend, then why not join us and head out to Belgium, to Antwerp in fact, when prolific party "Propaganda" plays out at Red & Blue, while looking slightly further forward, another weekend in fact, it seems that back in London, its all about east, as DISH returns to East Bloc on Saturday 9th and then the talk of the town, Deelooded, kicks off in its new Shoreditch location, at a new venue, Xono, and on a new night, Sunday 10th February, this more than any other mentioned here, an absolute MUST for your diary, we having covered it all in detail within our preview "Making Majestic Moves" out at http://discomatt.com/web/?p=6708
Well, that really is it for this week, plenty of picks to keep you dancing right through from Friday to Sunday, while for us it's a quiet one, the prospect of snow here in London sure to send us running for sofa comfort cover, although whatever you may be up to or wherever it finds you, have a terrific weekend time, naturally making sure that you "Go There! Be There!" (DISCO MATT)
New for 2013 is this Music/Picks post, propelling our Podcast & Track Of The Week choices, Adam Turner coming up trumps with his "Not Another Fu@king House Session" composition, while our Italian Stallion Pagano goes all "That Disco Fever" on us to scoop our top of the tree track choice for the week, download/stream options image click(s) below, while we deliver our delectation on the duo beneath.
Having only just dipped our toe into the vast lake that could have & should have been the posting propelling of both our podcast & track of the week picks, just a small handful of special music features published on our website, the main focus has been through our Facebook pages, although with 2012 being a challenging year, even these have been affected somewhat. So, with a steadfast determination to make amends in 2013, we are planning a short & sweet weekly special music feature to include both picks, a paragraph (or maybe two) devoted to both, so one for our "Podcast Of The Week" & one for our "Track of The Week", the plan to publish in line with our weekly music newsletter each Sunday, while to mark the beginning of this new weekly feature, we have purposefully split it away from Sunday, starting our working week as we mean to go on, with marvellous music from two terrific talents.
So let's crack on and first to our "Podcast Of The Week", this our second choice of 2013 and one we have been anticipating for a while, Adam Turner having well & truly rocked our world with his "House Of Summer 2012" production, one that made it into our top five chart of the year, no mean feat when pitched against the captivating, colossal & compelling Steve Pitron productions. And 2013 looks like being a second year that Adam will be challenging chart topping position, his "Not Another Fu@king House Session" and interesting title, given that it is his first since that summer release, but one that has been well worth waiting for, he very much kicking off where he left off, the first track a vivacious Shawnie Taylor vocal track that hits the mark magnificently, Adam then taking us on a jubilant journey, a marvellous mixture of progressive & uplifting  tune choices sending us skyward just as he did in the summer. But this new session is very reflective of how Adam's burgeoning & terrific talent has matured & grown over the last few months, the progressive influences in his music coming more to the fore on this compilation, we predict that this production should open new avenues & doors for this impressive individual, Adam already boasting regular residencies at Circa, Room Service, & A:M, with more to come this year we sure to make many more trips to see Adam in action, a trip to  http://adamturnermusic.podomatic.com/ will see your safe passage to this latest production, while watch this space for a D.J. focus on Mr Turner, coming up this Saturday.   
To our "Track of The Week" now and one that we have been itching to share for a few weeks now, although with the festive season seeing us wrapped up in our year-end music features, we had to put Pagano's "That Disco Fever" on the back burner, although having soaked up his splendid set at Beyond on NYD, it was just a matter of time before this terrific tune made our track top of the tree slot. And that time is now, "That Disco Fever" coming in two mix versions, we leaning a little more to the house version, although were thrilled when Francesco played the tribal mix for us at Beyond and, if we are honest, one that grows on us with every listen. Indeed, our Italina stallion has been pretty busy in the recording studio, a whole stable of songs being produced in recent months, meaning that while he didn't make it into our coveted top five producer chart of 2012, this year should see a safe passage for him for sure. And it seems that on top of track productions, Pagano remains busy promoting his own club Deviate, while also featuring in some of the biggest events across the globe, he having hot footed it to beyond on NYD straight from WE's New year festival in Madrid, while the list of others is endless, his dynamic draw still very much in demand.  As for "That Disco Fever", Pagano has captured the essence of uplifting & energetic house music brilliantly, and without vocals we may add, both versions released on Koolwaters production and for download on Beatport at http://www.beatport.com/release/that-disco-fever/1003139, we having already added our preferred mix to our collection, although both come with the DM recommendation, while to listen right now, just click on the YouTube link below.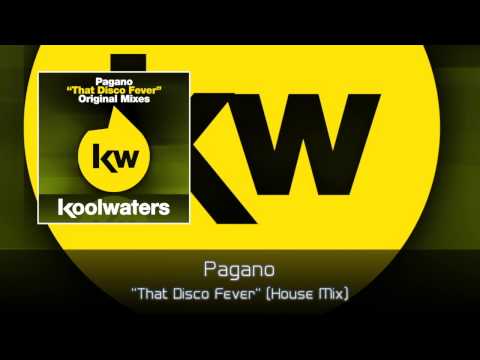 So there we have it, our first weekly podcast & track pick post of 2013, the download options we have shared here available via the banners on our website, both Adam's prolific podcast & Pagano's tremendous track proving that "Music Is The Answer". (DISCO MATT)
With a surging sense of enthusiasm for 2013 in what we have called our year of positivity, we set out our plans in the first of a returning "Monthly Message", sharing recent reviews, reports, recommends & music features, while looking forward to other reporting & reviewing returnees as well as some dates for your disco diary.
There is no shadow of a doubt that 2012 proved a rollercoaster of a ride for our reviewing, reporting & recommending, a fall in features compared to the previous year symptomatic of the challenges we faced and the distractions they caused and while there were plenty of highlights, our activity wasn't one of them. So, with a determination to restore the status quo to where it was in 2011 and with this year very much one of "positivity", plus with a real sense of resurgence in our fortunes, we are keen to bring back some reviews & reports that were noticeably absent in 2012, this our monthly message one, while there are others which we will be covering below. But true to our monthly message form, we will run through the sections on our website, picking up on activity for the last month, in this case December and then hinting as to what to expect from the coming month.
REVIEWS
December saw a continued return to reviews, WE's "Formula 2" anniversary event along with two Beyond reflections posted, while towards the end of the month, we reviewed the year in general with our Annual Address, rounding off 2012 with our Clubs review, January starting virtually as we finished, with Beyond NYD getting the super sized review treatment, while our 2012 music reviews, three of them dominated the first week, our trip to Scream just over seven days ago on the cusp of completion while tomorrow's DISH will be the next in a once a week review delivery, our highlight review from December that final Beyond fling of 2012.
http://discomatt.com/web/2012/12/reviews-emotionally-enthralling-epilogue-beyond-midnight-music-is-all-you-need-sunday-30th-december/
RECOMMENDS/PICKS
During December we combined our Picks choices with our Extra Bites focuses, Orange's "Christmas Day", A:M's "Boxing Day" Beyond "Midnight" & Splash Roma four, while pure Picks went to Room Service, PLAY>TIME, Muccassassina & ClubNation, while we posted just two Weekend Focus features, one on Beyond & the other on Orange Nation's festive offerings. As for our newsletters, just one went public, the weekend before Christmas getting our Short Shots attention. As for January, well we have short shouted already, extra bited on WE's "Vogue" party and focussed on both Scream & DISH, a special focus up on Orange Nations "Free January Clubbing" while our picks choices still get published via Facebook & will be up on our website from next week too, while our highlight recommends/picks post goes to Beyond from 22nd December.
http://discomatt.com/web/2012/12/picksrecommends-the-end-nah-the-fun-is-just-beginning-beyond-end-of-the-world-party-sunday-23rd-december-pick-of-the-dayweekend-extra-bites/
MUSIC/D.J.'S
While we had plenty of plans to make our music newsletters weekly, it didn't happen, although we started publishing our "Track of The Week" choices via Facebook, while a special music feature went up on WE "Formula 2", we also focussing on D.J.'s Jamie Head & Mikey D. As for January, well it started with our four music reviews of 2012, covering our top 40 track chart, producers, podcasts & sets, while we plan from next weekend to bring back those D.J. focuses, the newsletters, plus our podcast & track of the week postings via our website as well as on Facebook. As for our December highlight, well it could only be that WE special feature.
http://discomatt.com/web/2012/12/music-podium-position-pack-of-players-we-formula-2-the-music-sunday-2nd-december-music-is-the-answer-special-feature/
REPORTS
With no postings to speak of in December, this is one area that we really want to re-propel during January, the returning "That Was The Week That Was" report come review re-commencing from next Friday, while we have already posted three reports this month already, two on Gaydar Radio & the other on Profile/Lo-Profile. But we also want to launch our "Seventh Day Sermon", while as scene news hits, we aim to report it as we always used to, that first Gaydar report our highlight, even if it was a January rather than December publication.
http://discomatt.com/web/2013/01/reports-end-of-an-enthralling-era-gaydar-radio-the-closure-friday-4th-january-special-report/
PREVIEWS/DISCO MATTERS
With nothing to show for in December, we certainly want to get our previews back on stream, the first on Puscha & Matinee Pervert due up in the next week, while Deelooded's move out east will also get our advance focus. Plus, with a Seamus Hajji interview looking like it could come our way, Disco Matters should be back too.
NIBBLE SIZE TWEETS
A really popular feature of ours which, partly due to technical difficulties, all but halted towards the end of 2012, although following a number of requests to see them back, we will be re-launching these live from the dancefloor transmissions from the beginning of February, beaming our clubbing cavorting all the way from Antwerp, direct to http://twitter.com/discomatt. 
 COMING UP
With January already having seen us trip across the channel to Paris, while closer to our London home, East Bloc drew us in for DISH, the next couple of weekends will see us forging ahead with our "activity acceleration" plans, before a further trip onto the continent the first weekend of February, Antwerp, Red & Blue & Propaganda calling, while South Africa comes in March & then back to Paris for Easter & Matinee "La-Leche". But with plenty of parties in-between, we will be attempting some mid-week as well as weekend dancing dervishes, Popcorn, Gigolo, Room Service & new club Swallow on our disco diary radar
KEEP UP
Naturally you can tune into all our activity right here, while for posts like our "Pick Of The Day", Podcast & Track Of The Week" and our "Does…" photo albums, then our Facebook page at http://facebook.com/pages/Disco-Matt/112730602119746 is the place to go, while our group at http://facebook.com/groups/discomatt/ & our personal profile at http://facebook.com/discomattlondon are worth keeping tabs on, while in "Picks" terms, why not check out & follow our Tumblr page at http://discomatt.tumblr.com.
So, with much to do and a stringent schedule set, it's all steam ahead in 2013 with our "activity acceleration" programme to put us back where we belong, as London's original party boy independent journalist who's reviews, reports, recommends & music posts position us as a prominent source of scene clubs, events, music, D.J.'s, news, interviews and much much more. (DISCO MATT)
You've heard of the phrase, "…nothing in life is for free…", well, in the world of Orange Nation, it seems that clubbing in January IS, yes, free clubbing in January, sounds amazing doesn't it?, we delving into the detail of what they are offering and how you can get your hands on it.
Being a bit of a cynic sometimes, we have to agree with age old adage that nothing in life is for free, a free ride often leading to something else, while the myriads of "free" offers you see advertised in the rags & the internet always have some sort of catch, "…get this free flight for two to Florida…" but then pay over the odds for accommodation & the like. Well, you get our drift, meaning we are always pretty cautious when the word free is banded around, the capitals clubbing circuit as guilty a party as any, some clubs actively advertising free entry when certain licensing restrictions forbid such a practice. Yet we can't help having noticed the promotion that Orange Nation have been pushing since the middle of November last year, their Free Clubbing In January publicity programme initially catching our eye with that odd poster title "House For Sale", a slogan that probably achieved exactly what its aim was, to attract attention. Indeed, a source close to the clubbing group told us that, having out up a poster outside one of their venues, Orange Nation was approached on more than one occasions by prospective buyers, clearly not the sort of attention they were seeking. That said, subsequent artwork pieces have been more to the point and so as we find ourselves in the first week of the year, we thought we would investigate this free clubbing offer of theirs a little further and see what all the fuss has been about.
Well, wading through the clubbing PR, a handful of releases sending the same message but in different ways, the latest one to hit our desks has been the most straightforward yet, its short & to the point sentence saying "…To say thank you for all your support in 2012, the Orange Nation are giving away our biggest ever party present to London's clubbers – free clubbing throughout January! The same great brands, no compromising, for free!…" which sounds pretty good, especially when you consider it has some of the biggest & best known brands on the clubbing calendar at the moment, Beyond, Orange, A:M, Later & Gravity all falling under this January sale of a deal. But what is the deal? Well, pretty much as it says on the tin really, free clubbing at all of these weekly parties for the whole on January, although you have to first read through some of the entry criteria small print to see exactly what you are getting for your money, or not as the case may be, as there are entry times criteria attached to each club, A:M for example, opening at 11 p.m. each Friday, this offer extending on the door until 4 a.m., Orange opening at the same time on Sunday's although its 2 a.m. that you need to be in by, while for Later on a Sunday, they have been pretty generous with a 2 p.m. cut off on the door. And what has surprised us is that the offer extends to Beyond & not just the regular ones, but the "Midnight" events too, the January free entry offer on the door each week until 5 a.m.
But if you thought it was a case of just rocking up to the door & gaining free entry, then think again, as you will need one of the new Orange Nation membership cards in your possession to benefit from the offer, although January clubbing offer or not, it looks like something well worth getting your hands on, the real incentive to do so sooner rather than later is that the membership currently comes free (something else for free!!). So, let's whizz through some of the benefits; future discount entry to all Orange Nation events, Q jump at all Orange Nation events, access to members only bars at both Area & Fire, entry to members only events/nights including the new annual "Members Ball", a special birthday offer where you & 3 guests free entry, with concession entry for 5 other friends for your designated birthday party event (i.e. Beyond, A:M, etc), plus a bottle of bubbly, while there are more, meaning we reckon its definitely one to add to your card collection and we suspect, will be one that won't get buried deep in your wallet. So how to apply?, well simply log onto the Orange Nation website or hot the direct link http://orangenation.co.uk/membership and as they say, "…we'll be in touch with information about picking up your card or receiving it in the post in time for you to enjoy FREE clubbing in January, on us!…". And having applied ourselves today, we can say it's pretty straight forward although it will be interesting to see how long it will take for them to get in touch (no e-mail yet!)
So that's the deal and a pretty good one it sounds too, January sometimes proving a bit of a tough month on the wallet, although with this generous free clubbing offer, it could take the strain off those stretched pounds, shillings & pence, leaving you to dance the night away slightly less worried about the bank balance or manager. (DISCO MATT) 
In a year that has seen a pitiful amount of review publications, we attempt to end 2012 on a high, looking back at the capital's circuit clubs & clubbing events that made a big impression not just on us, but packs of party people who pushed aside austerity in favour of fun, while we also chronicle the changes that have swept the scene, this the second in our special "What A Year" review series.
In a year of huge highs & horrendous, mainly health lows, 2012 saw a significant shift in both our personal & vocational lives, the personal part already covered in our first annual address review, while we also touched on some of the clubbing highs that made it an unforgettable year. Yet, the cornerstone and the one constant in our activity over the last few years, our reviews, not only dipped in 2012, but suffered a veritable nose dive, plummeting out of the scene sky & spotlight like a stone, just nineteen completed & published, clearly equating to less than two a month, this far from a truthful reflective record of the events we attended throughout the year. However, with more than a handful started but not finished, along with a plethora of picks posts published, will we attempt to patch together a picturing of the parties that made it big in 2012, like our annual address, splitting the seasons into four separate paragraphs, while eventually selecting our star sets from a select list of scene spinners, also landing on our top five club events of the year from a seasonal section rating, a chart that required alteration as late in the day as yesterday. So, sit back and hold on tight as we speed you through our January to December jamboree of jaunts, hot footing it through a veritable feast of frolics while sifting some select slices from those rare reviews of ours, finishing off with a mention for a myriad of movers, shakers, winners, losers, lost & found in a year that saw a catalogue of changes to the capitals clubbing circuit.
To our first season and to the first day of the year, one which served up a trio of treats the now traditional NYD Beyond taking centre stage, although waiting in the wonderful wings was WE "Safari" which not only surprised but stunned us with the best spectacle this Madrid made meet had showed off in London yet, edging out the former foray in terms of enthralling excellence, the third in the trio a packed out party that  inevitably, in comparison with the other two, was always going to have a  mountain to climb to reach their divine dizzy heights. So with a start like that, you would have thought we were armed with a spring in our winter step, but it would be February before we put our  review boots on, a Saturday/Sunday session of CasaLatina's "A Space Odyssey" event followed by a Beyond which we labelled as a "Shell Shocking Steve Stunner", Mr Pitron playing his socks off  to a packed out place, all three rooms full, this no special event but had all the tremendous trappings of the terrific "Tokyo" & the exceptional "Erotica" , so was a serious contender for our club event of the year, while it has piped WE to seasonal top spot, Beyond's NYD event a close behind third. In terms of big come headline hitting happenings, Trade came out to play for Valentine's on 11th February, while Later was in 9th birthday mode in March, those with a penchant for wig wearing had the "Masked Ball" to parade through, also in March, while Shoreditch splendour East Bloc continued on its rise & rise, although the magnificent MEAT found itself on the chopping block, effectively cut into two, Tom Stephan heading one way with DISH, while previous promotions partner, Kris Di Angelis, headed in another, waging WAR that was to prove a huge 2012 hit.
So, with Beyond's February foray taking seasonal top spot, here is a conclusive slice from our review that shows you just why. "…Having played witness to some truly brilliant & breathtaking Beyond's in our time, "Tokyo" &" Erotica"  two standouts among a seas of scintillating others, what we experienced this morning was a shell shocking & stunning something else, Steve Pitron exceeding our expectations even more than we could have imagined or hoped for. And having completely absorbed ourselves in the rapturous rollercoaster ride we found ourselves on, those emotional eruptions bigger than ever before, it will be a morning that will remain in our memories for a long time to come…" we adding that "…while in the very capable promotional hands of Steven Sharp, there is no doubt that Beyond continues to ride that wave crest it has found itself on for so long. Plus, while it may have only reached a lowly fifth in a certain scene website's annual club poll, in the hands of its all-star resident D.J.'s & other invincible ingredients, this brilliant brand showed us why is remains the best club in town, one deserved of a top slot in ANY scene award ceremony and certainly one that gets our vote every single time…" it clearly having risen to the top of our January to March tree the rest of the review at http://discomatt.com/web/?p=4403 showing you why..
To our next seasonal sector now and one that sported clubbing celebration with a real royal connection, this period encompassing the pomp & circumstance around the marriage of Will & Kate, as well as the Queen's Diamond Jubilee. But all that was to come, as it was Easter that stood in the season spotlight first, Beyond going into "XLsior" mode, while London sported another WE party premiere, this time "Fluro" colourfully captivating the capital. Then, just like the colossal combo that it was, As One saw of clubbing & clubbers convergence that was nothing short of a roadblock, although it was to prove the last popular party for this once brilliant brand blend, while another Easter bunny bash that emerged and then disappeared was Discotec. So, while this second biggest weekend of the year lacked a little lustre, there was much anticipation for a diamond jubilee one full of dancing delights, the dynamic developer of the year, Deelooded, grabbing plenty of its own headlines, while we completely sat out the weekend due to ill health. But there was one place that we weren't going to sit out, the pulsating PLAY>TIME party a prominent part of our prancing in this period, the magnificent meet on 11th May seeing our premier player & our premier protégé player sort the sounds, Steve's stellar set for once, eclipsed by a Zach Burns performance that has seen him storm into our Y.E. top 5, this Friday frolic also making it to top spot this season, even if it was devoid of an real competition, save for Beyond, which tuned the seasonal tables on WE, beating the June "Fast Food" foray into third, hanging our second place hat  this awesome afterhours achiever's 13th May party, a fabulous frenzy that, purely from a fun-filled perspective, had to be right up there.
The real shocker of this 2012 reflection is that we recorded not one review between March & May, a period that was, without doubt, our toughest, so we thought we would step back to New Year's Day and share a small slice from our super sized study of "Safari" our summary saying "…So, it pretty much goes without saying that we were immensely impressed with this latest WE event, "Safari" exceeding our expectations by a country mile, the visuals some of the best we have seen anytime & anywhere, while the stage dancers , effects & lighting added to the awesome atmosphere that was evident from start to finish…" along with "…what made it truly spectacular was being on that select stage spot, a privileged position where we could savour every single second of a simply scintillating Steve Pitron set & performance, our prolific pal playing to the extent of our emotions so effectively that we were continually left breathless in admiration…", we concluding that "…"Safari" in our estimation shot higher into the sky than the largest African Savannah plain tree branches that soar above the reach of the tallest of giraffe's, a prolific & pulsating party that has set the standard for future WE's to come, raising the bar brilliantly…" the whole review a worthy read by going to http://discomatt.com/web/?p=4708/
Onwards to the summer season and one that started with our scene sabbatical announcement, although it would be relatively short lived given the immensity of incarnations that were to play their part in this period and drag us, sometimes kicking & screaming, to successive soiree's in a purple patch August three weeks. However, that was after the Olympics in July, along with what ended up a debacle of a London Pride celebration, clubbing corporation, Orange Nation, rescuing what was an utterly unacceptable maze of mismanagement by the committee responsible for, not just the capital's celebration, but of the whole "World Pride" proceedings that delivered nothing, rather leaving us and many more disgusted & disappointed. But out of the ashes of a piss poor Pride came another brilliant Beyond on that weekend Sunday and our first review in three months, creating a catalyst for more to follow, that purple patch August period scooping all three seasonal spots in our club event chart, Beyond on 12th sandwiched by two Lo-Profile parties, ClubNation sporting a six hour back-to-back set from Steve Pitron & Max Sanna on 19th, while it was PLAY>TIME that would savour the spoils of seasonal victory, this marvellous meet that fell on first Friday of the month, delivering another Y.E. set chart entrant, this time from Nathan Six who added, in phenomenal fashion, to an already pulsating Pitron performance. This terrific trio apart, there was much more to melt into, boutique clubbing brands WAR, Gigolo, Room Service & new turn Tramp, showing the bigger boys a clean pair of heels, while Lovebox was an a huge highlight for us, there inevitably being low points for some, SuperMartXe's "Olympiade" event failing to sufficiently ignite its own torch, while former Friday leader of the party pack, Onyx, found itself on the ropes after a battered bruising at the hands of its Soho rival, something it would never recover from. But perhaps the most saddening slump was that of Salvation, its prolific promoter Steve Elliot having suddenly passed away in March, leaving a void that not even his best friend & fellow promoter, Oliver Mohns, could fill, the promise of renewed London fortunes for what had become an global giant in the hands of Mr Elliot, falling at the first hurdle.
To our seasonal select and a piece from our PLAY>TIME review "Pitron & Six Pack A Punch", our concluding comments leaving us in no doubt that our decision was the right one, the compelling evidence as follows "...In PLAY>TIME the team behind Lo-Profile have certainly found a winner on a number of fronts, it having established itself as a Friday night market leader, even knocking the might of Onyx off its pedestal, promoter Jay Roberts having developed a brand that neatly balances socialising, dancing, music & men in the most marvellous way and like lots of long running clubs on the capitals circuit, it seems this magnificent weekly meet has lengthy legs in it for sure…" our case continuing "…such has been the success of PLAY>TIME here in London, that the club has extended its welcoming arms across Europe, Paris's Spyce having entertained Jay & his team on a couple of occasions this year already, while with the might of worldwide organisation Gaydar behind it, a little birdie tells us that there are bigger & better plans ahead to achieve the clubs aspirations abroad…", we couldn't conclude with championing Steve Pitron & Nathan Six, both propelling us into "…musical seventh heaven, Mr Pitron's picks particularly pulsating & mesmerising although, to be fair to Nathan, despite having a hard act to follow, more than held his own, in fact, served up a simply spectacular set to savour & show his senior…" the full review out at http://discomatt.com/web/?p=5758.
To the final four months of the year now, we having squeezed September into this 2012 swansong season, a period that from a personal point of view proved to be packed with phenomenal positives, as our annual address illustrates, while a whole host of enthralling events have fallen outside the remit of this review, Brighton Pride, Steve's 40th birthday party & two colossal concerts, Florence & The Machine & Robbie Williams, four exceptional examples. Yet, from a capital circuit point of view, there was as much to celebrate, a brace of birthday's in September, one for Onyx which turned three on the 14th, while scene starlet Munroe Bergdorf was just a tad older at Room Service the previous night, November seeing another birthday, this time for Orange who marked their fourteenth on 11th, we unashamedly making mention of ours on 20th December (not a club event but it had to be done). Birthday's aside, it was all change in November, as Later headed in a "Nu Direction" prolific promoter Steven Sharp now in charge, while A:M went all "Ultra" on us, shifting from a Saturday to a Friday start & gobbling up the already ill fated Onyx. Beyond has its fair share of change during the season too, a new promoter in the form of Ben Kaye shaking up the residency team of D.J.'s, ruffling some feathers along the way, while early October was a patch we would rather forget, WE "Bitches On The Beach" our worst experience ever, although it was to be brilliantly counter-balanced by WE's own birthday bash, "Formula 2", which was nothing short of phenomenal, leaving us in no doubt that it rightfully deserves our season top spot, although a decision we did deliberate upon, given in enormity of two breathtaking Beyond events in December, the 9th & the 30th (that's yesterday!) to be exact. So, you can see what's coming, these two towering turns taking second & third slots, pushing a captivating ClubNation from 24th November out into the chart cold, while Steve Pitron's clean sweep of sets was inevitable, although has left us with a delicate dilemma to deal with.
So, before we hit on the movers & shakers, winners & losers of the year, here select slices from the final two paragraphs from our WE "Formula 2" review, starting with "… having experienced virtually every single outing here in London since the launch back in 2010, we can say with confident qualification that this best by a long shot…" then "…we acknowledge that "Formula 2" had some way to go to top "Safari" as our favourite & most fabulous WE party in London, it did in leaps & bounds and in virtually every department…" followed with  "…it is the D.J.'s who get the lion's share of our plaudits, some sets we missed, while others we savoured…" adding "…a superb set from Carlos Gallardo, in any other company would have made it to that premier podium position, he once again proving to us why we hold him in such high regard compared to his Spanish compatriots…" eventually concluding that "…it was Steve Pitron who crossed the chequered flag first, a simply stunning set that left us emotionally enthralled throughout, his choice picks hitting every heavenly house music mark we could mention, highlight ones without doubt "Not Alone" & Beautiful Lie", while we would go as far to say that, just like this wonderful latest WE event & like his specially devoted podcast, this was the most phenomenal Pitron performance we have witnessed, no more to say…" our super sized showcase a click away at http://discomatt.com/web/?p=6178.
Well that covers of four seasoned 2012 scene step outs & highlight happenings, but what of the ones we may have missed and what of the movers, the shakers, the winners, the losers, the lost & the found? Well, Matinee made a magnificent return with a plethora of parties, a couple of twelve hours spectacles & a Beyond combo that found it return to its first London home, Area, while the scene's Spanish superstar was undoubtedly WE, both "Pharoah" & "Hi Japan" overlooked above, yet in combination with the rest of their party pack, made it one of the most prominent performers. We briefly mentioned Deeleoded, which was another season on season scene success and sure to be a Y.E. award winner, while As One joined the ranks of losers that included Toybox, Shine, Bearzone, SuperMartXe, Discotec, Detox, Onyx & Circus, the latter sliding off the clubbing calendar quite surprisingly, while many of the others also fall into the lost & found categories, outdoor eventing a real loser in 2012, Pride already covered but a sad Summer Rites not. However on the bright side, there was always Beyond, this awesome afterhours continuing to ride a 2012 wave  crest as tall as the previous four seasons, although it did have its fair share of challenges to cope with, a temporary shift to Fire in March one dark patch in a twelve month period that has surely secured another set of awards & accolades. That said, the big winners were the boutique clubbing brands, Room Service, Gigolo, WAR, Gutterslut, Carpet Burn & SOS heading up a long list of others, as like the austerity measures committed by the collation, the capitals clubbing circuit clubbing numbers did see a decline in 2012, paving the way for these more compact & bijou bashes to boost. Yet when we look at our own clubbing chart toppers, it is the big come bigger guns that have dominated the year, while in set terms, the delicate dilemma we faced was answered with an simple & straight forward epiphany, let our heart rule over our head and go with our gut, our podium position places, clubbing wise seeing Beyond secure both third & second spots with WE "Formula 2" standing top tall, while in terms of sets, it's  a podium packed out by Steve Pitron, a better way to finish this second 2012 review we couldn't think of, as it is this incredible individual that has influenced our clubbing cavorting more than any other. (DISCO MATT)   
Postscript
It was pretty tight with a variety of others to choose from, but here are the final five in both the club event & set chart categories
Club Events Chart Top 5
WE "Formula 2" – 1st December
Beyond "Music Is All You Need" – 30th December
Beyond "Early Disco Doors" – 19th February
WE "Safari" – 1st January
PLAY>TIME – 3rd August 
Club Sets Chart Top 5
Steve Pitron – Beyond "Music Is All You Need" – 30th December
Steve Pitron – Beyond "Early Disco Doors" – 19th February
Steve Pitron – WE "Formula 2" – 1st December
Nathan Six – PLAY>TIME – 3rd August
Zach Burns – PLAY>TIME – 11th May
Sales shopping sorted, sporting activities accomplished and Christmas leftovers lapped up, there's only one thing that should be on your roster radar this spiritual St Stephen's sacrament, as A:M Ultra rolls out its "Boxing Day Blowout" tonight (Wed 26th Dec), a prolific party which wrestled our "Pick of the Day" choice from the Popcorn & Gigolo competition, all the event detail a banner selection away opposite or an image click below, while we fill out our Festive Focus Extra beneath.
Having suffered our own knockout blow following a mugging on the way to Orange "The Christmas Day Institution" event at Fire last night, while our Boxing Day may be on the back burner, there is a place that will be making the most of this final bank holiday of 2012, Area in Vauxhall entertaining A:M Ultra, which holds its "Boxing Day Blowout" bash tonight (Wed 26th Dec), moving across Vauxhall from its historical Fire home to the amazing & atmospheric Area. And with A:M's tip top promoter, Steven Sharp, and his team pulling out all the showcase stops, this brilliant bash has all the hallmarks of the most heavenly festive happening of the season, this blowout bash having beaten off the Popcorn & Gigolo completion to make it to our premier "Pick of The Day" position. So, it simply wouldn't do just to post a picture, but rather wax lyrically and bestow a Festive Focus Extra on this enthralling event, we sharing the slices from our special Orange Nation Christmas week focus, which serves up all the detail of his dance delight.
So, without further ado, this is what we had to say of A:M Ultra's "Boxing Day Blowout", our original devotion slightly edited to fit this Pick Of The Day & Festive Focus Extra, post, we kicking off by looking at the transformation of A:M, as well as sharing promoter Steven Sharp's view on Boxing Day clubbing…..
"….Tonight (Wed 26th Dec) an afterhours institution that has gone through a significant transformation during 2012, holds its "Boxing Day Blowout", A:M Ultra flying the Orange Nation flag, given that it's a Wednesday and Onyx, which would normally occupy this slot, has all but disappeared from the capitals clubbing circuit, in a way a victim of its own success, like a tormented city trader having burnt itself out after a hectic three seasons at the top of the Friday tree. However, while to the naked eye, Onyx is no more, with an inside track along with informed information, Onyx has actually been absorbed by A:M, which under the superb steership of none other than prolific promoter Steven Sharp, has gone all "Ultra" on us, shifting & extending is previous afterhours status into the realms of nightime clubbing too, this traditional Saturday morning meet becoming a Friday frolic as well. And given the souped up size & substantial standing with the Orange Nation weekly clubbing/event schedule, it seems wholly appropriate that A:M "Ultra" has been granted this much prized Boxing Day slot, Mr Sharp pleased as punch that he has landed this cracking Christmas schedule stocking filler for his club, he remarking to us that "…Boxing Day has always been a traditional favourite party night to celebrate with friends and an excellent opportunity to dance and burn off any inches from Christmas Day excess!…" especially for those that didn't make it to Orange last night…"
Then, we honed in on the detail of this "Boxing Day Blowout" bash, propelling the party PR, the D.J. & host line-up and then pointing you to the all important ticket & event info…..
"…As for the event, the first big "Blowout" piece of news is that A:M "Ultra" once again switches from his native home Fire, moving across to splendid sister (and in our opinion the much better suited) Area, Steven also revealing that the venue "…will be transformed into a snow setting, with all new decor, new visuals & loads of pyrotechnics to make the party GO BANG!…" we concurring that there is no better place than Area with its superior lighting, layout & atmosphere to push these plans to prolific prominence. And Steven is pulling out all the team stops, hostess with the mostest HRH Minty, with her little elf helpers Danny Boyce & Louise Port all on duty & handing out mince pies and Xmas sweets, while the D.J. line up oozes A:M from its main room pores, the star studded line up including Jamie Head, Gonzalo Rivas, D'Johnny and newish resident players Matt Bogard & Ania, all playing "…playing the contemporary supercharged house…", the sounds extending to a second space where Onyx takes pop music charge in the heavenly hands of Tasty Tim & DMS.  So, with a line up like that, this is sure to be the billed "Boxing Day Blowout With A Bang", Area's doors opening this coming Wednesday (26th Dec) at 10 p.m. and the vent running through to a planned 8 a.m. finish, advance tickets available online at https://orangenation.ticketabc.com/events/m-3-2-2-2-2-2/ priced at an early bird (still available) £10 or the standard £12, while with an ad/flyer it's that same standard price on the door till midnight or £15 without & after, this surely an Xmas disco diary must, especially if (unlike us) you have Thursday off…"
Well, what more can we add, apart from sharing event page with you, a click on http://facebook.com/events/448638455184127/, while we leave some of the last words to Steven when he say's "…so why not dance off those Christmas Day excesses with the team at we transform Boxing Day Night clubbing and take it to a new level and remember this special event is at Area not Fire and the doors open at 10pm…" he rounding off by saying "…see you on the Boxing Day dancefloor…". And as this brilliant blowout bash gets our full thumbs up, we reap a recommendation reckon that you should "Go There! Be There!" (DISCO MATT)
Come this weekend, forget the Mayan myth about the end of the world, as it will not just be beginning but will very much be feeling a lot like Christmas, we selecting our own three ships across Soho, Vauxhall & Shoreditch that make up our best bite choices of where to be & be seen ahead of the eve and the day, DM dipping into the detail of each of his top of the tree trips.
Well, what a barren Best Bites year it has been with a spartan set of newsletters to speak off, although we are determined to end 2012 with a flourish, this our penultimate weekend opportunity to propel our premier picks of where to be & be seen in Soho, Vauxhall & Shoreditch and while they may not have a specific Christmas feel to them, you can bet your bottom dollar that everyone involved will be very much in fine festive fettle,  championing plenty of Christmas cheer and propelling you into magnificent party mood.
So without further ado, lets head to Soho and to Lo-Profile which has a wonderful weekend in store, actually starting tomorrow night (Thurs 20th Dec) as their branded baby "Society" celebrates its first birthday (shares it with us) with Fabio Luigi on deck duty and host John Brooks, with a helping hand from Martin Princess, masterminding this celebratory meet, the vent blurb including Society is the hottest weeknight party bringing you not only the vibrant energy from the heart of Soho but the sexiest mix of hot boys you'll find. Bringing the freshest mix of some of the best DJ's in London, playing the funkiest, uplifting house music along with an atmosphere like no other place you'll find. Attitude free where everyone comes together…". However, having switched from its original Friday slot, Society gave way to the pulsating PLAY>TIME which has proven one of the success stories of 2012, the night going from strength to strength, this week's event looking as good as ever, Fabio Luigi back for more, joined by Steven Artis on D.J. duty, while promoter Jay Roberts welcomes gogo's Jack & Ray who will turn up the horny heat to the muscled max, Jay exclaiming that
 "…experienced PLAY>TIME fans know well our porn star PLAY>MATES, but they also worship the mouth-watering go-go boys just as much we presenting, two special boys will be both who are stunners, Jack muscled & chiselled to perfection with penetrating eyes that melt you on contact while Ray has a perfect body, dark features and a smoky attitude…". Then, as if that was enough, the Lo-Pro team come back at you on Saturday (22nd Dec) with ClubNation and a dynamic D.J. duo that have formed a playing partnership during 2012 having rubbed shoulders in clubs for years before, from Crash to Beyond, Later to Orange and PLAY>TIME too, their back-to-back performance at ClubNation one you won't want to miss. As for each event, a rundown of opening times across all three nights sees a 10 p.m. start across the board, with 3 & 4 a.m. finishes, while entrance fees vary, details on Society out at http://facebook.com/events/389496144466148/, PLAY>TIME up at http://facebook.com/events/386837734735670/ and ClubNation's details available through Lo-Profile's page at http://facebook.com/pages/Lo-Profile/163759593639440 where you also grab the all important info on their NYE party (More on that next week), while for details on VIP table bookings & other offers, take a trip to http://loprofile.com.
Onward to Vauxhall and it will come as no surprise that its' all about Orange Nation for our top of the tree choice south of the river, the team gearing up for a busy Christmas Day & Boxing Day with an equally busy weekend, a three tier sandwich of shindigs sure to fill your Christmas scene stepping out stocking with plenty of clubbing cheer, from A:M to Beyond to Later, meaning it's all go from Friday to Sunday night, while Orange takes a Sunday/ Monday (oh my that Christmas Eve) rest as it comes at you on Christmas Day (more on that in an Extra Bites Xmas Special). Now, we have covered Beyond's "The End Of The World" party in our special Weekend Focus feature and it looks a corker, although the other three fillings in the ON sandwich are pretty damn fine too, A:M "Ultra" is back at Fire, after a short two week tour across to smaller sister Covert, promoter Steven Sharp looking forward to the massive Boxing day event of course, while telling us "… I am so pleased that A:M Ultra returns to its spiritual home this weekend for one final fling before Christmas…" he adding that "…disco doors, that's Fire's main entrance, open at 11pm and music powers across 2 rooms of excellence featuring  Ania, Matt Bogard, D'Johnny & Fat Tony on the A:M Ultra supercharged main floor and only the finest pop in the Onyx Pop Lounge from Tasty Tim & DMS…".
Then looking to Later, while we don't as yet have the confirmed D.J. line up, a little birdie tells us that The Oli & George Sharp will feature, perhaps D'Johnny making up the tune-tastic threesome, while after a storming string of packed out parties following Steven Sharp having successfully steered this Sunday daytime disco in a "Nu Direction", culminating with a cracking Christmas party last weekend. However, the whole team are still in a Xmas Jamboree mood and ready bring musical joy to your world & rock you around their Christmas tree with Sunday (23rd Dec) from 11 a.m. through till 7 p.m., entry a mere £5 before 1 p.m. then £8 thereafter, more info on both  out at http://orangenation.co.uk while you can head to networking pages http://facebook.com/AMafterhours & http://www.facebook.com/LATER.INFO for more event info as it hits. And while we are on the  festive event subject, a reminder that A:M goes super ultra on Boxing Day with a blowout bash, super advance tickets still available online at the ON website, while its back to regular "Ultra" format the following Friday (28th Dec). As for Later,  they have a superlate event on Sunday 30th Dec, then go large with a NYD spectacular followed by an "Xtra" party on Wednesday 2nd Jan for you lucky ones that have an extra day off.
So to Shoreditch and an easy choice for our Best Bite as it couldn't go to a more willing & able candidate, East Bloc rising to the top of our tree with two exceptional events that once again cement its reputation as an amazing alternative to its Soho & Vauxhall adversaries with a fabulous family of brilliant brands & parties that sometimes put the other two places to shame, the likes of Gutterslut, Dish, War, SOS, TheMenWhoFell2Earth & Songs Of Praise all regular monthly outings, while Paradise 45 has trodden the East Bloc boards, the marvellous meet that was Meat was founded there and, driven by prolific promoter Wayne Shires, the return of Summer Rites more that turned heads. Indeed, East Bloc has forged a path that has seen it become vogue among the smart set in town, striking a chord with East & West enders alike, Friday's no exception, especially as Larry Tee's club night "Super Electro Party Machine" has amazed a loyal following along with bringing some of the scene's D.J. stars across, Jodie Harsh, Adam Turner & Terry Vietheer just three among a whole host of others, while our own Shoreditch son, Kris Di Angelis spins sounds for Larry from time to time. This Friday (21st Dec), Mr Tee goes a tad further down the alternative route, welcoming Raff Daddy, one half of The 2 Bears, who joins Larry in the main space while taking over the back is Alis Pellischi's Santa Sluts party with h DJ Boadicea, Serious Thugs, My Panda Shall Fly, Iicarus bringing the best garage, techno and house music to East Bloc, further event info, including opening times & door taxes, out at http://facebook.com/events/135106463313857/.
But on Saturday (22nd Dec) after the end of the world has had its say (or not as the case will be), Wayne welcomes back the brilliant Bloc Party that has stormed Shoreditch on Sunday's in a string of special parties throughout 2012, turning out for the last time this year, he pleased as punch that it falls on a Saturday for a change, Songs Of Praise pushing back from its usual slot & Dish having taken a December break, creating a space in the schedule, Mr Shires telling us that "…all your favourite D.J.'s will be under one roof for the ultimate pre Xmas Party, each bringing you all those dirty beats to set your Banjee Booty on fire…" he adding "…expect deep, sexy, ratchet beats all night long across 3 rooms…" And judging by the line up, he isn't wrong as the main room sports brilliant young blood beatmasters Matt Bogard Dmitry Strigun & Frankco Harris &NG, the former two having starred for Room Service, while Mark Ashley Dupe hosts & plays the second "Dupes Den" space, alongside Jeffrey Hinton & Nasty McQuaid, the aptly named "Bixa Booth" seeing Frankie Layd spinning the basement ragga sounds. Add to that, hosts Richard Logins, Yute Belgrave & Nick Adams-Byam and there is an air of alternative audacity running right through this prolific party which kicks off from 10.30 p.m. and runs till 6 a.m., entry a mere £6 before midnight or £10 thereafter, more info should you need it, out at http://facebook.com/events/452236451500695/ , while news on forthcoming Super Electro Party Machine events sees Kris Di Angelis back on the decks next Friday (28th Dec) with Severino sorting the sounds on 4th January. Plus, watch this space for news on NYE at East Bloc, Songs Of Praise making hay with an "Extra" size special & Gutterslut's Xmas party on Sat 29th Dec.
Well that's it for this penultimate Best Bites newsletter of 2012, we hoping to bring you our Short Shouts serving by Friday, mini mentions for plenty, while we take this opportunity of wishing you a very merry Christmas, hoping that you make the most of this last weekend before all that festive indulgence on the 25th, perhaps landing on one or more of our choices here and in doing do making sure you "Go There! Be There!" (DISCO MATT)