Having munched its way through Madrid, the wonderful world of WE's incredible latest incarnation lands on London & speeds into your Saturday, Disco Matt, finding his focus feet, dishes up a devotion that boosts the brand, preludes the party,  delights on the D.J.'s & devours the detail, sharing a selection of sounds & video virals that will leave you ravenous for this resplendent rave.
We remember a time on the capitals clubbing circuit when the majority of events were pretty low key affairs, often housed in underground venues & backstreet buildings, the pomp & circumstance of parties these days, reserved for the special calendar servings like Christmas, New Year, Easter & Gay Pride. However with the advent of the so called Spanish armada invasion, all that changed, Matinee paving the way for big room events with prolific production & a cast of internationally recognised D.J.'s that only Trade could muster in the dim & dank days of the 90's. And with the likes of SuperMartXe. La Troya & Space jumping on the armada ship, setting sail for the capital, a proverbial rocket was shot up the arses of London's pack of promoters, they responding to this threat to their supremacy by beefing up brands such as Beyond, DTPM, Orange & Trade, while newer clubs such as Lovechild & As One made sure that London had as big a say in the large scale offerings. That said, the penchant for a Spanish party has hardly waned & while SuperMartXe may have regressed back to Spain, Matinee is certainly riding a huge worldwide wave crest once more, perhaps on the strength of another major Spanish brand that has elevated Espania to even greater heights in the eyes of the clubbing public.
Now who could we be talking about? Well WE of course, the brilliant brand that was created following a semi split from SuperMartXe, the philosophy of this colourful & characterful club being to re-inject a sense of fun to clubbing, its launch under theme theme of "A New Formula" some 18 months ago very much setting the standard by which all subsequent parties have been judged, that sense of fun very much evident from day one, while the other incredible ingredient, those massive LED lighting installations, setting WE apart from all its compatriots come competitors. Plus, what WE has managed to achieve more than both Matinee & SuperMartXe is pretty much universal appeal, that along with an amazing ability to transform the magic of Madrid to the rest of the world stage, the brand having touched all four corners of the globe, even having made it big in The States, while London has lapped up the wonderful world of WE, clubbers here ranking it as one of their most favourite of frolics, without a doubt helped along by prolific parties "Candy", "Safari" & "Pharaoh", among a heavenly hatful of happenings. And in The Coronet in E&C, WE has a home that virtual mirrors its base in Madrid, promoter Victor Pallas having been noted as remarking that London of all the cities that WE visits around the world, is as close to the Madrid experience as any, that sense of fun that we mentioned earlier shown to its full extent in this "Fast Food" video viral which is, for us, WE's best promo yet.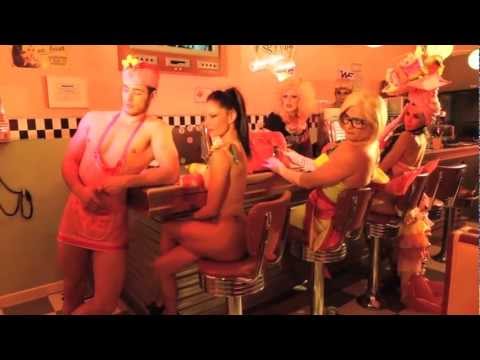 So, it will come as no surprise that with a resounding reputation, London has often been chosen to premiere the latest incredible WE incarnations, "Attacks", "Candy",  "Broadway", "Prison Of Love" , "Disco", "Safari" & Pharaoh" all having been launched in London first, although the next instalment in the wonderful WE story, "Fast Food", has already munched its way through Madrid, wowing audiences back home just about a month ago (well 30th April to be exact), headline D.J. Carlos Gallardo smashing a spectacular set & very much proving his worth as WE's top dog (some could say hot dog), Victor once again calling on his significant services for this Saturday's showing at The Coronet, we like many breathing a huge sigh of relief that he will back to London, Carlos having featured large in the majority of the WE Party tours to London. Indeed our experience with him on the stage at "Safari" back on NYD will go down as one of our most magical memories of this magnificent meet, that on top of his stellar set at Delice Dream last April, while in terms of his music, Carlos always manages to blend those characteristic euro style beats with plenty of euphoria & vocal drenched house that, for us, shouts WE from the rooftops, as good an example as any being his mini podcast he produced for WE "Candy" which you can still stream/download via http://wepartylondon.podomatic.com/entry/2011-05-16T06_26_59-07_00. Add to that a string of track releases, collaborations with vocalists Peyton & Rebeka Brown among them, there is no doubt the studio production credentials of Carlos, we absolutely loving their video which captures Messrs Gallardo & Christopher (that's Peyton) laying down their track "Let It Go" last April, but one which was featured in the "Disco" party in Dec 2011.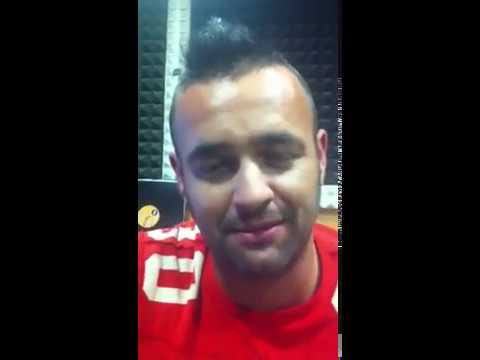 But naturally, while Carlos is the "Balearic Burger" in our fast food meal of a meet, the "Coronet Chips" are equally exceptional & having become indelible ingredients in the wonderful world of WE here in the capital, Jamie Head the first of the threesome of towering talents, this man very much in the groove with recent performances at Lo-Profile & Later totally absorbing us in admiration of his abilities, although having been a fabulous feature of party's stretching back to the Crash days, Mr Head has always tipped our scales, most notably at Beyond, his sets in the terrace space ranking as some of his most magical, while more recent slots in the clubs main room including a brilliant back-to-back performance with Steve Pitron, proving yet another memorable morning. That said, his set at WE "Attacks" was simply stunning, he having  repeated it again & again since, the last outing "Fluro" seeing us up on stage with him from the start & loving every minute of his music, while an equally exceptional set was savoured at WE "Pharaoh" & one which has been neatly reflected in his podcast production recorded for Orange Nation & one which is still available via http://orangenation.podomatic.com/entry/2012-02-27T12_21_46-08_00. Then we come to Steve Pitron, it being no secret that, of all the music makers we know, it his music making that floats our boat the most, we having lost count the amount of times he has left us delightfully destroyed & struggling for breath following a barnstorming bashing of brilliant beats, generally at Beyond. That said, the WE experiences we have had in his hands have been special too, Steve being right there at the "New Formula" launch, while his set & the whole ambiance & atmosphere of his appearance at "Safari" ranks as our best WE witness ever, indeed it is very much our clubbing highlight of 2012 so far, although we are patiently waiting for his promised podcast production devoted to "Fast Food", but we will sure to be by his side for the real thing on Saturday, hopefully with the beautiful Bel, our Brazilian babe.
However, the family meal of music packs a bigger punch than a KFC combo, as the star of both WE Madrid & London, D'Johnny completes the "Fast Food" main room line-up and, in choosing him, the team once again draw on their most heavenly WE hands, as this Berlin based Swede has performed at virtually every London event & has represented the WE brand for Madrid Pride & other weekend events last year, while we are aware of his inclusion for the forthcoming Pride in the Spanish capital, WE holding no less than five separate events, including a collaboration with La Leche (the white themed party of Matinee), Johnny sure to go down a storm there, as he will on Saturday. And of all the players in this "Fast Food " menu of music makers, it is Johnny that has laid down the most mixes devoted to WE, although we have to look back to October last year when the "I Love" party produced his podcast & one lifted directly from his live set which was, in his own words "…full Spanish big room flava along with lots of London funk…", so exclusive remixes thrown in for good measure, not least Peyton's (WE P.A. extraordinaire) "Love So Strong" track, making this a mix well worth warming to at http://djohnny.podomatic.com/entry/2011-10-13T08_05_02-07_00. But with a second space having a Deelooded pre-party feel, the clubs promoter & dynamic D.J. Fat Tony joined by upcoming talent Matt Bogard, the music menu is certainly substantial & offers plenty of teats to befit any fast food family meal of magnificence.
So what of the detail? Well, this latest incredible WE incarnation takes place this coming Saturday (2nd June) at the Coronet in Elephant & Castle, doors opening at 11 p.m. & the event running through to a planned 7 a.m. finish, advance tickets priced at £18 still available both online at http://wepartylondon.com/tickets.html or via the usual Soho outlets, Prowler, Clone Zone & 50, while its worth considering the Orange Nation "Diamond Ticket", which for just an extra £12 gets you entry to beyond "Britannia" which kicks off just before "Fast Food finishes" and then will allow you to drink all the milk you desire, in La-Leche form of course, this special ticket pass gaining you entry into the Matinee Sunday night show at Brixton Electric (Focus coming up), theses special tickets only available online but well worth considering by visiting http://orangenation.clubtickets.com/gb/2012-06/02/the-diamond-ticket-jubilee-bank-holiday-weekend-2012. But back to "Fast Food" & with the lovely Ben Kaye hosting both out & in & the whole WE Madrid team out in force to support the London crew, headed up by Aaron Elder, this looking like being one of the most spectacular WE's yet and given just how good the premiere was in Madrid, we are very much looking forward to seeing the hot dog of a happening London will be dishing up, especially if it match this Madrid muncher of a meet.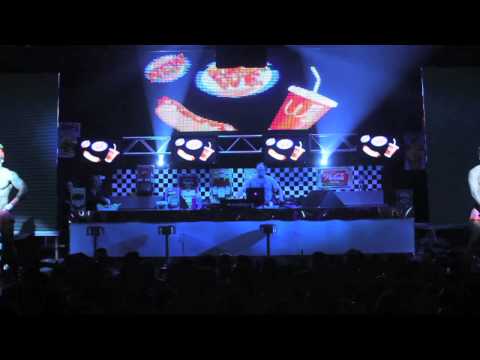 So, it goes without saying that come Saturday we will be tucking into a big mach of music, slurping up a super sized drinks carton of sounds & revelling in the "Balearic Burger & Coronet Chips" party proliferation, very much nibble size tweeting our way through the whole exceptional event, you able to follow all the action live by going to http://twitter.com/discomatt, unless of course, you "Go There! Be There! (DISCO MATT)