Posts Tagged 'Steve Pitron'
Having taken a week to draw our breath after a simply scintillating Spanish spectacle, we now focus on another, as the WE Party On Tour Tam roll into London town for their next instalment in the "Money" theme series, we taking a little look at WE as a brand in blighty before sharing the press release on this the next sparkling Spanish soiree to shower the scene.
Of all the continental cousins to the capital's clubbing circuit, it is the country of Spain that has made the biggest splash on the scene here, the likes of SuperMartXe, Space, Café Ole La Troya &, of course Matinee, making the mark to some dynamic degree or other, while since its inception in October 2011, WE Party has scored the most significant splash of all, a plethora of packed out parties at host venue The Coronet in London's Elephant & Castle, breaking all the attendance records of its other Spanish sisters. Indeed, with London often used as the launch pad for new party theme's by the brands head cheese, Victor Pallas, the capital is regularly compared in the resplendence of Riviera, the Madrid mothership & base of this brilliant brand, coming a close second in terms of size, structure & stature, meaning that whenever there is news of a party in blightly, it is headline material like no other, even eclipsing the might of Matinee with whom Victor & his team have recently aligned alliances abroad, perhaps acknowledging the fact that its Barcelona nemesis is in the ascendency & looking to steal significant slices of WE's current limelight. However, while links now exist between the two across in Spain, there is also a tenacious one here in the capital, as the London promotions team for WE is the same as Matinee, meaning the two standing squarely on their own feet, avoiding treading on each other, while there can be no doubt that, despite recent storming successes, the Barca brand still plays second fiddle to its Madrid mate here in London.
So, with Matinee's "BOOM!" bash having perforated into the partying past, all eyes & attention, Spanish wise at least, are on WE, as it rolls out its next massive & magnificent meet, "Money" the theme name & big brash branding the game, we sharing the party press release ahead of our own full on feature focus, due out next week. (DISCO MATT)
WE Money Press Release
The bank of WE prepares to empty its vaults for London, as on Saturday 1st March 2014, ORANGE NATION in association with WE PARTY presents WE MONEY. 
After the huge success of WE Banana, we are back with the most glamorous, pure-gold standard party with the massive production WE party is known for worldwide. WE Money has been called WE Party's best ever performance to date, worthy of the Vegas meets Gatsby theme. Expect show stopping, over the top glitz and glamour with the world and London's best D.J.'s, performers and production.
 
Plus "WE Bordello" is brand new for WE Party, this concept taking over the Cornet second space where, upstairs we visit the darker side of sex and money as room two is transformed into an intimate dirty cash den of iniquity, sit back and enjoy the sexiest sights and sounds on offer in a sensual draped boudoir complete with beds and dancing poles to leave you fully satisfied.
D.J. Line Up :-
International WE superstar Nacho Garcia joined by London legends Steve Pitron & Gonzalo Rivas, plus the WE Party London debut of Zach Burns in the WE "Money" main space while Dmitry Strigun & Paul Heron occupy room two.
Admission :-
£10 / £15 Advance tickets SOLD OUT
£18 Advance tickets available at http://orangenation.co.uk,  Fire/Area and all Soho vendors
WE-IP is back! After our hugely successful WE-IP launch last time you'd better get your tickets quick as they are limited availability
– Queue Jump
– Private Bar
– Private Toilets
– Private coatcheck
– Tables available
– Incredible main stage viewing platform
THE CORONET THEATRE / 28 New Kent Road / London / 1 Min Elephant & Castle Tube
Ever since that delightful day back in 2007 when Matinee landed in London, we have successively succumbed to its stylish & scintillating Spanish splendour, whether it be at Fabric, Colosseum, Cable, Ministry of Sound, Fire or The Fridge, although with it returning to the venue where our love affair with this brilliant brand began, plus with a certain London superstar D.J. on duty, our excitement was at a fever pitch level like never before, this our resplendent reflection of what turned out to be a barnstormingly brilliant "BOOM!" bash.
While out informative years were spent in the clubbing world seclusion of South Africa, the dynamic Decadence in Johannesburg dominating our juvenile jaunts, on landing in London when we did, it was the capitals clubbing circuit's colossus of clubs such as Trade, Crash, Ficton, DPTM & Factor 25 that ruled our late 90's waves, while others such as Salvation, Lovechild, Room Service and, naturally, Beyond  are very much close to or at the top of twenty first century clubbing pile, all very much having London in their blood, even though they have toured & turned out prolific parties right around the world, very much proving the continental clubbing prowess. However, when it comes to global giants, there are few that can match the might of Matinee, this brilliant brand from its base in Barcelona have racked up the most impressive repertoire of renditions across Spain, Europe, The America's & Australia like no other we know, both is "Revolution" & "Around The World" tours leaving many of its compatriot club brands breathless with Matinee's enduring brilliance. And while fellow Spanish sorties such as SuperMartXe & WE may have stolen this Barca based brand's thunder in recent times, not only has Matinee arrested attention away from its other two newer nemesis's but has stepped significant strides in the last two season's putting this party playing firmly back at the top of the clubbing tree both at home & abroad.
Yet for all this, we have only sampled the delights of this Spanish superclub here in London, although we have very much made the most of the mass of Matinee meets, the fantastic forays at Fabric ones of pure legend, perhaps "Knockout" with that huge boxing ring the most memorable, while incarnations at Colosseum & Cable in the hands of its then London promoter, Oliver Mohns, remain among some of our favourite. But when Logan Schmitz took over the reins, the Ministry of Sound Sunday afternoon meets were as close to the Spanish come Ibiza template of terrace style soiree's that London could muster, the weather unfortunately playing its hand in limiting the success of what proved a short stay at this iconic capital venue. However in The Fridge (now known as Brixton Electric) Matinee was as close to its Barcelona blood, the huge stage & theatrical proportions allowing its "La Leche" theme to be played out most prolifically, The Orange Group having taken charge of the London franchise, although mystifyingly for us, shoe horning this most popular of parties on the capitals clubbing calendar into the ill-fitting Fire, these being occasions when we gave the brand a wide berth. But in Area, a venue that hosted the first ever Matinee London meet, we had a party pitching that we simply couldn't resist, this being the home of the brilliant Beyond and so when news came through that the latest incarnation & worldwide theme "BOOM!" would take place here, we simply had to make a date with this delicious dance delectation.
So, while the choppy waters in our relationship with The Orange Group were still not quite as calm as we would have liked and with us needing to take up a ticket to gain entry, we decided on a fashionably late arrival of midnight, a mere hour after the club had opened, we under the false pretence that we would beat the crowds and speed into the club without much or any delay. However, we had not accounted for the pronounced popularity of this Matinee meet, many having turned up as the doors had opened, the club already packed & pumping close to capacity, the queue outside considerable, many like us having plumped for the advance ticket option under the delusion that this would fast track us in, the reality resulting in an agonising wait of over an hour while those paying on the door got in virtually immediate, all this before even negotiating the considerable coatcheck queue, our frustrations were at boiling point. And this wasn't helped by a hugely irritating individual who not only jumped both queues but had the ordacity to tell us to grim & bear it, while many others around us were complaining of what seemed, at the time, utter disorganisation on the part of the London promotions team. However, all was to be reassuringly bearable with the messages we were receiving from our pal inside who was about to begin playing this Matinee meet main room, he clearly craving for our attendance & appearance in time for the start of his set.
But, while we weren't quite in our usual position as Steve Pitron assumed the decks, from our place in the coatcheck queue which stretched deep into the main room, we could soak up the first scintillating selection of sounds, not least two of our favourite tracks of now, Hazarro's "Medusa" & David Penn's "A Different Story", while it was evident from the packed out place that this was among the most popular Matinee meets in its London history. So, with our out garment deposited but with our temper fuses still a little frayed, we squeezed our way through the considerable crowd, heading for our usual Area spot just left of the D.J. booth, one that had been raised up on a special ramp for this "BOOM!" bash, huge LED screens in situ for the special stage shows to come, while we were pleased & relived to see a flock of familiar faces come up to say hi, not least Kim & hubby, Altina, Steven Galo, a brace of Brazilian's from the usual bunch and also old Industri dancing & drinking partner in crime, Chris Wilcox. And with Steve clearly thrilled to see us, his beaming smiles in our direction saying all, we began to sink into his stunning set, the issues with the queuing fading fast, rather replaced by delightful dancing ducking & diving to a string of towering tracks from the main man in charge of a room who's awe inspiring atmosphere was the best we had witnessed of any Matinee ever.
Now we were well into our "BOOM!" stride, Mr Pitron's pulsating picks hitting our heavenly mark like no other D.J. can, a marvellous mixture of new tracks & old classics remixed leaving us breathless with their brilliance, our infamous iron lung hardly managing to cope & heading for a colossal collapse, such was the speed of our spinning on our spot. And glancing across to Kim, her reactions were similar to ours, ones of sheer disbelief at the monster mixes the main man was mustering, not least the incredible "Been A Long Time" & "Back To Breathing", each & every track he selected sending us soaring, the capacity crowd soaking it all up superbly, hardly a spare inch of space available in this Area main room. Indeed, we were going nowhere, even our select spot being filled by party people intent on making the most of this Matinee marvel, while more friendly & familiar faces continued to say hi, including Fabio, Cliff, Peter & Vinson, while seeing the delightful Dorin was a special surprise, a huge hug resulting while we were just as chuffed to see his marvellous man Kyri too, the whole feel of this party harping back to dynamic days of old. Moreover, such was the terrific time we were having & the heavenly high we were on, that time simply flew and before we knew it, Steve was handing over the main room reigns to Matinee Spain resident Lydia Sanz who clearly has a tough act to follow, even the stage shows pailing in significance to those during Mr Pitron's performance, the whole party seemingly sinking rather than sparkling. So, it was only a matter of time before we would grace our exit, Steve's sizzled state leaving our sober situation awkwardly exposed, a scurried sortie to find his partner to assist in our pal's plight, crystallising our decision to depart, the cramped crowds along with the toilet & other queues too much for us to bear, while we were keen to hold onto the majestic & magical moments of Steve's stunning set, rather than having these wonderful waters muddied.
So what was our verdict on this Matinee "BOOM!" bash and how did it compare to previous parties? Well, first & foremost, this was the busiest we have seen host venue Area in years, hardly a square inch of space unoccupied or available, the atmosphere as electric & amazing as we have experienced of any event here, Beyond included. Indeed there was a real sense that this was something quite special, not least the feel of good times of old resonating resplendently throughout our significant if but short three hour stay, the folk of familiar faces from clubbing days of the past speaking particular volumes. Indeed, that was the overriding feedback we received post the party, one which went on packed & pumping right through to the early morning end, reported star sets from Fabio Luigi, Tom Stephan & Ale Amaral cementing the sterling showing from Spaniard Lydia Sanz. However, there can be no doubting that Steve Pitron showed the rest a clean pair of house music performance heels, a towering two hour turns of epic proportions very much stealing the Matinee show and proving that he is still very much at the top of his game and as popular as ever to boot. In terms of comparisons to previous parties, it at least matched the launch back in 2007, recorded as one of the best Matinee's in London, while it is difficult to  put in a par with those at Fabric & The Fridge as the scaled size of these venues dictate a more dynamic delivery, while for this party the Matinee machine pitched it perfectly & should be proud of the overall outstanding outcome. (DISCO MATT)
Postscript
 Photo's supplied courtesy of Nicholas Montenegro, further images & details available at http://nicophoto.co.uk & via https://facebook.com/nicophoto.co.uk.
And if you happened to miss his stunning set, then fear not as you can still sink into the brilliant Matinee "BOOM!!" sounds from Steve Pitron via his podcast, out at direct link http://stevepitronsessions.podomatic.com/entry/2014-01-24T04_20_00-08_00

Still buzzing from the brilliant "BOOM!!" bash last night, mounds of marvellous music spinning around our head, we nevertheless reluctantly relinquish the stunning Steve Pitron production of its reigning podcast of the week position, moving in another Matinee mix that is equally deserved of our weekly warranting, the official "Winter Compilation" clutching the crown along with a towering tune, that features on both, taking our track of the week choice.
In recent times past we have been somewhat starved of a Pitron podcast, we having to rely on ones from back in 2012 to keep us going while cycling around the streets, no other producer providing the pedal power that they do, so it is with huge reluctance that, a mere seven days after nominating his magnificent "Matinee BOOM!!" production as our podcast of the week, we have to hand the baton over to a different dance delectation. However, having parked this week's choice in favour of Steve's, we couldn't think of a better set of beats to take up the mantle, while our track of the week choice is one that can be found on both Mr Pitron's podcast & this colossal continental clubbing compilation.
So to our new "Podcast of the Week" choice first and, not surprisingly, still buzzing both from the brilliant "BOOM!!" bash yesterday, as well as Steve's scorcher of a set that emulated elements of his phenomenal podcast, we stick with the Matinee theme and propel this global clubbing giant's "Winter 2014" compilation to our top selection slot, one which very much follows form as super star residents Taito Tikaro & Lydia Sanz are once again employed to put together a double sided mix of some thirty two tracks. Taito takes up the first half reigns and boy does he get us into the gyrating groove right from the off with a new remix of one of our all-time favourites "Don't Let You Go", while his other superb selections include towering tunes "All Night Long", "Can You Feel", "Addicted" &, naturally, "Shine On Me", all these in brand news 2K13/14 re-mastered form. Moreover, with artists & premier producers, Etienne Osborne, Erick Morillo, Chris Montana, Hector Fonseca & Jason Chance featuring, Mr Tikaro has gone full out, his sixteen track turn simply top Taito draw and very much giving Steve's phenomenal podcast a run for its money. As for the second half, well Lydia Sanz's contribution is considerable although, for us, falling short of Taito's, stand-out selections including Carlos Gallardo's "Don't Let This Moment End" & Roger Sanchez's "Take You There" in pulsating Prok & Fitch remix form, her mix just fourteen tracks long. So, while we have been well & truly spoilt rotten by Mr Pitron's premier production, this latest Matinee compilation is the next best thing, one you can view in iTunes at the following link, https://itunes.apple.com/es/album/matinee-winter-2014/id784658030 or simply head to the shop section  http://2011.matineegroup.com/ and hit on the "Winter Collection 2014", add to your cart & listen to your hearts content.
To our "Track of The Week" now and it is one that both continues to Matinee theme & features who we consider as its best two resident D.J.'s & Producers, Taito Tikaro (who else) and his studio partner Flavio Zarza. Indeed, these two top talents are no stranger to our weekly track choices, having scored no less than eight entries in 2012 & a further four in 2013, the likes of "Lady Luck", "My World", "Lift Me Up" & "Shine On Me 2K13" all their own tracks, while the simply stunning "Not Alone" from DHP in their resplendent remix form soared to our track of the year slot when we last ran our Y.E. chart. However, their recent collaboration with vocalist Estela Martin, a departure from both Vanesa Klein & Chipper, has resulted in three productions in less than twelve months, the latest the best by a long stretch and one which features both on Taito's side of the "Winter 2014 Compilation" as well as on Steve's "Matinee BOOM!!" mix, this particular track having grabbed plenty of attention on Mr Pitron's FB page, loads of people asking the question "….what is that track about 27 mins in?…".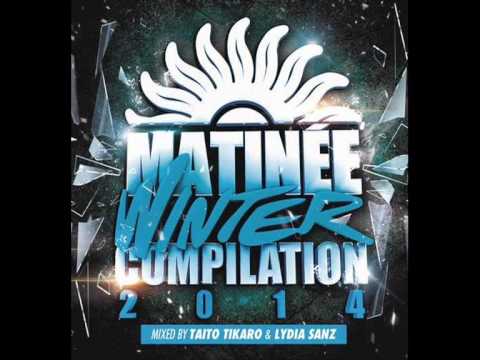 Well we can reveal all as "Back To Breathing" has pretty much taken most if not all of the recent Matinee parties around the world by storm, this looking like being Taitio & Flavio's most successful song yet, possibly even toppling the might of "Shine On Me". Indeed, ever since Mr Pitron released his podcast, we cannot get this towering tune out of our head and, naturally, it featured in his stormer of a set at Matinee "Boom!!" last night, while we can only begin to imagine how many times Taitio has turned out this terrific track, one you can stream in preview form at https://soundcloud.com/taitotikaro/taito-tikaro-flavio-zarza-1 or viahttps://soundcloud.com/matineegroup/taito-tikaro-flavio-zarza-ft, while to grab your own official copy, either select it as an individual track from the Matinee "Winter Collection 2014" on iTunes or head to http://beatport.com/track/back-to-breathing-feat-estela-martin-terraze-mix/5057568.
So, 2014 has certainly gotten off to a scintillating start with scores of sizzling sounds Matinee style and while we simply cannot put Mr Pitron's podcast down, the tumbling tears & rollercoaster rides still strongly evident, in both this Matinee "Winter 2014" compilation & this towering track, we have two real contenders for the best of the year, even if we are only just into February, this global clubbing giant proving that in their hands, "Music Is The Answer!" (DISCO MATT) 
With it being over a year since officially steeping out on our infamous spot, we found ourselves falling, once again, head over heels with the amazing atmosphere & ambiance of the awesome afterhours that cannot be beaten, Beyond still streets ahead of even the best of the rest pretenders to its colossal clubbing cavorting crown, this resplendent review re-engaging & affirming our adoration of this brilliant brand.
When we cast our mind & memory back to the last long term relationship we had in our life and then compare it to the love affair we had & held with one particular brilliant clubbing brand, the similarities are quite startling, the passion, the adoration & unequivocal comfort we drew from both being intrinsically involved in our world similar if not exactly the same. Indeed, as we broke up, made up and broke again from our partnership with Stephen, our bond with this brilliant brand has suffered a virtual carbon copy cycle, a break in 2006 seeing us re-unite some eighteen months later only to break again in 2013. However, as we always loved and still love Stephen in our heart, even though he has no place by our side, that same sort of love for Beyond holds a prominent place in our heart, even though we had done much spitting of our face by cutting off the nose that was our enduring connection to & with this colossal club. But as the song goes, breaking up is hard to do and our parting with Beyond and, moreover, with some of its key players, deluged us in despair despite the fact we were deluding ourselves that we were over this afterhours affair, our time apart giving us the space to reflect on much of our 2013 wrong doing and bring back into sharp focus just how much we were missing and had missed this magnificent Sunday morning meet.
So, with a prepaid ticket in hand and wishing to make up for many months of outing opportunities missed, not last our annual New Year's Day homage, we arrived with our two London most nearest & dearest close friends also fighting off a dreadful chest cough, determined to once again soak up the splendour of this most spectacular seventh day dance delectation, arriving at just before 6 a.m. to a packed & pumping second space at host venue Area, the main room still emptying out from a previous party, the beyond team hastily preparing it for the proceedings to come. And boy what a prolific party we were in for, as not only were we to be treated to a stunning set showing from superstar Steve Pitron, but special guest & Spaniard Carlos Gallardo would be in the house too, this evoking marvellous memories of when this dynamic duo were on the headline billings for the most prominent WE London parties of the recent past. But with Hifi Sean spinning a superbly compelling classic set in the terrace room & Paul Heron following a ton of tech tunes from GSP in the chapel space, even though it was the last weekend in the seemingly drawn out drain on finances that is the month of January, Beyond was yet again proving the theory that all clubbing roads lead to it, confounding the competition with is unrelenting & unstinting popularity.
With a short stay in the second and third spaces over, plus with a handful of friendly face greetings making us feel right back at home, we headed for our spot next to the D.J. booth in the main room, expectant of something quite special in terms of both a set stunner from Steve Pitron and a guest we were truly excited to see. And the man behind the decks failed to disappoint, he clearly revelling in our attendance along with brimming with brilliant beats from his recently released podcast, many of which were sure to be played out in an effort to reduce us to those tumbling trademark tears & the equalling infamous collapsing iron lung condition. Indeed one track after the next was knocking us for a superb six on our spot, not helped in any way by a virtual constant stream of more familiar & friendly faces coming to say hi, including Steven Galo, Peter Graham, as well as the outrageously hilarious Joey Russo & Nico the naughty photographer who sent us into a creaming tickling frenzy in an instant. But it was Mr Pitron that was inflicting the most damage to our demeanour, successive selections sending us delirious in a spinning dervish, the ducking & diving most associated with our disco dance moves coming back us as easy as riding a bike. However, when through the densely packed dancefloor came the adorable Dan, our heart tripped more than a surprise filled beat, this the extra special guest we had been tipped off would make an appearance, his bare chest & beaming smile soaring us towards cloud nine status, while his presence was the icing on the cherished cake of this captivating clubbing cavort we were consumed within.
Now it was a case of soaking up the remainder of Steve's stunning set, even the security guard standing on duty by the double doors leading to the D.J. booth entrance, awash with admiration for this masterful house music mix meister & his scintillating sounds, he spotting the looks & reactions coming our way and so letting us through to our once privileged position next to the man of the moment. And it was evident from Mr Pitron firmly in the zone, the atmosphere in Area electric, the near capacity main room crowd totally entranced by his breathtakingly brilliant beats, the two hours that was Steve's scorcher of a set over in what seemed a flash, the incumbent Carlos Gallardo left with a mountain to climb to match his nemesis. But by jove did he give it a good go, the amazing acknowledgement of that pulsating Pitron performance by a heap of hands in the air clapping, the like of which we had not seen in many a moon, this superstar Spaniard stepping up to the playing plate with plucky fortitude, finding his feet quickly & delivering a delightful dose of dance delectations that under pinned the awesome atmosphere Steve had accomplished. Yet while our mind wanted to soak up more slices of the significant Sunday morning soiree, our matter was telling us different and after a group hug & photo shoot with our pals, it was an early bath from this barnstorming Beyond to reflect on a rapturous re-connection with a club we had missed but not forgotten in any way.
So what can we say about this Beyond & this brilliant brand that we haven't already? Well, there can be no doubt that the enduring love affair come long standing relationship we have held with the club since it launched in London in 2001 remains as strong now as it did then, although in its host venue Area, we have a package that is, unquestionably a world beater. Indeed, despite having been blown away by Room Service in Paris just the weekend before and still riding a little on that wonderful wave crest, being back in the familiar fold of our favourite afterhours club (well club full stop) was a fantastic feeling we cannot begin to express enough. And then we come to the clubs superstar Steve Pitron, without whom, we wouldn't have been rekindling our relationship with this brilliant brand, his pulsating verging on phenomenal performance really & truly made our morning marvellously memorable, the side show of other stars including Carlos, Sean, Paul & George adding to this exceptional experience, as did all those fabulous friends & familiar faces that makes clubbing the immensely enjoyable pastime pursuit that it is. So is Beyond back where it belongs, at the top of our tree of terrific turns, you bet and we cannot wait to soak up scores more slices of the hugely successful Sunday spectacle sometime very soon and reckon, if you haven't yet experienced this enthralling event for yourselves, you should do soon too. (DISCO MATT)
Special thanks to Nico for providing some of the photo snaps used in this review (for more check out his website at http://nicophoto.co.uk), plus big mentions for Steve, Celso, Carlos, Mauricio, Nadim, Steven Galo, Peter, Dan, Joey & everyone else that came & said hi
Having masterminded over the music & propelled this Saturday's boom-tastic party, we pick up on the publications in the press, sharing our abbreviated booming broadcast bites as well as mopping up on more music and event information ahead of Matinee's landing in London for their "BOOM!!" bash.
When a brilliant brand & colossal club captures the imagination of clubbers, it comes as little or no surprise that the popular press want to share the spectacle in their own shrine of spotlighting and, in the case of Matinee, it is very much broadcast news all around the world. Indeed having waxed lyrically about this global giant on more occasions than we can manage to mention, we too enjoy enthralling over this outstanding outfit time & time again and with it making a resplendent return to the capitals clubbing circuit this Saturday, after a sizzling summer season that has put it firmly back on the top of the partying pedestal, we had no hesitation in turning out this our third in a trio of feature treats marking the occasion. So, having masterminded over the music in our post "Bevy of Booming Beats" (out at http://discomatt.com/web/?p=8473) and having propelled both the brand & this upcoming "BOOM!!" party in our publication "Back With A Bang Bang A Bang Boom" (also out at http://discomatt.com/web/?p=8535), given the extent of the exposure it has received in the popular press, we would share some of these snippets with you here, spinning our yarn on their orations before mopping up on more music and event information ahead of Matinee's landing in London for their "BOOM!!" bash.
Such has been the anticipation over Matinee's return to the capital that it first hit the press headlines back in December, although it was the first week in January when one of its biggest broadcast supporters broke ranks, saying at the time "….those hot Spanish guys from Matinee are coming back to London on Saturday 1st February, Matinee Boom! Taking over super club Area and promising the biggest production ever seen…" adding "…there will be a stunning selection of go-go boys and performers to whip you into a frenzy in a series of spectacular stage shows along with a fantastic line-up of D.J.'s including superstar Matinee resident Lydia Sanz and London stars Steve Pitron, Fabio Luigi, Tom Stephan, GSP & more…" they urging you to get hold of your tickets now (or in the case of the article, then). And literally a week later, Boyz was extolling the virtues of this exceptional event again, saying "…Area is set to be transformed into an amazing comic book playground as Matinee Boom! serves up a stunning selection of hot dancers in specially made costumes and in the thick of some equally special effects…", lamenting that "…the party will be promoted by Mauricio Ortiz and hosted by Johanna Alfonso & JJ Clark with very special guest dancer Alex Marcurio…", the BOOM!! taste buds certainly tantalised by these tit bit broadcasting morsels.
But there was more to come as just a week ago, they went public again, stating that "…those super-hot Spanish boys are heading back to London, this time with a vibrant comic book theme that will zap & kapow you on the dancefloor…" the quizzing the starring D.J's & performers who their favourite comic book heroes are, some of the choices making interesting reading. Indeed with Lydia Sanz landing on Wonder Woman, Ale Amaral on Superman, Fabio Luigi on Donald Duck & Arnaldo Novis on Homer Simpson, they were certainly entering into the spirit, even if a couple were a bit wide of the super hero mark, while just today they revealed exclusive interviews with headline D.J. Lydia Sanz & Matinee London promoter Mauricio Ortiz. And Lydia was keen to confirm why she chose Wonder Woman as her comic book hero, she saying "…I think every woman has a wonder woman inside…" while also sharing some bits about her beats, including "…my music style is very fresh, uplifting & good for dancing…" as well as news on new 2014 productions in the pipeline "…on February 28th I am releasing my new solo single called 'I Like That'…" we perhaps getting a sneak preview in this Saturday set. As for Mauricio, he proudly say's "…I am thrilled to be involved in the return of Matinee to the London party scene, as it has a history of being the most exciting & dynamic dance events around…" adding "…Boom!! is very much themed around cartoon characters & iconic Roy Lichtenstein style images and we have pushed the boundaries with the range of costumes & choreography to match, while we will be filling the arches of Area with lights, graphics & colours that will blow your mind…".   
So those are our broadcast bits, but while we have been compiling our composition, news has hit our desks of yet more music to add to the five already released podcasts, devotions from Lydia Sanz, Tom Stephan, Fabio Luigi, Arnaldo Novais &, most notably, the phenomenal production from Steve Pitron surely enough, although both Ale Amaral & Michel Mizrahi didn't think so. And although we haven't yet had a chance to savour their servings yet, we reckon they will represent a flavour of what to expect from their sets on Saturday, Michel getting Matinee "BOOM!!" main room proceedings starting, while Ale will be showcasing his terrific talents in the Area terrace space from 3 a.m. till close, both podcasts up on the Orange Nation podOmatic page at http://orangenation.podomatic.com/. As for the party itself, to recap, Matinee "BOOM!!" takes place this coming Saturday (1st Feb) at Area in Vauxhall, doors opening at 11 p.m. and the club running through to a planned 7 a.m. finish, advance tickets on sale both online at http://orangenation.co.uk & via the usual Soho outlets, while you will be able to pay on the door but expect to pay more. Plus, as this looks like being the most popular party on the 2014 clubbing calendar so far, we recommend you get there early to avoid the queues & the midnight hour rush, further details up on the events page at https://facebook.com/events/190203701174021/.
So what more can we add, apart from this is one Matinee meet you will regret if you miss, we ready & raring to go, spinning on our Area spot to the sizzling sounds & booming Matinee beats from Steve Pitron & co, a flock of familiar faces already lined up to festoon this fabulous fray marking the resplendent return of this brilliant brand to the capitals clubbing circuit and we cannot wait. (DISCO MATT)  
With its "BOOM!!" theme still starring in a string of spectacles across the world, this Saturday (1st Feb) it's the turn of London to step into the Spanish superclub spotlight, this brilliant brand returning to the place where it all first happened here in the capital, Area in Vauxhall, we looking back over its heavenly history before dishing up the details on this exceptional event.
It was a sizzling summer Saturday night when a certain Spanish superclub first landed in London to a clubbing crowd that didn't know quite what was going to hit them, nothing close to its kind having been seen on these shores before. Yet for those that had visited Spain & seen it in action, they knew exactly what to expect and they were pretty excited and for good reason, as Matinee was about to steal a march on all of its compatriot rivals of the time as well as pave the way for others to follow in its footsteps. And we can remember that day a clear as a bell, host venue Area in Vauxhall packed & pumping like it had never been before, we fighting to find a sliver of a space in the second room, while trying to squeeze onto the main dancefloor was a feat we will never forget, the might of this global giant coming down to bear on the capitals clubbing circuit with mind-blowing brilliance. Indeed in the few short years that followed, this Barcelona based brand continued to forge a prolific path in London, the promotions team taking it to new venue heights that included Cable Fabric, & Colosseum, elevating it to near legendary status in our eyes at least, while it rode the rocky road while pretenders to its capital clubbing crown, SuperMartXe & WE wave crested popularity, Matinee standing by watching the SMX bubble burst while aligning itself with WE that has seemingly seen this outstanding outfit go from strength to strength.
So, since 2007 Matinee has made masterful moves with a mound of meets that have secured it as the most successful Spanish club in the capital by far and while when in London it never quite matches the scaled size of WE at the Coronet, every single event creates incredible interest & a real buzz around town to the extent that whether it be at Fire, Area or, as it has been recently at Brixton Electric, the words heavenly hit spring immediately to mind, the organisation that brings you the brilliant Beyond, behind Matinee current resplendent run in the capital, Orange Nation supporting this Spanish superclub superbly, 2013 parties "Pervert", "La-Leche" & "Starship" proof of the popularity pudding. Moreover, there is something quite magical about Matinee which its current compatriot nemesis never quite matches, that certain je ne sais quoi that somehow holds it in the highest of esteem, not just in our eyes, but of thousands (well probably millions) around the world, it's now infamous tour of the same name having seen it take significant strides with a flock of forays festivals far & wide that have left WE wilting in its wake. And Matinee's latest theme "Boom!!" has scored stunning successes already in Las Vegas & New York as well as back home in Spain, while London is the next dynamic destination for this incredible incarnation, one which has well & truly captured the imagination of the capital's clubbers.
So that's the Matinee overview but what about this coming Saturday's (1st Feb) BOOM!! bash? Well, the concept is one lifted from the classic 50's & 60's comic strips, think Batman's "Kapoow!!" etc., so we are expecting plenty of over the top & outrageous production and effects, indeed on talking with the London promoter, Mauricio Ortiz, he is truly excited about what he sees as "…a rebirth and new beginning for Matinee London…" adding that "…the world's most famous and exciting gay party will hit London with the biggest production ever…" , no mean feat when you think of some of the parties from its Fabric past, expectations high that this is an event that will re-secure Matinee's position as the premier Spanish party here in the capital. And the Barcelona outfit is sending one of their top flight resident D.J.'s to spearhead this spectacle, Lydia Sanz having very much made her mark within a terrifically talented team with worldwide appeal & draw (think Taito Tikaro, Javier Medina, Andre Viccennzo & J Louis), Lydia's uplifting euro energetic vocal house sure to hit the Matinee mark at this marvellous meet. However, she is backed up by some true London superstars, Steve Pitron taking main room centre stage on Saturday & no doubt riding high on the wave crest that is the smash success of his latest podcast, devoted to Matinee "BOOM!!" and which, in just five days, has achieved well over 10,0000 hits. But super stardom also comes in the form of Tom Stephan who himself is no stranger to Matinee, having been in the thick of the action at Circuit Festival last August & nailed a stunning  Matinee Pervert set that was a landmark of that mega-party week.
Plus, with newly risen star Fabio Luigi, along with XLsior flag flyer GSP & a brace of beatmeaters in the form of Ale Amaral & Arnaldo Novais and the music is surely going to be nothing short of boom-tastic, no less than six devoted podcasts published marking the meet, five of which we covered in our special music feature a few days ago (out at http://discomatt.com/web/?p=8473), Mauricio sums it up nicely when he say's "…be prepared to start your new year with a BOOM! with the hottest gogo guys and girls from London and Spain firing up your passion across 3 rooms of world-class talent and 3 different styles from main room circuit to tech and tribal…". So what of the detail?. Well Matinee "BOOM!!" comes at you big style this coming Saturday (1st February) at Area in Vauxhall, doors opening at 11 p.m. and the event running through to a planned 7 a.m. finish, advance tickets already have sold like hot cakes, the £10 ones all gone, while the £15 option can still be swept up by heading to your favourite Soho outlets or going online at https://orangenation.ticketabc.com/events/mati/ while if you wait to pay on the door then expect to pay more. However, with hosts JJ Clark, Alfonso Cinque & Johanna Londinium on hand to pamper to your every entrance & then party whim, plus with sparkling stage shows aplenty & much more besides, this is one Matinee meet you won't want to miss. And if that wasn't enough, the party vibe gets going early as Room Service this Thursday (30th Jan) play's host to all things "BOOM!!", full event details on that a click away at https://facebook.com/events/1441968502686606/ while for the main event itself head to https://facebook.com/events/190203701174021/.
So, with a bang bang a bang "BOOM!!" Matinee is back and we cannot wait to see our favourite European event in full tilt on Saturday night and, ahead of our special extra bites feature on the day itself, sharing interview bits & bites, we leave the last words to the marvellous Mauricio when he say's "…get ready to have your heart lifted and your mind explode, get hot, get sexy and get ready to dance like you never want to stop…" and by golly are we going to or what!! (DISCO MATT) 
When a phenomenal podcast comes along of this monumental magnitude, it is pretty much a given that it sweeps all the compilation competition aside, but when each & every track enthrals us with emotional enthusiasm, we are left with no alternative to let it steal both the podcast & track of the week limelight, Steve Pitron's "Matinee Boom!!" mix doing just that, we delving into the detail of this colossal composition & its towering tunes.
In a week dominated by one phenomenal production that totally eclipsed a number of releases that were tempting our selection taste buds, we find that the nominations we had already made for our podcast & track of the week choices both in our head & on paper as we headed home from Paris on Monday, have needed to be parked for a further seven days, as a colossal composition along with a whole collection of towering tunes has steamrolled everything else. And given the might of the Matinee inspired mixes we had in mind, it had to be a podcast of monumental proportions to topple the likes of Taito Tikaro, Flavio Zarza & Lydia Sanz, and it could only be one person up to the job, a man that has been heading happenings across the capital for as long as we know, from the his early days at Crash through the whole history of Beyond & plenty more besides. Plus whenever he releases a podcast, it feels like the biggest news on the planet (well at least in our world), the fever pitch pandemonium that fervent followers in their 1000's fall into while clamouring for a copy is of epic proportions.
Yes, it's a Steve Pitron podcast we are referring to and after a drought of no less than eight months since his last release, this new production has been probably the most eagerly anticipated & patiently awaited one yet, although like us, it seems that he has found his form in this early stage of the new year, hitting the ground running with what we can firstly describe as THE most energetic & pacey podcast of his we have ever seen. Indeed, while he has the incurable knack of picking an opening track to set the mix mood, this time round he really has hit our button with a bang, or should we say "BOOM!!", as Steve has devoted this first of (we hope) two, three or even four 2014 productions to Matinee, pretty much sweeping aside the competition, the likes of Fabio Luigi, Tom Stephan & even Lydia Sanz standing spellbound in this phenomenal Pitron podcast wake. But where were we?, oh yes, that opening track, the sirens signalling something quite special, to Harazzo's "Medusa" very much setting  the tone for a ton of towering tracks that pack out the sixty eight sizzling & magnificent minutes of this masterful mix.
With that outstanding opener setting the scene, the following fifteen storming Pitron picks leave our head spinning, our heart pumping & our emotions running, the likes of David Penn, Freddie Le Grand, Criminal Vibes & Johan Newman all vying for our adoring attention, each & every one of them worthy contenders for an track of the week selection in isolation, but when you put them up against the might of "You Used To Hold Me" by The Hoxton Whores vs. D.J. PP & Jerome Robins, the path for our "Track of The Week" choice has been made clear, this version a tempered one compared that that on the Pitron podcast
 Steve employing his superlative skills in sampling one track over the other & back again, brilliantly blending in both Mr Penn's "A Different Story" & Mr Le Grand's Metrum" so magnificently that it makes for a most completing & unique combination of oose bump proportions, However, there is no let up as a truly towing yet exhausting first thirty minutes sees Taito Tikaro, Flavio Zarza & Jason Chance show their heavenly house music hands, before, as he did with the opener, Steve shoots another barnstorming Hazarro mix across our bow, this time the simply spectacular "Spread Love"
that clearly draws its underlying inspiration from the classic "Lola's Theme", we simply unable to split this from our other "Track of The Week" choice, so yes, there are two this week, that's how much this unbelievably brilliant Pitron podcast has influenced us. As if all that wasn't enough, we get treated to a new version of "Love Me Again", yet more Hazzaro & more Jason Chance before we reach the final track in a trademark tear tumbling emotional heap, "Shine On Me" in Chris Daniel 2K13 remix form finishing in a fantastic flourish, a podcast that looks set to topple even the might "WE Formula 2" production from its premier Pitron pedestal, a tall feet in prospect however, as with a huge figure of 52.980 downloads, over 100 likes & comments, "Matinee BOOM!!" has a way to go.
So we guess that's where you come in, as a trip to Steve's PodOmatic page at http://stevepitronsessions.podomatic.com  is where you can go download this masterful mix, while if you are a registered user, why not press that like button & share a message too, while with a mere four days under it's belt, "Matinee BOOM!!" is firmly on track to become Mr Pitron's most popular podcast yet, over 9800 downloads already & number one spot in the PodOmatic house music chart. And we couldn't think of a better candidate for "Podcast of the Week" as in this magnificent mix & its maker's hands, "Music (most definitely) Is The Answer!" (DISCO MATT)  
With just over a week to go until the rapturous return of Matinee to the capitals clubbing circuit with its "Boom!!" bash, a whole host of its performing D.J.'s have broken their podcast ranks, releasing specially devoted compositions to this this colossal club & its exceptional event, we touching on each in turn before hinting towards two special feature length focuses to come.
While we can count ourselves fortunate to have witnessed some of the biggest brands on the global clubbing scene first hand, whether it be ones based right here in London, such as Trade, DTPM, Factor 25 & Beyond, we have often needed to venture forth across into the continent to savour others, La Demence, Muccassasina, Scream & others rarely touring the capital to save us the journey. However, there is one Barcelona based super club that spoils us in this respect, Matinee having made a significant splash on our shores since for close on a decade, it very much the forerunner of what was known as the "Spanish Armada Invasion", the likes of Space, SuperMartXe & WE following suit, for a while stealing some of the limelight form their clubbing compatriot, but eventually falling into line behind their more prominent global party player. And of all these Española events, it is Matinee that stands head & shoulders above the rest when it comes to music productions, the now famous compilations amassing amazing attention, while whenever the brand steps out on the London scene, the result is a pack of podcasts to mark the occasion, the upcoming "Boom!!" bash no exception, we preluding this party by pitching each production & their merits.
So to our first producer and Matinee Spanish resident & "Boom!!" special Guest Lydia Sanz shows her composition cards with a pumping production packed with uplifting vocal & energetic beats symptomatic of her style of sound, very European come Español in employment, she including some of her own remixes & productions within this specially devoted pressing and giving you more than a flavour of what to expect from her set next Saturday. And with some 5000 or so downloads thus far, its proving quite a popular podcast an certainly hitting our marvellous music mark, proving just why Lydia has carved a permanent & prominent place in the Matinee Spain residency team, as well as representing the brand around the world. As for the mix, it has been exclusively released on the Orange Nation podcast page and can be downloaded &.or streamed via direct link http://orangenation.podomatic.com/entry/2014-01-13T05_46_31-08_00.
To the second "Boom!!" beatmaster and it is London based international D.J. Fabio Luigi who stormed the scene just over eighteen months ago, starting small with the then Lo-Profile based soiree Society, but soon finding fabulous favour as an Orange Nation resident, starring in a number of their outings, most notably for Beyond, he representing this brilliant brand right around the world, including Sydney, Ibiza, Paris, Amsterdam, Mykonos & more. Indeed, his rise & rise was affirmed by scooping the 2013 Boyz award for best newcomer and it seems he is starting 2014 where he left off, a brace of Beyond performances at home pointing towards his appearance at the five day Arena festival in Mexico for the event "Beyond Cool Britannia". However, with sets at the recent WE parties in the capital and, naturally, Matinee next Saturday, it is no surprise that Fabio's podcasts have a following, he have racked up 3400 plus plays since releasing his "Boom!" mix earlier this month, one you can grab at http://orangenation.podomatic.com/entry/2014-01-19T07_54_44-08_00 or by heading to his Sound cloud site at https://soundcloud.com/fabioluigi/matinee-boom-14-london-feat
Now to a name that will not be that familiar, Arnaldo Novais yet another product from what seems to be a never-ending list of Brazilian D.J.'s making hay on the London scene, having been snapped up by Orange Nation following his guest appearance at the last Casa Latina outing, although since when he has pretty much flown under the radar. That said, he has put his hand to a pack of podcast productions through his Soundcloud site, leaning more towards the tech style of sound he usually plays, while for his appearance at Matinee Boom!! Next Saturday, his sound will be more European vocal as displayed in his specially produced podcast which has done pretty well on the download stakes, racking up just over 2700 in the two weeks it has been out, one which you can grab for yourselves by going to direct link http://orangenation.podomatic.com/entry/2014-01-21T10_43_29-08_00, while you can catch Arnaldo in Matinee's room three next Saturday.
Now we're getting to the business end of the Matinee beatmasters, certainly from a London perspective as this fourth entrant into the Boom!! Podcast ring is a towering talent with a prolific pedigree that's hard to top, Tom Stephan having been stepping out on the scene for pretty much as long as we have, he being one of the original residents for the now legendary underground club Crash, while more recently, he has been inextricably linked with the massive MEAT & its replacement DISH, turning his hand to promoting with consummate ease. But it his studio work & worldwide appearances under the pseudonym "Superchumbo" that have amassed the most amazing of accolades, while whenever you see Tom Stephan on the club billings, you know you are in for a something truly special, that being the case next Saturday when he will guest star in the second space, taking you deep with his trademark tech tracks, this very much reflected in the podcast he has produced for the occasion, one out now at http://orangenation.podomatic.com/entry/2014-01-24T05_03_20-08_00

To our final entrant & have we saved the best for last? Without doubt, as the much anticipated Pitron podcast is one that has been dedicated to Matinee Boom!!, marking his first full length mix production since May last year, although the wait has been well worth it, as he has nailed down probably one of the best ever, even toppling his towering WE "Formula 2" triumph from its premier pedestal. However, we will be saving much of the detail for a special podcast feature coming up, while it is worth noting now that in the handful of days that this production has been out on his Podomatic page, the dramatic download figures are definitely something to behold, well over 9000 and counting which pretty much matches all the other four offerings combined, while he has shot to number one on the Podomatic house chart & looks set to top the overall chart too, very much testament to this magnificent man's continuing popularity and draw. And, you really will not want to miss his set at Matinee Boom!! next Saturday, while for a flavour of what to expect head to & hit the play & download button via direct link http://stevepitronsessions.podomatic.com/entry/2014-01-24T04_20_00-08_00
So that's the magnificent Matinee Boom!! beats devotions signed sealed & delivered, five pumping podcasts that signal a stunning spectacle next Saturday that you simply shouldn't miss, while even if you can't make it, you can soak up the sounds right in your own living room here & now, all five of these producers proving that, in their hands, "Music Is The Answer!". (DISCO MATT)
Postscript
As of going to press, another podcast has been brought to our attention, Ale Amaral having published his devoted production, one we will cover in our upcoming Matinee Boom!! Feature Focus, while for now, here is the link, https://soundcloud.com/djaleamaral/exquenta-3-matinee-boom-promo. 

With the Golden Globes already done & dusted, but with the BAFTA's & the OSCAR's still to come, the eyes of the capitals clubbing circuit are rather focussing on the Boyz awards, the voting opening for business today (Thurs 23rd Jan) and running for no less than here weeks, we giving our own take on this annual achievements accolade & hinting towards some of our category kings & queens.
While for us (and probably many of you) 2013 is already a distant memory, not least that it proved a bit on an anus horribilis in our world, January into February each year seems to mark a moment in time we reflect of the year passed, amazing accolades celebrating the achievements of those individuals within the entertainment industry, whether it be film T.V, or music, a whole collection of ceremony's rolling out from the Golden Globes through to The Brits & several in between, not least the BAFTA's & the OSCAR's. However, for us clubbers & scene socialites in the capital, it's all about the Boyz awards, the time when we can cast our votes for those clubs, bars, businesses, events & music makers that floated our boats the best, the category's covering virtually all the bases, not just in London but down & Brighton & beyond too, in fact wherever you can grab a Boyz magazine, the issue of which stretches out to the home counties including Essex & Kent. And with this yearly pat on the back to the best (and some of the rest) across the scene now into its twenty second year, there is no doubt that it remains a leader of the publication pack in this respect, admirers Attittude & Gay Time looking on with envy, while Q.X. have recently resorted to spinning an alternative awards yarn, leaving Boyz to bask in the limelight for the whole length of its four weeks of sway over the scene.
So how does it all work? Well, pretty simply as it goes, a visit to http://boyz.co.uk leading you straight to the link where the voting pages open, you then presented with a sequence of categories, commencing with bars & pubs, then leading to sections covering drag, club nights, festivals, events, club D.J's and then to a small section that picks up restaurants, retailers & the like, a system that has streamlined a little over the years, allowing you to vote in as many or little categories as you like. Indeed, the team also make life easy by giving drop down & other suggestions to the various awards, for example, when choosing your favourite bar or pub in central London, you have plenty of options a mere click away, other sections allowing you to make your own nomination, whether in the list or not. Plus, for 2014, there is a new (what looks like being a hotly contested) award for the best podcast or album from a club bar or event, the list of nominees surely as long or not longer than our arm, while other fiercely fought prizes include best weekend club, best drag act & best Soho bar. And, as the voting progresses, a whole host of nominees will go public, craving for your support, the pages of social networking sites lighting up with posts & events marking the occasion, while the final results are, without doubt, the most eagerly anticipated then celebrated news of the year so far.
Well, that's how it all works, but where will your voting lie?, a tricky one potentially given just how much choice there is, although we reckon you will have your favourites in mind already, clubs such as WE, Beyond, Popcorn & Matinee sure to score highly, while events like Brighton Pride, As One In the Park & Summer Rites will be fighting hard to raise their respective category crown. As For D.J.'s, well the list is endless, although front runners have to include 2013 movers & shakers, Adam Turner, last year's winner Zach Burns, or GSP & Fabio Luigi, while we know where our vote will be landing, you never being able to count out big hitters such as Pagano, Tom Stephan &, naturally, Steve Pitron. Others that we are tipping to achieve an award this year include Room Service, East Bloc, Circa & SEPM, while in terms of club promoters the spoils could be split, although we reckon both Steven Sharp & Jodie Harsh are right up there. Podcast wise and it's here where the voting window is the widest, although we reckon the one that is freshest in the mind's eye will be the one to win and so by the looks of things a certain Matinee mix has every chance of capturing this most sort after crown of this year's awards, not least that whenever it's composer releases a compilation it is the most talked about & downloaded of any we know.
All that said, the choices are yours and the voting is open from now (Thurs 23rd Jan) until the end February, something you can do online now by clicking on direct link http://boyz.co.uk/index.php?p=boyzawards or by waiting for the voting pages to be published in forthcoming copies of the magazine over the next two weeks and the, like us, cross fingers that your favourites achieve the award they deserve. (DISCO MATT)
Deep into its third year and there is no doubt that Room Service remains one of the most popular week night parties on the capitals clubbing circuit & THE most splendid in Soho, while with regular parties in both Paris & Tel Aviv plus plenty of other international incarnations, promoter Jodie Harsh & her terrific team have built up a brilliant brand with global gathering pulling power, making its first soiree of 2014 an easy choice as our first "Pick of The Day" of this year, full event details a banner selection away opposite or an image click below, while we deliver our own dinky devotion beneath.
When it comes to standout shindigs there are few that come close to the splendour & rapture of Room Service, the brilliant clubbing brand that pretty much hit the Soho ground running just over three years ago, capturing clubbers imaginations with exceptional effect, elevating it to not just THE most popular week night event on the capitals clubbing circuit, but one of the best of all. And, having scored soaring successes with her previous party, Circus, Jodie Harsh showed just how trendsetting she is, the inspiration behind this superb soiree very much reflective of her ability to spot a niche gap in the market & build a brand that has become iconic right across London, as well as globally, Amsterdam, Paris, New York, Sydney, Tel Aviv & Ibiza a mere handful of the destinations this prolific party has pitched its persona. Yet, while Room Service has made a spectacular splash around the world with occasional outings, London remains the cornerstone of weekly activity and shows no sign of waxing or waning, its popularity still as pronounced today as it was in the honeymoon period of its first few months. Indeed, the strength it shows has side-lined a succession of other soiree's including Gigolo & Revival, even Society in the days of Lo-Profile struggling in its wake, an intrinsic part of Room Service's appeal in the heavily handsome come drop dead gorgeous crowds its attracts, while in Maibella, it has a pretty unique venue home that simply works exceptionally well. Add to that a roving residency of the best D.J.'s in town, names including Steve Pitron, Fat Tony, Kris Di Angelis, Ariel, Adam Turner, Hifi Sean, Severino & even the mighty Pagano & Tom Stephan, the list goes on, while Jodie has also been keen to introduce new & burgeoning talent to the team, Matt Bogard, JoashYouAre & Dimitry Strugen immediately springing to mind, tonight's disc spinners Jonathan Beastly & Anton Douglas being two others, Ms Harsh also drawing on international special guest such as Leomeo, Leonardo Glovibes, & Jonny Marsh, this along with one of the most heavenly hosts on the planet.
So, while Room Service has been no stranger to our "Pick of The Day" selections in the past, as our first for this New Year, the choice was pretty simple for all the above reasons & more, but while we gear up to get back out on the scene, we are sure tonight's event will be popular & packed out as ever, full & further event details out a http://clubroomservce.com & via the direct event page link https://facebook.com/events/1452593338295373/. Plus, in just twenty four hours, Room Service returns to Tel Aviv, continuing the continental success story in 2014 with style, while its Paris just two weeks later!! Need we say anymore apart from simply "Go There! Be There!" (DISCO MATT)