Posts Tagged 'Wayne Shires'
Back for its fifth outing this year, one of the capital clubbing circuit's most popular parties, DISH, serves up a special guest D.J. Avihay Partok jetting in from Tel Aviv, making this an event not to be missed & so attaining our "Pick of The Day" choice, full line-up & other details a banner selection away opposite or an image click below, while we give our own take on DISH & this must visit meet beneath.
When the news hit that one of the most groundbreaking, uber chic & trendy parties the capital had seen for a long while, MEAT, was hanging up its boots after just one year of storming the capitals clubbing scene, off-shoot Downtown (combining MEAT with Room Service) also a victim of the splitting of ways between D.J./Producers turned promoters Tom Stephan & Kris Di Angelis, we wondered whether this marvellous meet could ever be replaced. But within a month of MEAT's demise, Tom along with new co-promoter Borja Peña came right back at us with a brave new brand called DISH, the formula very similar to the former, the venue home the same, but what has been proved some fifteen months in, the legs & the popularity is even stronger than what came before, East Bloc's Wayne Shires & his terrific team proud to have DISH within their monthly schedule of soiree's. And while we say that the DISH formula is very similar, for the initiated to both parties, they have realised that Tom & Borja, along with their resident D.J.'s, have established a brand identity for DISH  that is quite unique, evoking its name in much of the set up, with a "mains dish" first room, a "side dish" second space and a neatly named "tapas" third room, all that fits into the cavernous & tardis like underground space that is East Bloc, which also fits DISH like a glove.
Brand identity aside, DISH is very much about the music, each room offering delightfully different vibes, Tom & Borja usually in charge of the main room, both complimenting each other with a mix of funky, NYC style house with classic & nu choices thrown into the mix, while the second space, steered by Mark-Ashley Dupé, Scott Webster, is very much more hip-hop, disco & RnB, while in the heavenly hands of Cathal & Franx De Crystal, as the "tapas" label suggests, it's anything goes in the third room. And it this diverse music genre choice that makes DISH so popular, the club usually full to the brim by midnight, meaning an early arrival is always recommended, while the whole club evokes memories of when clubbing was debaucherous & decadent & people came together to dance, socialise & have a great time with no hang-up's or pushy attitude's that often plague the bigger clubs these days. So, all in all, it is no surprise that DISH has not just survived, but thrived tonight's (Sat 11th May) event sure to cement that reputation, as Tom & Borja are thrilled to welcome a special guest D.J. into the usual mix, Avihay Partok jetting in from Tel Aviv for this event, bringing his trademark sound of hot and spicy beats. Avihay is one of the resident's at the infamous PAG parties that have been running for ten years in Tel Aviv, so brings both experience & a special set of sounds to DISH that will really spice up the "mains dish" room, so makes this an event not to be missed, further & full coverage, including running times & door prices, within our weekend newsletter (direct link http://discomatt.com/web/?p=7533), DISH not just our "Pick of The Day" but probably our party of the whole weekend, so carrying our unbridled recommendation as THE place to be & be seen tonight.
So, while we still find ourselves in hospital, so sadly cannot make it, you have no excuse not to head over to Shoreditch & to the delights of DISH, hosts La Pequeña, Andrew Moore & Kane Luke sure to add to a warm welcome from Laurent & Benoit on the door, Wayne, Diego, Tom & Borja never far away, making this not just one of the most popular but one of the friendliest on the capitals clubbing circuit, meaning, you should really "Go There! Be There!". (DISCO MATT)
We hadn't eaten for a while, so we were hungry, hungry for a banquet of bountiful beats and what better place to satisfy our appetite than the delicious DISH, this magnificent mover & shaker on the scene celebrating its first birthday. But did we have our cake & eat it? Or were we left with an irritable bout of overeating indigestion?
Having trodden many clubbing boards during our times back home in South Africa, across in continental Europe and right here in London, we can count ourselves extremely fortunate to have encountered some of the best brands, the most prolific parties & exceptional events over the years, a collection that would take up a whole paragraph if we were to list them chronologically or otherwise, some sticking out in our minds more than others. Yet while Antwerp, Brussels, Cape Town, Paris & Rome would feature large, it is here in the capital where we would find the lion's share of that lengthy list, such has been the diversity of the scene, club owners & promoters seeming to cater for every taste, sometimes all too often leaving us spoilt for choice in where to hang our hat or left with the difficult decision who to favour & who we would disappoint. But while we have gravitated towards the more popular places, in recent months driven by certain D.J.'s & clubbing characters, we have always attempted to spread our support right across the scene, sometimes stepping outside of our clubbing comfort zone to sample the true diversity that the capitals clubbing circuit has boasted, Shoreditch one such example of the out of the box expedition, our strange psyche saying that, in distance terms, it is a step too far, yet with a melting pot of magnificent meets, not least a delicious monthly delectation, tempting us to take the trip, this situ having left smiling & satisfied when we have made the rare effort venture forth.
So, spreading our clubbing wings in the direction of Shoreditch for the first time this year, fulfilled a promise that we would put our money where our mouth was and pay a visit to something different to the same old, same old, the likes of what has become boring Beyond, monotonous Matinee & waning WE, all falling from our favour, not that the latter two brands were offering anything in January, while in terms of what was our favourite afterhours, was leaving a bitter taste in our mouth with its maddening "Midnight" meets. And having reengaged on previous promises and with its first birthday looming, we were determined to delight in DISH, the clubbing creation of Tom Stephan & Borja Pena, this monthly meet a product of the demise of the former & fabulous MEAT, Tom particularly keen to maintain the momentum but give DISH a delightful format twist, the home of East Bloc on Shoreditch retained, but the D.J. line-up and music much more in the mix. Indeed, building on the success of the former, DISH has, during its first year in operation, attracted one of the most diverse & up for it crowds the east end has seen, many people, like us, used to Vauxhall, switching to Shoreditch to support Tom, Borja & the whole team, not least that the atmosphere, the music & the overall experience delivered delightful difference in bucket loads, while evoking clubbing times of past, references made to the days of Crash common place n comments & feedback finding its way to us.
With this convincing case cast, we headed out into the cold, but glad in warm clothing, the journey which we were convinced was a long one, actually only took thirty minutes, door to door, the destination door being East Bloc on City Rd and a welcome from the venue promoter & top cheese Wayne Shires, while a quick check in the list saw us down into DISH in a trice, a considerable crowd having already gathered, hinting towards a heaving happening in the cavernous club. So, we were pleased we had made it in before midnight, quickly grabbing some refreshments at the bar & finding our spot by the edge of the main room dancefloor, this proving a perfect vantage point to peer at proceedings without plunging into the pack of party people that were joyously jiving to the brilliant beats of Borja, his collection of tunes that were clearly captivating the clubbing collective in front of him, the mix of music on the lighter side of funky & tech house, with dollops of nu & retro disco an absolute delight. Indeed such was his scintillating style, we were quickly smiling like a Cheshire cat, not least that this was the first formal & exemplary evidence that DISH had a delightful difference to MEAT, he music make-up much more up our sounds street, while the whole feel of the club was already so much more friendly than those same old, same old outings we mentioned earlier.
Now we were set fair to sink into the full splendour of the three roomed course of cavorting DISH was serving up, although our initial tour around the club was momentarily yet marvellously halted by Tom Stephan who was clearly pleased as punch we had finally made it down, we returning his warming welcome with a flood of compliments on his clubbing concept that has & remains the talk of the town, as well as proving a resounding success. And as we then headed off to the second space, it was clear that virtually every nook & cranny of East Bloc was filling out with fervent followers, our arrival finding the room wall to wall with revellers soaking up the side dish of sounds from the dynamic duo of Mark Ashley Dupe & Scott Webster, while we had a particular penchant for the compact & aptly called "Pudding" third room, Cathal's characterful collection of tunes keeping us away from the main room longer than planned. But with the call of review duty, we were soon back on our spot, although within a room that was packed out even more than before, familiar faces beginning to appear by the lorry load, giving the party a even more friendlier feel with every passing minute, Tom now in charge of the tunes and treating us to his trademark underground style of sound, part of the package that was seeing DISH evoke days of old but with a modern & new twist, the inevitable comparisons with Crash both in terms of amazing atmosphere & decadent delight.
So, it was now time to take up our spot by the D.J. booth we squeezing into the one remaining space where we found yet more familiar faces, not least Cliff from Q.X., birthday girl Andrea Drudikova and here bevy of boys, while it would be the arrival of Nick Tcherniak that would transform our evening ecstatically, it being such a long time since we had caught up with this charming chap, we quickly taking the opportunity for a boogie with this brilliant bloke before retreating to the bar for the first of a round of refreshments and a proper catch up on club meeting opportunities missed. However, having found a much sought after & in demand quite spot to sit & chat, it wasn't long before we were back by the D.J. booth, Nick keen to help Andrea celebrate her birthday in style and we also wanting to engulf ourselves his her enigmatic energy, our enjoyment slightly impaired by the arrival of our once clubbing companion, Stephen, although we were not going to let him spoil proceedings, Tom's terrific tunes seeing to that in an instant, while with Borja in close call, this DISH first birthday bash was going from strength to strength. And with thoughts far away from our usual scene stomping ground, we were smarting in the splendour of this Shoreditch spot & the scintillating sounds of this marvellous meet's prolific players, all proving that there is clubbing life beyond those borders of Albert embankment & South Lambeth road. With our stay extending well past three, we were tempted to stay right till the 6 a.m. finish, although the comfort call of home drawing us away from the amazing main room action, we made a final quick tour of DISH's other two spaces, just like the room we had vacated, both still packed & pumping, we satisfied with our lot, so gracing our exit from this enthralling event.
So, what made DISH so delightful?, did we have our cake & eat it? or were we left with an irritable bout of overeating indigestion? Well, to answer the first of our three questions, while the inevitable comparison with Tom Stephan's previous party MEAT was in our mind for the first few moments following our arrival, it became quickly clear that this brilliant brand of Borja's & Tom joint creation had its our captivating character, proved every bit as popular as one the it replaced and is , without doubt, a real gem in the East Bloc clubbing crown calendar, Wayne Shires surely more than satisfied with the outcome of this prolific party & its first birthday bash particularly. As for having our cake and eating it, you bet we did, the captivating three roomed course superb sound servings making this a stand-out shindig that is proof of the pudding of its popularity, its alternative label cast by certain quarters of the press unfounded in each & every respect, especially given the east meets west crowd & everyone between, we sinking into each & every slice of this scene splendour superbly. Indeed, with DISH being so delightful we would have been more than happen to act like Oliver and ask for more, not overeating of this outing quite possible, so no bout of irritable indigestion, rather an ample appetite for this amazing & audacious action, filling us with a fabulous feeling that only a very small handful of clubs have achieved. So, if you haven't yet delved into the delight of DISH, we cannot recommend enough that you make next month's meet a massive mark in your dance diaries, while, given just what a tremendous time we had, it won't be long before we are back too. (DISCO MATT)
It's been a long time coming, but as part of DM's "rebuilding programme", our much beloved recommendations newsletters are back this "Best Bites" edition picking out our three top of the tree choices of where to be & be seen on the scene this weekend, across Soho, Vauxhall & Shoreditch, dinky detail on each included below.
Well, well, well, hasn't it been a while since our last recommendations newsletter, we too frightened to actually check exactly when it was, although we are talking months rather than weeks, pretty shocking really. However, with a feeling that you have missed them, we are back and as part of our "rebuilding programme" will be committing to weekly editions from here on in, leaving not much more to say apart from let's get on with it.
So to our Soho Best Bite choice and it couldn't really go to anything else this weekend apart from the prolific PLAY>TIME, the saucy sensation that has gone from strength to strength since we have been off newsletter air, while it has scooped no less than 12 "Pick of The Day" choices since we launched that part of our recommendations family in May. And while we will only be re-invigorating our picks from Saturday this week, PLAY>TIME is a deserved choice our Best Bite here, this Friday (5th Oct) seeing the mighty Steve Pitron take to the decks, not two weeks after his last "Gangnam" style outing which was a packed out affair, Steve a big draw & so surely to repeat with another pulsating performance this time round. Then, taking the second slot, although an equally heavyweight London based spinning. star of the scene, is international playboy D.J., Paul Heron, this a rare Friday we finding him not just in the capital, but in Soho, so a set to savour & one not to be missed, his more funky, sexy & tech style of sound contrasting to the uplifting euphoric & colossal club sounds of Steve. But there is more, as PLAY>TIME promoter Jay Roberts brings a bevy of brawn with him, a trio of tottie bearing pretty much all on the podiums, as well as in Jay's back room boudoir, hunky porn stars Fabio Stallone, Damien Crosse & Goran out to play, while Jay will be dressing every provocatively & the friendliest of bar teams will pamper to your every liquid refreshment desire. So, what more can we say to top this all-star cast than by resoundingly recommending you make PLAY>TIME your Friday date, doors to host venue Lo-Profile on Wardour St opening from 10.30 p.m. & running through till 4 a.m., entrance just £8 before midnight & £10 thereafter, while discounted entry for Profile Bar patrons is available. Further info can be found by going to http://loprofile.com, or by checking out PLAY>TIME's Facebook page at http://facebook.com/PlaytimeProfile.
Onward to Vauxhall and what a choice we have, The Orange group very much at the head of happenings, their family of brands allowing you to party virtually non-stop from Thursday through Monday morning. However, while we could land on A;M, or even Later, it is Beyond that gets our top of the tree best Bite choice this time, not least that it is a WE weekend which pretty much guarantees an rammo Area and an awesome atmosphere to boot. Having been to our favourite afterhours nay club of all time, two weeks in a row, we can certainly vouch for the fact that you will have one of the best times of any club or event across the weekend, this week seeing promoter Ben Kaye continue to mix it up with his sizable team of resident D.J.'s The Sharp Boys back after a few weeks absence in the terrace, while Mikey D makes it to the main room decks, Alan K & Paulo Moreno in the early slot mix, Fat Tony completing the spinning star sandwich here, while Verity Mayes & Bryony masters hot foot it down from WE, with more to be announced. And being the official afterparty for WE "Bitches On The beach" expect the influence to rub off on Beyond this Sunday morning (7th Oct), with a dance troupe swooping in on Area from The Coronet, while the lighting & effects, especially in the main room, doesn't get any netter, anywhere in our humble opinion. Plus you can expect it to be packed & pulsating from the 5 a.m. start until the midday finish, which means advance tickets are advisable, these available online by going to http://orangenation.co.uk or by selecting the joint ticket option at http://wepartylondon.com. That said, we have it on good authority that a £10 face ticket available at Clone Zone & Comptons in Soho will also get you in, failing which you can still pay on the door, one efficiently & friendly managed by the one the only JJ Clark. Further info on Beyond & this event can be found via the clubs Facebook page at http://www.facebook.com/beyondclub.
To our third Best Bite of the weekend and one which sees us heading to Shoreditch, landing on hip & happening hangout East Bloc on City Road. The brainchild of one Wayne Shires of Crash fame, East Bloc plays host to such party brands as Gutterslut, WAR, DISH, Super Electro Party Machine, SOS and, this week, the marvellous TheMenWhoFell2Earth, this electro disco drenched delight blasting back for a upper charged party this Saturday (6th Oct), the team welcoming special guest D.J. Jamie Bull whose roots are both here in London 7 up in Manchester, he renowned to serving to sleazy, twisted electro disco in a hard kind of way, which means he will go down a treat with the MWF2E fervent following, Jamie playing a specially extended set in the main space. Then across in room two Sudha stars, he better know as the percussionist from uber-legendary dance pioneers, Faithless, her set surely to prove something pretty special, not least as she is teaming up with Dick & Fanny regular Pamela Chu (aka De la Ioakim) to present a one-off "Cosmic Disco" devotion. Then, as if that wasn't enough, in the third "Mirror-Ball" room, watch out for a girl with razorblades hidden in her hair, Sina Sparrow from hot as Stoke Newington all-girl pop, rock & indie club "Debbie" while be the late night turn, Oly your host across the event, from superb start to fabulous finish. And talking of starts, this latest TheMenWhoFell2Earth party opens its doors to an adoring audience from 10.30 p.m., the club running through till 6 a.m., the hot off the press news being that Paul Heron will be spinning a special set in the main room form 4 a.m., so a great reason to stay till the end, while entrance id just £6 before midnight or £9 thereafter (bargain!), more info out at http://themenwhofell2earth.co.uk while we leave the last line to the promoters when they say "…plug in the three phase – crank up the gigga watts – generator maxxed up – we are blasting back for another super charged party…" say no more!
Well, that was pretty painless and by golly it feels good to be back best biting, three choices here that richly deserve their top of the tree positioning so ones very much carrying our full recommendation. Will we be at all three, we suspect not, as its WE for DM on Saturday & outside commitments on Sunday, but you can bet your bottom dollar we will be at PLAY>TIME, nibble size tweeting from our spit, which you can follow at http://twitter.com/discomatt, while tomorrow (Thursday) we will be serving up our "Short Shouts" newsletter extending offers to over 10 other outings that have caught our eyes. (DISCO MATT)

With our reviews in arrears, our previews hardly present, our music devotions derelict and our recommendations rusty, we have decided it is time to take time off, take time to re-charge, take time to re-focus & take time to re-energise, the announcement of our "Scene Summer Sabbatical & Service Scale Down", deluding to the details of our decision, along with our desires & intentions for a full service resumption/return.
With 2012 already proving to be our own "annus horribilus" on a number of fronts, there can be little or no doubt that the activity that was always the core part of our existence, our reviews, has taken a direct hit, how did we out it?, "…woefully in arrears…", while it is also true that the year so far has seen a distinct lack of the previews, both in full form & in focus/feature style, along with an absence of our much loved much now maligned recommendations newsletters, ones we used to, devotingly so, issue each |& every week, although this first half of 2012 has seen just half a dozen devotions, hardly the devoting our admiring audiences deserve or indeed expect. But the sorrowful story continues, as one of a major life loves, our music, has also been badly hit, planned special features, D.J. focuses &, yes, our music newsletters, all having pretty much ground to a halt, while there has been a ray of light in the form our newly launched "Picks" section which (well up until the middle of this month that is) has dominated our activity and has proved to be the one inspiration in a year that has been devoid of almost every intrinsic ingredient. So, whether it be recommends, focuses, features or reports, all that have formed part of our success recipe, our package, they have been alarmingly absent, while it is the one element that started it all that remains THE most alarming absentee, that element being our reviews.
So what's been happening?, Well to put not too fine a point on it, the "Matt" in Disco Matt has been the cause, a whole host of issues that has afflicted Matt, having a knock on effect on Disco Matt (yes we are one & the same), close family illness issues back home in South Africa dominating both January & February, while it is now Matt's health that is consuming our lives, to the extent that we, all too often, find ourselves so fatigued that there remains little or no energy or dive to pursue our postings with anywhere near the vigour & va va voom of previous times. Then, to compound the problems besieging us, a series of computer failures have influenced our interest & intent to deliver our devotions, we having lurched from one device to the next with little or no resolve or resolution and, in reality, without this essential element/tool, we have been akin to carrying a war wound, a lost limb, or a corroded cog in our writing wheel, a wheel that had become square rather than round and, as the saying goes, has fallen off!! So, those have been the causes and the effects have been plain to see, the figures speaking volumes, a lacklustre six reviews reaped when there should have been four times that, while with just two music newsletters, a handful of recommendations & no previews whatsoever, it certainly is a sad state of affairs we have found ourselves in, while on the positive, our scene step outs have been captured not just in pictures & video's posted onto social networking sites, but our now infamous "nibble size tweets" have amassed an ever increasing following.
However, the fact remains that, with much of our core activity at a complete standstill and with the heavy weight of expectation of output laying heavily on our, what were, broad shoulders, we have had to look inwardly at the issues that are causing this collapse in our once wondrous writing and in so doing decide to relieve some of that pressure by sending ourselves on a scene summer sabbatical and also scale down our services, the summer sabbatical part of the equation allowing us to "re-charge", the scaling down of services allowing us to "re-focus" and the two combined allowing us to re-energise & then "re-engage", hence the title of our report. So what form will all of this take?, Well, as we have hinted, we will be stepping out of the scene spotlight for a few weeks, curtailing our commitments to expectant engagements while possibly continuing to make the odd cameo appearance here & there, these visits seeing a scaling down of our nibble size tweets, which for this summer sabbatical period, will however continue while we re-charge. And the scaling down of services will also impact (it has already) on our website which will hopefully see itself going through some re-charging, with further nip & tuck tweaks and improvements both to the layout & the look, meaning it is possible that the site may go down for this maintenance while we scale down our activity, shifting the focus in the direction of our social networking sites, Tumblr, Twitter & Facebook.
With the re-charging process in place, we will be then re-focussing, predominantly on those core aspects of our activity, so our reviews, our music posts & our regular recommendations, we having already decided to draw a line under the first six months of this "annus horribilus" part of our year and look forward to a remaining six months when we will be re-energised & re-engaged with our writing. So, with the sabbatical period relieving the pressure, the aim will be to roll all these posts back into prominent position, while not forgetting the elements of our activity that have proven quite fruitful in 2012, so our Picks posts & the D.J. focuses & podcast propulsions that have borne fruit through our Pick of The Day" & "Podcast of The Week" choices. But, as the next six months dawn arrives (its 1st July tomorrow) we are determined to re-start all the supporting structure we have been so fervently following in the year so far, so while our website goes through its changes, we will be continuing to update all the banners in our various "Supports" sections, so clubs & events, businesses, publications & music producers, the specialist "Orange Nation" "WE Party" devotions continuing. Moreover, we have set ourselves a weekly schedule which will kick in following the end of our sabbatical which will mark the start of our re-energising & re-engagement period, elements of this beginning to bed in from as early as tomorrow, while we remain determined to under promise on our postings and so over deliver as a result.
So the question remains, when will this summer sabbatical & service scale down end?, Well, as we go to press on our decision, its remains pretty open ended, although we expect to be fully back on stream by the beginning of September, so a sabbatical period of eight or so weeks, we taking this opportunity to apologise to those clubs & club promoters for our absence from a elongated list of events, clubs included (some benefitting from a smattering of showings) being A:M, Beyond, CasaLatina, Dish, Gigolo, Hard On!, Later, Matinee, Orange, PlayTime, Room Service, Salvation, Trade & War, while to club promoters, particularly Craig Elder, Jonny Marsh, Jodie Harsh, Suzi Kruegar, David & L.a. Hart, Tom Stephan and Kris Di Angelis, we will be back supporting but more importantly, reviewing your events as it is our reviews that is the real core of our activity and what we have become famed for & are all about. In addition, to the venues, such as The Shadow Lounge, Profile & East Bloc, we will be continuing (and in places) ramping up our support & our showings from September, while some will benefit from short steps into the scene spotlight during our summer sabbatical, Beyond one such benefactor as soon as tomorrow, while we are sure others will follow.
Well, that's where we are, while what we have also done, not least following the inspiration drawn from a recent cinema trip, is to mastermind a Disco Matt maxim, one which will underpin the re-charging, re-focusing, re-energising & re-engagement period we now find ourselves in, it seemingly appropriate to end our report by sharing it with you, it chronicling, where we have been, where we are, and where we want to be, and it goes like this
"…The person, who risks nothing, does nothing, has nothing, but nothing happens unless we first dream. So we came, we dreamed & we tried in our different ways, but now tired, we simply get up in the morning & we try, as nothing else matters. Can we be blamed for feeling too tired to change, too scared of failure to start it all again? Well the only real failure is the failure to try and the measure of our success is how we cope with our failings, as we always must. All we know about the future is that it will be different, but perhaps what we fear is that it will be the same. So we must celebrate the changes, because everything will be alright in the end, and if it's not alright, then trust us, it's not yet the end…"
So here's to our summer sabbatical serenading a new & renewed enthusiasm for what we do & how we do it, here's to the decided mobilisation of our music devotions, the resumption of our recommendations and, most importantly, the return of our reviews. (DISCO MATT)

There was MEAT & now there is DISH , this superb Stephan serving shindig across in Shoreditch, which takes place tonight (Sat 12th May) at East Bloc, making it to DM's pick of day, all the detail a banner selection away opposite or an image click below, while DM dissects his DISH Weekend Focus devotion "Tasty Tom Treats" (out via direct link (http://discomatt.com/web/?p=5356) beneath.
DM dissects his DISH devotion…
"…one such key player being Tom Stephan & his latest club brand incarnation, DISH, the product of the scintillating success that was MEAT,  a clubbing event that heralded this new era that East Bloc has been the centre off & linked up with the likes of Room Service to shake the foundations of some of their Vauxhall counterparts, or at least make them wake up & smell the roses of their complacency. And while MEAT, as popular as it was, may have been laid to rest in what was a relatively short existence, Tom's penchant for promoting a prolific party has not waned and DISH, which was launched back at the beginning of the year, has quickly followed in the footsteps of the former, its recipe of success being that umber underground & edgy feel, intermixed with a marvellous mixture of music genres, in surroundings & a scenery that break the boundaries or normality & head you in to bawdry, decadence & debauchery, harping a little back to those pioneering days of Crash, days that Mr Stephan was very much a part of, along with his promoter pal & close friend Wayne Shires, while this video clip is as good an intro the brand & this upcoming event as any…"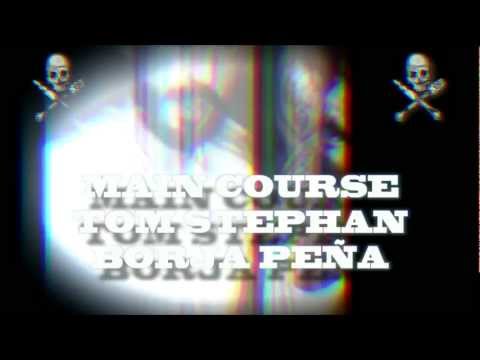 "… now all that's left to do is delight on the DISHY detail of his magnificent meal of a meet, Saturday (12th May) the day, or is that the night, as host venue East Bloc's doors open for the event at 10.30 p.m., entry a mere £7 before midnight, while it rises to £10 thereafter, this getting you in for the full six/seven hours as the clubs runs through to a planned 6 a.m. finish., the DISH door in the capable hands of fabulous French's Laurent & Benoit, while inside your hosts La Pequeña, Melvin and Kane Luke, will help inject heaps of horse-play as well as serving up suitable tasty treats to keep you on top form from start to finish, that along with Tom's now trademark art installations to keep your eyes on, while resident DISH go-go's  Fer & Claudio will certainly be turning & even popping out an eye or two (well many more we think) in a series of deliciously debaucherous dance delectations to delight.  And with more info up at http://facebook.com/DISHLONDON, it's also worth paying a visit to the clubs Tumblr page at http://dishlondon.tumblr.com/, where you can get to see some of the unedited images for this latest event, along with video & podcast links a-plenty…"
So, as we forge a path for East Bloc tonight, very much in review mode, you can keep up with the live action by following our nibble size tweets at http://twitter.com/discomatt, we sure to be making the most of all three courses of musical mayhem at this place to be & be seen on the scene on Saturday, leaving us to simply say, make sure you "Go There! Be There!" (DISCO MATT)

With a significant shift in the scene towards Shoreditch, it comes as no surprise that Disco Matt points is pick of the day finger in the direction of East Bloc, which holds its "Prick Up Your Ears" event tonight (Thurs 10th May), the dinky detail a banner selection away opposite or an image click below, while DM delves a little deeper into the excellence that has become East Bloc beneath.
When we look back across the years we have been circulating the capitals clubbing circuit, there have been some landmark moments in our life, the Trade days at Turnmills, the Beyond days at Colosseum & now Area and even the Lovechild days at Fire, all purple patch periods in our partying. However, if there was one era that changed our clubbing world immeasurably, it was the emergence of a club & venue in Vauxhall called Crash, this leader of the then underground movement pack having been responsible for cementing some of the most important friendships in our lives, many of which still exist today. Yet while Crash & it's off-shoot party's had a resplendent run of close on eight years, pretty much transforming the scene south of the river & indeed changed the face of clubbing in the capital, perhaps forever, its brainchild boy & prolific promoter Wayne Shires had taken his fill of Vauxhall & graced an exit from the scene that, at the time, looked like a permanent one, like many he becoming disaffected by the strong arm tactics & desire to monopolise the clubbing circuit by a certain Vauxhall venture.
But, as the saying goes, you can't keep a good man down and it seemed that Wayne's penchant for promoting a party was still running strong in the veins of his mind body & soul and with a collective of clubbers along with a whole section of society favouring new found frolicking fields out east, this was where Mr Shires was to set up shop in Shoreditch, once again spearheading not just a revival of that underground ethos that put Vauxhall on the clubbing map, but encouraging a whole new sector of the scene that has grown from an afterthought alternative to considerable contributor to a desire for those craving for something delightfully different to the same old, same old. Yet, having chosen a lowly basement base on City Rd, the glamour of Soho feeling a million miles away, what Wayne has managed to achieve with his gaff East Bloc, is to draw in both the scene stars, faces & followers from the former, helped along by a host of prolific party's that can now call East Bloc their home venue, while he has also tapped into the amazingly artistic & articulate audience that used to be commonly known as The Hoxton set, along the way helping to make Shoreditch a sizzling spot on the scene.
So what of all these brilliant brands?, Well probably top of the list is Gutterslut, the way out & whacky wonder that has been drawing people for far & wide for close on five years now, East Bloc proving the perfect landing base for its fabulous format of anything goes audacity, while it was probably Tom Stephan's MEAT, a collaboration with our own Shoreditch son Kris Di Angelis, that really put East Bloc in the clubbing map in the eyes of the Soho set, its links with Room Service helping to bridge that perceived gap. But there are plenty more, not least, The Men Who Fell 2 Earth, SOS, & Super Electro Party Machine, while with the demise of MEAT at the end of last year came two new club nights that have taken that strength to even dizzier heights, Kris Di Angelis heading up the brilliant brand that is WAR, just three parties in proving to be the place to be seen, out trumping its Vauxhall compatriots pretty much hands down, while Tom Stephan's new offering, DISH, is doing exactly the same. But as if all that was enough excellence, we then have Paradise 45, the nu-disco & New York style underground club concept from Guy Williams, which enjoyed a superb stay at The Dalston Superstore, but is has held residency at East Bloc since last August & fitting the venue like a glove, Guy's guest D.J. slots continuing to pull in the punters, that along with the recent combo with Super Electro Party Machine, which went down a storm. Then we look slightly outside the East Bloc box, there is Summer Rites, which Wayne  brought back last year, staging it in the centre of Shoreditch, East Bloc proving a perfect place to hold both pre & post parties, while The Bloc Party just last Sunday attracted an amazing audience, that neatly being followed by Kris's "Warhead" afterhours.
So, life at East Bloc has certainly blossomed & Shoreditch very much part of the picture, Wayne slowly having built on the success of the above brands & extending the East Bloc offer to cover Sunday's & now Thursday's, his "Prick Up Your Ears" evening harping a little bit back to those impressive informative days of Crash back in Vauxhall, not least that the iconic Princess Julia is one of the residents, while Shoreditch & East End spinners such as John Sizzle, Dave Kendrick & Kevin Clash make up a terrific team of talent that gives this Thursday frolic an enthralling edge, the night being as much about the magnificent music as the stylish set that frequent it. And such has been the success of Prick Up Your Ears, a dedicated second space has been developed by Kevin Clash, "Robot Rock" taking up residence on the 1st & 3rd Thursdays' of each month, the comments on the group's wall at http://facebook.com/groups/RRRRoom/ pretty much speaking for themselves. As for tonight's event, well it naturally takes place at East Bloc, doors opening at 11 p.m. & the club running through until 4 a.m., entry a mere £3 with a flyer or ad after midnight or £5 otherwise, although it's worth hitting the place before midnight as entry is free, more info on this & all events at this Shoreditch splendour available by going to the clubs website at  http://eastbloc.co.uk &/or social networking pages http://.facebook.com/EastBlocLondon & http://facebook.com/groups/255553057341/.
So, with Shoreditch looking like the new Soho & with East Bloc's brilliant brands wiping the veneer off Vauxhall, it certainly seems that trendsetters are traversing town & heading out for the exciting events on offer, so a big up to Wayne Shires & a whole load of others that have made this spot on the scene the place to be seen. (DISCO MATT)

As the scene shakes off the hangover resulting from the biggest weekend of the year so far, some sporting the spoils of success, others simply reflecting on what could have been, time rests for no man, victorious or defeated, so the scene steps forward into April, Disco Matt picking out his top of the tree three places to be stepping out on the scene in Soho, Vauxhall & Shoreditch.
What an Easter weekend that was, a whole host of parties & events recording terrific turnouts, some very much against the form book, while others that had promised so much, failed to deliver, our own weekend reflecting that situation a thrilling Thursday followed by a phenomenal Friday, led a superb Saturday night  come Sunday morning , then turned into a soggy rest of a Sunday & a manically depressive Monday (and we aren't talking weather here folks), Room Service, Society, Play>time, A:M & Beyond our real winners, while WE "Fluro" & As One ended up condemning what could have been a brilliant "big" weekend to our own review rubbish heap. But with the winners still to reap our reflections, it's our coming weekend recommendations that get our immediate attention, our top of tree three places to be seen on the scene this weekend, our brief look at a trio of best bites across Soho Vauxhall & Shoreditch.
So, let's get to it and to Soho first, it coming as little or no surprise to you regular readers of our recommendations, that it is Profile & Lo-Profile that gets our Best Bite pick here, having served us superbly well not just last weekend, but for much of March (well the whole year so far to be honest), the captivating combination of bar above & club below, very hard to beat, especially as both venues continue to draw in some of the scene top D.J. names, along with fresh new talent to tantalise & tickle your musical taste buds, while with now firmly established brands that include "Society", "Play>Time", "ClubNation" & "Beartrap", that along with the might of Gaydar behind them, this delightful duo look set to, once again, prove to be the places to be & be seen on the Soho scene this weekend. So, with D.J. regulars Rob Sykes tonight (Fri 13th) and Jamie Head tomorrow (Sat 14th) upstairs in Profile, both kicking off the music from 8.30 p.m. through till the 11.30 p.m. finish, it is downstairs that gets our full if but briefer best bite attention, the award winning "Play>Time" up first, prolific promoter Jay Roberts back after (it has to be said0 probably THE best event in the brands history so far, but will be pulling out all the stops to top last week, not least that he welcomes fellow award winning D.J/producer & all round good egg Steve Pitron to the decks, along with cheeky chappy & a damn fine D.J. in his own right, Steven Artis. Add to that an ashes style porn star shoot out, as Brit boy Marco Sessions squares up to Aussie hunk Tate Ryder in a go-go dance off & back room play off, Jay your referee & you ((if you're the luck one) caught in this sexy & seductive man hunk of a scrum, further details up in our "Pick Of The Day" post at http://discomatt.com/web/?p=5087. Then, tomorrow (Sat 14th) sees the return of "ClubNation" & also the return of Lee Harris, who will be performing a specially extended five hour set very much in the vein of his similarly named House Nation podcasts, which means you can expect plenty of uplifting, chunky & euphoric house hits, Lo-Profile swinging open its doors on both nights at 10.30 p.m. & running through until 4 a.m., entry & other details available by going to http://loprofile.com.
Onto Vauxhall now and there is lots going in within The Orange Group (or is that Orange Nation?!?) who grab our Best Bites slot this weekend, not least the breaking news that Onyx has been put out to grass for a while, so leaving a pretty vacant gap in the usually hectic schedule, although very much paving the way for A;M to possibly extend its opening hours, although more news on that to follow. However, one club that is definitely extending its hours this weekend & then henceforth, is Beyond, the new starting time of 3 a.m. every week looking like a pretty popular move, although only time will tell how successful a move this will actually be, our hope however, is that it consigns the all too often "Midnight" format to just the occasional & special scheduling. Add to the a mini shake up within the team of resident D.J.'s and as of going to press, we are not sure who will be playing come this Sunday morning (15th Apr), but reckon The Sharp Boys, Alan K, Fat Tony, The Oli & Paul Christian will surely be in situ, while Steve Pitron is taking a rest this weekend after his colossal classics set last, which pretty much stole the "XLsior" show. However, one party that we can be confident about when picking the D.J. & other line up, is the "Easter Thank-You" party at Fire tomorrow night (Sat 14th), as it's all about award winners, D.J.'s The Sharp Boys, Junior Moura & (naturally) Steve Pitron, stepping into the spotlight, while there will be plenty of other guests, including D'Johnny & Paulo Moreno, to fill out the two rooms of fun, similarly award winning hosts Chrissy Darling & Elektra Paris sharing the duty plaudits, further details on this event out at http://facebook.com/events/356254587759955/, including opening times, door prices & guest list opportunities. But with Later & Orange completing the partying picture, it is another hectic weekend of activity in both Fire & Area, whiles the new jewel in the Orange Nation crown, Covert, prepares for its launch party in three weeks, more on that coming up in a special feature.
So to the third in our trio of top of the tree choices, this time seeing us head across to Shoreditch & to East Bloc, the hip & happening hangout on City Road, masterminded by the one & only Wayne Shires, he, the venue & all the brands its sports very much flying the alternative clubbing scene flag, a stable of showings including Gutterslut, SOS, The Men Who Fell 2 Earth, Paradise 45 & Dish, while regular Friday nighter, Super Electro Party Machine, which once again opens its doors tonight (Fri 13th Apr) from 10 p.m., is a great way to get your weekend going. However, our main focus of attention goes to Saturday night (14th Apr), when our very own Shoreditch son, Kris Di Angelis, rolls out a further instalment in the already soaring success story that is his new venture, "War", a club that has pretty much be born out of the sad passing of "Meat", the former club collaboration between Kris & Tom Stephan. And while Tom's new prolific project, "Dish", was in the Shoreditch spotlight last weekend, it's the turn of "War " this, Kris being joined in the "Warzone" main room by Severino & Joshyouare, while over in the "Battlefield" second space, its Jodie Harsh, Munroe Bergdorf & Kingsley shooting off the sounds. Plus with hosts JJ Clark, Jonathan Beastley, Ben Kaye & Alex Palemo, not only doesn't it have a pseudo Room Service feel about it, be you can bet your bottom dollar that of cream of the east end girl to west end boy scene set will be out to wage wonderful clubbing & socialising war tomorrow night, doors at East Bloc (217 City Rd, nearest tube Old St.)  opening at 10.30 p.m. & the club running through to a planned 6 a.m. finish, entry £8 before midnight & then £12 thereafter (so get there early folks), while free entry passes will be up for grabs at the "War" pre-party at Circa in Soho tonight (Fri 13th), more details on that coming up in our Short Shouts, while further info on "war" itself can be found by going to http://facebook.com/events/404481699576795/.
Now just before we go we thought, having not yet fully paid our respects to the sad loss to the scene of the gentle giant of the club promotions game, Steve Elliot, we would mention our upcoming tribute, "Salvation Star Much Missed", to the man behind the international success of this brilliant brand in recent years, we looking back on his clubbing career & including fellow friend's own tributes to this untimely & premature passing. Plus, with news this week that iconic drag queen Adrella has also been taken from us, our thoughts are very much with the families of both of these much treasured & already much missed pillars of the scene and we send our sincere wishes during what can only be the most difficult time for those that were close & dear to both Steve & Peter.
Right, that's just about it for this Best Bites newsletter, but watch out for our Short Shouts part, "Shimmering Scene Seven", while if you happen to lay your hat on one of our three here, then it is likely you may catch us too, "Play>Time" definitely on our schedule, while we are currently clearing the decks for either Fire or "War", so keep your eyes peeled at http://twitter.com/discomatt for the live action as it happens & as we Go There! Be There!. (DISCO MATT)
Finding ourselves on the cusp of another wonderful weekend within the capital's clubland circuit, with the New Year now started in earnest, it seems that brilliant brands & birthday's will be taking centre stage across Soho, Vauxhall & Shoreditch, Disco Matt picking out his choices of where to be best seen on the scene.
 Well, it seemed that a sizable section of our scene were suffering from a post NY dip in their dancing dervishes last weekend as it felt more luke warmish out there compared with the usual heavenly hot happening feeling, we ourselves only managing a nibble size visit to Beyond. But with reports that A:M was amazing, Lo-Profile pumping & East Bloc brimming, there were pockets of the scene that bucked the trend. But as we take a peek into our forthcoming weekend looking glass, we have a couple of real gems along with two usual suspects to include in our Best Bite choices of where to be & be seen on the scene.
So let's get to it and mosey on down to Soho first and to our usual yet spectacular Best Bite suspects, as in Profile & Lo-Profile we have two of our favourite hip & happening hangouts, not least for the warm welcome we receive from the second we step into their doors, both venues really pressing all our buttons when it comes to music, dance & socialising (oh & drinking on the rare occasion we indulge in a tipple), Profile impressing just as much now as it did when it opened just under three years ago. And with regular D.J. line-ups each weekend, it isn't just food & drink they have become famed for, although with a menu that ranges from light bar snacks to full bistro brilliances, Profile is a perfect place for that lunchtime stop off, an early evening refuel or even dinner with friends. But is more the music we are talking here and tonight (Fri 13th Jan) sees the o of its favourite residents hit the decks, Zach Burns selecting plenty of uplifting disco drenched dreams to get you in playful mood, this cute yet commandingly capable chap sure to fill your Friday with towering tunes, while on Saturday, the exceptional Nick Evans sorts out the sounds to get you in magnificent mood for the audacious action ahead. Plus with the venue's superb Sunday roast rounding off their weekend and the venue open daily until 11.30 p.m., catch details of this & all the above by going to http://profilesoho.com.
Let's head downstairs now and to Lo-Profile, bigger brother of its bar bedfellow and one that continues to pull in the punters while others struggle, both Friday's & Saturday's proving particularly popular, although with home-grown brand "Society" having found its Thursday feet & Monday's "Beartrap" also filling a niche, it is the porn-tastic & pumping "Playtime" that is this Wardour St. wonder's biggest mover & shaker on the scene, host Jay Roberts bringing a stunning selection of stars to beef up the podium proceedings, while his back room boudoir also gives the lucky few chosen ones a private audience with the weekly porn stars. Then you add in magnificent music and it is no wonder why Lo-Profile has stolen a significant amount of steps on its close completion as well as draining dancers from Vauxhall. So tonight (Fri 13th Jan) should be no different as Mr Roberts drafts in Bruno Knight & Gio Cruz, both handsomely hunky & perfectly playful too, while playing the magnificent music is superstar Steve Pitron, who takes up the reigns from the 10 p.m. start, while the cheeky Steven Artis carries you from 1 till 4 a.m., entry a mere £3 before midnight or £8 thereafter. Then on Saturday, it's the turn of Crash residents of old but still cutting a significant stride on the scene now, Brent Nicholls & Jamie Head to swing you into Sunday spinning to scores of superb sounds, Mr Head in a purple patch at the moment and still smarting from a trip to the mecca of tech hours & techno, Berghain in Berlin although will be tempering his tunes to fit the Lo-Profile occasion, no doubt begging you to do it all again with him at Later the following day, more info on Lo-Profile, its offers, prices & running times out at http://loprofile.com.
Moving down to Vauxhall and the first of our gems which finds its own individual feet after a sequence of collaborations & parties at a handful of host venues, Deviate sets it stool at Factory this Saturday (14th Jan) in what will hopefully mark its season of solo spectacles in the heart of a venue that started the whole clubbing movement in this part of the capital. So, having headlined at Heaven, barnstormed Barcode & an alliance with Area, promoter Francesco Pagano is keen to deliver a further new dimension to his loyal Deviate disciples as well as broadening the appeal of the club as a standalone entity. Yet, having joined forces with amazing afterhours Beyond on three occasions during 2011, that marriage of musical minds along with other developments in the Vauxhall scene, has resulted in Deviate benefitting from the infrastructure & support from The Orange Group, who now manage Factory as a venue. So that's the backdrop but what about this event? Well, the team behind this dancing deviation have told us, "…we are thrilled landing back in London with our extravaganza with the ultimate electrifying lurid party concept…" adding of their parties, "…on every occasion the Deviate team delivered a new dimension of clubbing but now we have found a perfect location for our solo spectaculars…" also being proud to state that "…we take music and hedonism very seriously when putting on a party. So we are bringing together some of the freshest talent around as we concentrate not only on the DJs, but also on bringing cutting edge visual art and performance artists to create the craziest party around…".
So we couldn't have said it any better really, the reputation of Deviate as a club that breaks from the norm, mentions of banana bending & thrilling theatre all intermixed with hedonistic house music and you have one of the most diversely dynamic dance delectations that is a resounding representation of the superb diversity of a scene that is London. And that diverse Deviate package packs a punch in terms of talent, starting with the D.J. team headed up by Pagano who needs no real introduction, although having made it huge in The US during 2011, he is unquestionably one of the biggest names on the capitals clubbing circuit, so we are honoured to be in his presence, yet our Italian Stallion is humble enough to have deviated from his own usual norm in compiling a podcast (can we use that word?!) to mark Deviate's new direction & one you can grab now at http://soundcloud.com/pagano/deviate-with-dj-pagano. But the team on Saturday also includes fellow Italian Marco Gee in the main room, along with Nic Fischer (of Gutterslut fame), while over in the second space, the iconic Tasty Tim joins Deviate regulars Massimo Paramour & new to the team Borja Pena, the accent here more on indie dance, nu-disco & electronic, rather than the tech come techno & deep house that marks the main room music. The add in extrovert entertainer Jonny Woo with his Prick Image lot bringing "…muscles, drag queens and dominatrix…" to the party, along with hip host Antonio Gigoltta, and you have Deviate petty much summed up, Factory's doors opening at 11 p.m. & running through to a planned 7 a.m. finish, advance tickets at just £8 available via http://orangenation.clubtickets.com/gb/2012-01/14/deviate-factory, while entry on the door will be an option too, the party continuing at Beyond, the Deviate team arranging discount passes which will be available during their event, more details out at http://deviateuk.com, leaving the team to simply say "…get ready for a theatrically engineered hot mess with sexy music as we  DEVIATE from the norm..". 
Now to Shoreditch & our second gem of the weekend and a new clubbing concept to boot, as "Dish" steps out of the significant shadow left by the marvellous "Meat", one of our favourite clubs of 2011 (more on that is our club review of the year coming up) and marked the first joint clubbing venture between the D.J./Producer combo that was Tom Stephan & Kris Di Angelis. But while 2012 marks both setting sail with separate parties, Kris heading off with his "Blue Jeans" & "Delirium" (there are more from our own Shoreditch son), Tom has opted to stick with Meat's venue host, East Bloc, the hip & happening hangout on City Rd that also links Mr Stephan with his promoter pal from the days of Crash, Wayne Shires. But while the winning Meat formula will clearly be running through this new party, what is delicately different is Tom's promoting partner, Borja Pena stepping into Kris's shoes and lining up in the "Main Course" room with Mr Stephan where tech house is the dish of the day, while in the "Side Course" space, you can pick through the musical menu that will include old skool house and r&b served up by Scott Webster & El Moreno. Then, with Tom's usual twist on proceedings including sexy video's saucy cubby holes & gyrating go-go's, added to which a tasty trio of host treats in the form of Kane Luke, Melvin & La Pequeña will make sure the service is of sliver quality, in addition to exceptional value drinks prices & a mere £5 entry all night, that being at East Bloc (217 City Rd, Shoreditch, nearest tube Old St.), doors opening at 10.30 p.m. & the club running through till 6 a.m., more details available on their event page at http://facebook.com/events/101830959937889/.
Well, that's just about it for our Best Bite choices for this second weekend in January, but just time to re-introduce our mention for tip top clubbing website SeenQueen, who are in the depths of their "Your Disco Needs You" poll for 2011, more details on this & their own (as they call them) gAylist choices of where to be & be seen on the scene, along with much more, up at http://seenqueen.com. Plus, we just want to squeeze in a mention for the adorable Andrea (yaaaah!!) who rolls out her now annual "Andrea Fest" (well it started already actually), Deviate, Beyond & Later on the roster, very much marrying our own, although we add Lo-Profile tonight with Steve Pitron erupting our emotions with (no doubt) "track 3" amongst many others. So, with the traumas of the last 36 hours behind us, we will be stepping out in style, so if you see us come say hi, but whatever you do & wherever it finds you this weekend, please be safe, but remember that, to be seen on the scene you need to "Go There! Be There!" (DISCO MATT)

Having taken our tender steps onto the capital's clubbing circuit some twenty or so years ago, we can count ourselves pretty lucky to have encountered some truly tremendous times in the hands of some of the biggest & best brands along the way, from Action to DTPM, Factor 25 to FIST, Matinee to SuperMartXe & Lovechild to Later, all making their significant mark in our memories. And whilst the list could go on & on, these are our handful of happenings that have reached the elite in our echelons and rank as those that have influenced our clubbing lives more than many others, but if we were to pin down the brands that have made the biggest impression on us, it comes down to just three, the first being Trade, no list ever being complete without the mother of all clubs which completely dominated the scene in the 90's and still continues to this day, although admittedly a minnow of its former spectacular self. Then there is Crash, a club that heralded the underground movement & put Vauxhall onto the London clubbing map and a club that, without doubt, had as much, if not more of an influence on our lives than Trade, as it was at Crash that we formed some of our greatest & longest lasting friendships, many that survive & thrive to this very day.
But what the colossus that was Crash did more than anything else is create a Sunday morning afterhours phenomenon that has excelled all others before it, rising to the top of our clubbing pile and in so doing, beating off all potential rivals for our fondest affection. And it couldn't be any other club than Beyond, a club and brand that started as a simple follow on for Crash customers, but has become a worldwide symbol for everything that is ecstatic & exemplary of club eventing, a brand that has dominated the capitals clubbing circuit for a huge slice of its existence, toppling Trade from its proud pedestal to become THE place to be & be seen clubbing on a Sunday morning. So, as Beyond prepares to mark ten years since making its first impression on the London clubbing landscape, we couldn't let the moment pass without taking you back through some of its historical highlights, sharing some of the magical music & the prolific people that the club have served up to the scene and then delving into the detail of how the current team at the clubs helm plan to mark this landmark in its lifetime.
So where & when did the brilliance that is Beyond today begin?, well we have to look back to 2nd June 2001 when the concept for an Sunday morning afterhours was born out of what was initially an after party for the Purple In the Park, host venue, The Coliseum proving to be the clubs home for the first part of its heavenly history, although its first faltering year in operation saw Beyond play second fiddle to the Saturday superstars on the scene, Crash, Action & Heaven still proving the hard hitters, while Trade's pedestal was proving a tough cookie to topple. But enter stage left the man behind other Vauxhall afterhours brands A: M & Orange, one Craig Elder and Beyond was to take on a whole new identity and impact, the joining of forces with Crash's Wayne Shires proving a explosive collaborative cocktail and one that would see the brand propelled into the eyes of the clubbing community virtually instantaneously, becoming the talk of town & very much walking the walk, seeing off the Sunday morning competition that was Trade.
With Beyond under a full head of steam, the Colosseum days were to prove very special for us, not least that many of the resident D.J.'s from Crash would play out at this awesome afterhours too, the likes of Alan X, David Jiminez, Severino & Steve Pitron performing virtually week in week out, well when Beyond was given away to Crash's own "Afterhours" party, while the iconic VIP room was where one of the best known &  longest running D.J. back-to-back partnerships were formed, Brent Nicholls & Paul Heron playing line astern, this leading on to a playing partnership that saw soiree splendour Industri rule the Thursday waves for much of its own time in clubland. But with so many stars of the scene clamouring to play the Beyond decks and the now weekly parties very much roadblock affairs, what was originally a two room party was stretched to three a "Therapy" & then an "Elemental" themed space introducing the likes of Malcolm Duffy, Paul Martin & Red and Blue, while Beyond's main room sported stars The Sharp Boys, Hugh Stevenson & Stevie B, mixing it up with the clubs originals, Mr Pitron still part & parcel of the clubs prolific package. And appropriately, Steve has just this month released a podcast from those halcyon days of Beyond, from April 2004 in fact, the magical musical memoires that he made back then coming flooding back before our eyes & ears and one that is an absolute must for all Beyond & Pitron fans as well as those who fancy a terrific trip down memory lane, one which you can grab by going to http://stevepitronsessions.podomatic.com/.
But while 2006 dawned with one of the clubs biggest parties to date, the early part of the year seeing the offer extend to a new concept called "B4 Beyond", the might of Crash & Orange uniting in what was seen as the continuing & harmonious collaboration between the two camps. However, under the surface the lines were being drawn in the sand, as new club venue Area was in the cusp of being launched, the team behind Crash throwing their might & money behind this amazing arrival, one which was to see Beyond hit the back burner midway through the year. And with Beyond out of play, this new custom built venue stepped into the spotlight, its own afterhours outing "Ultra" becoming the darling of the Sunday morning clubbing market, attracting Crash stars that included Mikey D, Jamie Head, Brent Nicholls and, naturally, Steve Pitron among a host of others that had played Beyond in the Coliseum days and who play for the brand to this day, Paul Heron included in that elite list. But this part of the Beyond picture would never be complete without a massive mention for one other, as the hostess with the mostest, now known as Hrh Minty, but then simply as Minty, was the fabulous face of Beyond from its early days at Coliseum, very much providing continuity within the calamity that had seen our favourite afterhours disappear off our dance diary.
So, to pick up the Beyond story we need to fast forward some two years, to 2nd May 2008 to be exact, this marking the return of the brand to its regular slot in our schedule, an attempt to re-launch the club earlier in the year at the inauspicious Sunday evening timing falling on immediate rocky ground. But with Area now in the hands of Craig Elder & his Orange Group, Beyond was to see its most successful years ahead, not only cementing itself as the best afterhours outing on the clubbing circuit, but establishing itself as the leading brand in the eyes of the clubbing community & press, scooping award after award, not least the prestigious SeenQueen club poll, one of the most respected & robust opinion orators around. That said, the awards came on the back on the brilliance of the brand, not least with the dynamic D.J.'s that Beyond employed, Steve Pitron very much in the mix, while his old Crash pals Mikey D & Jamie Head became regular features too, the likes of Alan K, Hifi Sean, D'Johnny, Paul Christian & The Oli the new blood, joining the Colosseum company of David Jiminez, Gonzalo Rivas & The Sharp Boys. And many of these stars have laid down recordings in reverence of Beyond, Alan's compilations considerable, Sean's mixes magical, D'Johnny's devotions delightful & Oli's podcasts pumping, all worth checking out at http://djalank.podomatic.com, http://hifiseandj.podomatic.com/, http://djohnny.podomatic.com/ & http://theoli.podomatic.com/.
However, the story of Beyond is a continuing one, as in Area we have seen some of the best times in our own clubbing history, not one month going by without it playing a pulsating part in our prancing, so much so we find it hard to choose one or two from the wealth of wonderful weeks when the club hit our heavenly high notes, although "Tokyo" last October & "Erotica" this February rank as two huge highlights along with scores of others that received our rapturous reviewing, the brand benefitting from unparralled exposure through those reviews as well as countless recommends & reports posts, while we have sometimes courted controversy with revealing our displeasure to certain changes or directions the club has taken in recent times. That said, as amazing those halcyon days of Colosseum were, 2011 has been a purple patch Beyond year for us, our relationship with the club & many of its players reaching dizzy heights, our now much publicised "rollercoaster emotional rides & tearful floods of joy" never more apparent than when found on "our spot" in Area for Beyond, indeed that very phrase, our spot, a product of the club and one that is equally associated to us as we do it to Beyond. As for this brand, well 2011 has seen it stretch its international legs, touching the likes of Amsterdam, Ibiza, Mykonos, Paris, & Sao Paulo, while beaming out its beats on Gaydar Radio has reached audiences as far as Australia & South Africa, making Beyond as a brand a genuine global giant. Add to that it's various incarnations, "Belief", "Back 2″, "Midnight" & "Super Size" and if the club were a human being, it would most definitely be a man for all seasons.
Yet as the truly brilliant Beyond marks a decade since first opening its doors to droves of dancers, the club finds its very existence at threat, microscopic attention by the regulatory authorities in the last few weeks marring its magnificence, while rumours are rife of licensing & other issues that could affect its future or its home. That said, given the clubs standing on the scene together with its ability to survive & thrive where others have fallen by the wayside, come this Sunday morning (25th Sept), Beyond will be brimming with dance devotees both old & new, all coming together to celebrate what is truly one of the best clubs on the planet. And the team will be turning out the best that Beyond has to offer, with a never seen before bounty of back-to-back sets by its all-star residents, some also old while others are new, the marriage of multi mixing maestro Alan K with young gun Jamie Hammond looking electric, the playing partnerships between Hifi Sean & Severino, D'Johnny & David Jiminez set to be superb showstoppers, while the prolific pairing of Steve Pitron & Mikey D had to be a given and will surely prove stand-out among the ample helpings of this 10th birthday celebration cake topping icing impressions.
But with the devil in the detail, there is much more that this Beyond birthday bash looks like bring, not least as a further supporting cast of D.J. residents include Jamie Head, The Sharp Boys, Gonzalo Rivas, Fat Tony, The Oli & Jonny M, while we are told Elektra Paris will be heading up a team of ten dancers dressed distinctively to celebrate this landmark moment in the clubs history, the team telling us to expect "… everything from cutting edge LED gogos, to stunning couture sailors, amazonian warriors, erotic leather-bound studs, circus freaks and wonderland characters…" all on a custom built stage setting created exclusively for this event. Then add in the truly amazing Area lighting, effects, pyrotechnics & lasers, for which Beyond has become a byword and you have one colossal celebration of afterhours audacity at its brilliant best, all this hosted by the fantabulous Naomi Ruiz & Mauricio Ortiz, meaning that this is sure to be a roadblock event, thereby hinting that advance tickets are a must to avoid disappointment, these priced at a mere £10 and available online at http://clubtickets.com as well as at the usual Soho outlets. However, chancing it on the door will cost you £12 with an ad or flyer, while without will stretch you to a score (that's £20 folks), those doors opening at 6 a.m. and the club running through to a planned 1 a.m.
Now that's the detail, but how do we sum up this whirlwind look back at Beyond's history & its landmark landing? Well, despite the pedantic part of us questioning its right to celebrate a 10th birthday, given that two year break in its history, it is in true fact a full (and slightly more) ten years since Beyond braved the capitals clubbing scene and during that time it has brought to us the best in music, the best in D.J.'s, the best in dancing, the best in atmosphere, the best in effects & the best in events. So, that simple word best speaks for Beyond in a nutshell and given its amazing ascendency, those halcyon days at Colosseum, the phoenix rise from the ashes at Area, the unrepentant wave crest ride it finds itself on today & everything in-between, we cannot take anything away from this colossus of a club's moment of glory, so will hopefully be right in the thick of the action, nibble size tweeting, spinning on our spot, in a Pitron pool of tearful emotion, but moreover helping Beyond & all its prolific players celebrate this awesome afterhours anniversary. (DISCO MATT)
Casting our minds back some ten to fifteen years and looking at a London clubbing landscape that was littered with special events both indoors & out, the likes of Famous Five & Universe attracting huge numbers on Bank Holidays and this marking a time when outdoor Pride parties were never more prolific, happy happenings at a host of alfresco areas, Clapham Common, Victoria, Kennington & Finsbury parks, all significant, while memorable Brockwell Park meets particularly stuck in the mind, a string of outstanding outings culminating there with Purple In The Park in 2002. But by this time, the penchant for a park party had pretty much fallen out of favour, not least due to a succession of soaking sessions, London's premier Pride party in Hyde Park proving a wash-out two years in a row, even Purple suffering a similar fate. Yet, despite the weather, there is nothing quite like a park party and while Brighton seems to have survived & indeed thrived, whereas London has lost out, but when news hit our desks of the re-launch of an exceptional alfresco event that well & truly rocked Brockwell Park and was best of the bunch, we simply had to give it the support it deserved.
Summer Rites was, without doubt, the best alfresco outing we have attended, the launch event some twelve years ago making its mark pretty much instantaneously with the most prolific party we can remember, an outing that saw us accompanied by our then close companion, Chris Reardon, when the likes of Ultra Nate were headlining the massive main stage, while a pack of peripheral parties within this massive festival very much hit the mark, not least Monday morning madcap meet, Warriors, which took over the lido, creating a water park style splash that we will never forget. But like so many of it park party bedfellows, Summer Rites became a victim of that tide change we talked about, outdoors being swapped for in, leaving the whole creative concept pretty much dead in the water. However, with the vision of its original organisers spotting a new gap in the festival market, no doubt spurned by the success of Lovebox, along with the marriage of minds of brands like Salvation, XXL & Popstarz, combined with the more cutting edge east end events, Gutterslut & meat, very much gave this boutique festival credence to the clubbing circuit crowd, meaning, on paper at least, there was nothing stopping Summer Rites "Remixed" from being a resounding success. The question was, how did it actually fare? And what were the real highlights for us?
Having succumbed to a totally unplanned trip to Beyond on the Sunday morning, initially agreeing to leave after just one hour, it was The Oli that stalled our departure, the rest pretty much history, although we blame a storming set my Mikey D that really did the damage., So, with plans to arrive at Summer Rites bright & early laid to waste, it was Lovechild's promoter Alex Erfan that came to our rescue a very welcome chauffeur style ride to Shoreditch Park by Queer Nation's (and many more) Patrick Lilley, transporting us from SW4 to E1 in an instant, although a little later than planned, we hitting the ground running (well nearly the ground actually) a just after 5 p.m.. However, with the distinctly rain filled clouds having cleared by this time, we couldn't have timed our arrival more perfectly, the sun suddenly shining and a glorious greeting on the gate by the ever smiling Stewart, just the started we needed, particularly in our fragile state, but then there was no one else to blame for our Beyond bawdiness that had caused us to feel this way, a pick me up very much in order, although right from the off we seemed to be left a bit begging.
Finding out feet momentarily, we gazed upon this Shoreditch Park splendour of a Summer Rites "Remixed" alfresco audacity, the mix of tents & stages pitched perfectly, although some were finding favour over others, our first stop being the Bootylicious bus, which had a faithful following of its usual mix of colours & creeds, Messrs Lilley & Forbes in their element. Then it was a case of slowly (thank heavens!) making our way around the park, our next port of call the XXL tent, Christian M in charge of the tunes, a brief stop soon finding us across that the main stage, in the hands of international clubbing brand Salvation, Elliot J Brown taking centre stage with a myriad of magical music mixes that had us on a monetary upsurge of energy, the considerable crowd also lapping up his dance delectations with real gusto. But we were keen to spot out the East Bloc tent, not least as both awesome alternatives, Gutterslut & Meat were sowing their hands, the likes of Per Q.X. & Tom Stephan masterminding the music. And, we weren't to be disappointed, as not only was the atmosphere amazing inside, but it was packed with familiar faces, Ross Paterson & pal, fresh from their Madrid Pride exploits, as well as the Brazilian bunch including Sophie & Giuseppe, all throwing themselves into the Gutterslut slice of this alfresco antics afternoon.
However, our tour of the park was not yet over, with the VIP area still to investigate, but not before circling the park to take in the Popstarz tent, although being caught in our tracks by fab photographer Chris Jepson who instantly snapped us together with our "mature boy band" partners before heading off to click his camera at more unsuspecting targets. With the Popstarz tent pretty empty, save for a handful of pop pickers, Max Sanna included, we waved farewell to both Patrick & Alex had had seen what they wanted to see, the VIP area our next port of call and that much needed "pick me up" that our Beyond bedraggled body had been crying out for. Mind you, with the scene glitterati floating around, The QX top brass, the Boyz boys, a smattering of D.J.'s & other scene faces, we soon fell into captivating conversation with Tony Tansley who seemed grateful he was the right side of the organisational side of the fence, having been part of the original Summer Rites team, but now enjoying this "Remixed" festival as a patron. But it was then the amiable Antoine 909 who engaged us fully, we talking D.J.'ing, pride partying, festivals & all sorts of other topics, we realising just what a tremendous guy & talent he is and one that the London scene sorely misses (a comeback pleaaase!!).
With our VIP socialising over and the evening sunshine peeping through, we were main stage bound, the lion's share of the remaining festival frolickers glued to a spectacular set by our very own foxy lady, Miswhite, who was clearly revelling in her big stage appearance, further familiar faces within the crowd, including Phil Marriott & Russell, both camera clicking, a quick pop backstage seeing a chance meet with the adorable Paul Vlad who was in fine fettle. However, we were waiting for prolific P.A. Peyton to hit the stage, so back front we went finding more captivating company, this time in the form of vivacious vocalist Lizzie France, who like us, was praying for a prolific Peyton performance. And we weren't to be disappointed, as he pretty much stole the Summer Rites "remixed" show, with a clutch of towering tunes including "Trapped" leaving us once again breathless in admiration of his scintillating stage showing & powerful presence. So with our Shoreditch park festival box well & truly ticked, we pointed out now flagging body towards the exit & a saunter home to reflect on one of the best gay outdoor gatherings in a long while.
So what was our verdict on this return of Summer Rites? Well, there was absolutely no doubt that it had all the right ingredients that make for a successful park outing and we were particularly impressed with the marvellous mix of club tent & entertainment offerings, bringing in all colourful corners of this superb scene that we are so lucky to be involved in. And, while the park was never packed, the turnout was impressive enough, although we suspect that the entry price may have been a distraction for some, while the weather was always going to play its part, that fateful British summer not letting us down, with a shower & sunshine parade that was probably a deterrent for others. Yet, with the choice of clubs represented balanced well, the inclusion of the mandatory fare rides, market stalls & food stands, along with the all important drinks outlets, Summer Rites had it all, was a park party pitched perfectly and ended up be a very enjoyable excursion, so well worth the trip across town. Highlights have to have been Peyton's prolific performance & that awesome atmosphere in the East Bloc tent, while the amiable Antoine made our day pretty much complete, meaning that we sincerely hope Summer Rites & all its terrific trappings will be back, bigger & even better next year as it certainly gets our vote. (DISCO MATT)