Continuing the Tuesday trend of casting both his picks & recommends net in an international direction, Disco Matt plumps for the wonder of WE, who head home to Madrid this coming Monday (30th April), their "Fast Food" event making it to DM's pick of the day, the dinky detail on this dancing dinner delight a banner selection away opposite or an image click below, while DM delves a little deeper with his own devotion beneath.
Having very much taken the clubbing world by storm when it launched just under 18 months ago, WE Party has captured the imagination of clubbers across both the near & far reaches of the globe, its "Party On Tour" programme seeing it land across the America's, right across Europe, into the Middle East, a whole host of themed party's playing out to thousands at a veritable feast of venues & locations, London very much part of that picture, the capital running a very close second to Madrid in terms of both popularity & prolification. Indeed London has premiered a handful of the brands themes, most notably "Candy", "Safari" & "Pharaoh", while just three weeks ago, The Coronet saw a capacity crowd go all "Fluro" on us, perhaps one of the most brightly coloured neon-tastic events yet.  However, come Monday, it seems that Madrid have once again wrestled the initiative away from London, as "Fast Food" plays out as a theme for the very first time, WE's top cheese Victor Pallas & his team looking like pulling out all the stops for their home crowd, as all three main D.J.'s have been employed to play at what will surely be a club filled to capacity.
So, with the weather here in London looking pretty lousy in the next few days, a D.J. pal having suitably reminded us that a month's load of rain is due to fall in the next five days, it certainly makes us feel like heading for the sun, that along with a grumbling gastro complaint that is making us wonder whether it is our new carb free diet that is the cause & we should rather return to all those so called naughty fast foods that we used to consume. But what is the point to all this we hear you ask, is it just another rambling from Disco Matt?, well maybe, but there is method in our madness, as when you put that "fast food" analogy together with an escape to the sun, you get WE Party Madrid, well that's the theory of course, although we suspect that Zeus may have something to say about the latter. But come Monday (30th April), whether the sun is shining outside or not, we can bet your bottom dollar that there will be plenty of sunshine & spotlight rays honing down on La Riviera in the Spanish capital, as WE "Fast Food" serves up its dancing dinner delight, this intro video giving you a clue as to the fun & frivolity that will surely be rampant at la Riviera on Monday.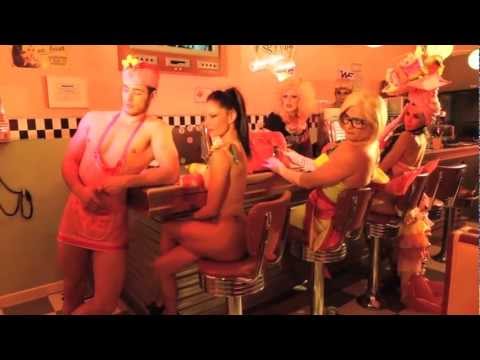 Now, taking a quick look at the three stars, no WE Party in our books is quite the same with Carlos Gallardo being present, this tremendous talent having featured large in the majority of the WE Party tours to London, indeed our experience with him on the stage at "Safari" will go down as one of our most magical memories of this magnificent meet, that on top of his stellar set at Delice Dream last April. And in terms of his music, Carlos manages to blend those characteristic euro style beats with plenty of euphoria & vocal drenched house that, for us, shouts WE from the rooftops, as good an example as any being his mini podcast he produced for WE "Candy" which you can still stream/download via http://wepartylondon.podomatic.com/entry/2011-05-16T06_26_59-07_00. Then, the second entrant in this WE "Fast Food" frolic is co-resident star, Manuel de Diego, who has featured in the small handful of parties here in London that Carlos did not, although has represented the brand right across Europe & elsewhere, his sound very much more main stream euro, tech, tribal & progressive, so setting him aside from Carlos in the vocal stakes, so giving the WE brand of sound an added dimension if but leaning it towards the SMX style, his mini podcast for the "Paparazzi" at http://wepartylondon.podomatic.com/entry/2011-02-23T02_37_53-08_00, giving more than a hint of what to expect come Monday in Madrid. And the final piece in the jigsaw is new(ish) WE resident star Raul Ortiz, a pretty much unknown quantity in DM circles, well apart from having been responsible for sidelining our exceptional experience at WE "Fluro", as we hurriedly ran around The Coronet looking for an adaptor for his D.J.'ing equipment. But with no such UK/European plug problems this time round, his accomplishes in the studio sure to transform onto the dancefloor, a quick visit to his official website at http://djraulortiz.com/ giving you a flavour of the man & his music.
So what of the detail?, well this latest WE wonder, "Fast Food" takes place this coming Monday (30th April) at La Riviera In Madrid, doors opening at 11 p.m. & the vent running through to a planned 6 a.m. finish, the expectation of the biggest & best LED displays & stage settings pitched very high, Victor & his team sure to deliver in each & every department, while the addition of a further D.J. to the line up, in the form of Aldana, details of which you can track via http://dj.beatport.com/aldana, should make this one of the best WE parties in Madrid yet, more info up at http://wepartyontour.com/2012/02/11/we-party-madrid-presenta-we-fast-food-april-30-2012/, while to get hold of a ticket in advance, simply visit http://weparty.clubtickets.com/ & follow the usual steps, which will then se you heading for the sunshine, the heat & the action of this "Fast Food" foray & avoiding the damp squid that is the forecast back here in London. (DISCO MATT)