There was MEAT & now there is DISH this tasty Tom Stephan treat of an event having taken over from the former & about to serve up another sensational shindig across in Shoreditch on Saturday, DM lauding his focus attention in a starts to mains to dessert devotion that will leave you in no doubt that a expedition to East Bloc is definitely on your clubbing cards this weekend.
When we look back through the sands of time that we have been circulating the capitals clubs & events, we have been fortunate to sample & savour the most brilliantly broad spectrum of shindigs, from small scale to super size, from cavernous to colossal & pretty much everything in between. We have partied in state of the art clubs, to run down relics, thrilling theatre venues to worn out warehouses and our audacious activity has seen us trip the clubbing light fanstatic in virtually every part of this captivating city, often traversing & trekking from one end to the other in search of that special soiree. And it has seen us take in full on festivals alongside boutique bashes, multi-roomed raves to single space splendours, while there have also been exceptional era's in our year's of exploits, the Trade at Turnmills days, the Beyond at Colosseum days, even the DTPM at Fabric days, while more recent times have recorded equally exceptional era's most notably Beyond again, this time at Area, Lovechild at Fire & even WE Party at The Coronet.
However, if there is on era that pretty much changed our clubbing pretty much overnight, it was Crash, the place & the people leaving an indelible impression on our mind, body & soul, the underground movement it engendered having continued in one form or another ever since and while it was Vauxhall that started it all, it is now Shoreditch that is showing the way, the man who was at the centre of that Crash clubbing revolution back then, once again spearheading not just a revival of that underground ethos, but a whole new sector of the scene that has grown from an afterthought alternative to considerable contributor to a scene & set of scenesters that now continue to crave for something delightfully different to the same old, same old. So who is the man behind this movement & where are we talking about? Well the man is Wayne Shires & the place is East Bloc, this prolific promoter having spotted an opportunity to, yet again, become part of in a new breed to clubbing that has since seen Shoreditch (& his gaff East Bloc) rise as a major player on the scene.
And bringing some key players along with him, while encouraging others, has reared a healthy set of club brands that are certainly offering a fresh feel to offers filling our clubbing calendar, one such key player being Tom Stephan & his latest club brand incarnation, DISH, the product of the scintillating success that was MEAT,  a clubbing event that heralded this new era that East Bloc has been the centre off & linked up with the likes of Room Service to shake the foundations of some of their Vauxhall counterparts, or at least make them wake up & smell the roses of their complacency. And while MEAT, as popular as it was, may have been laid to rest in what was a relatively short existence, Tom's penchant for promoting a prolific party has not waned and DISH, which was launched back at the beginning of the year, has quickly followed in the footsteps of the former, its recipe of success being that umber underground & edgy feel, intermixed with a marvellous mixture of music genres, in surroundings & a scenery that break the boundaries or normality & head you in to bawdry, decadence & debauchery, harping a little back to those pioneering days of Crash, days that Mr Stephan was very much a part of, along with his promoter pal & close friend Wayne Shires, while this video clip is as good an intro the brand & this upcoming event as any.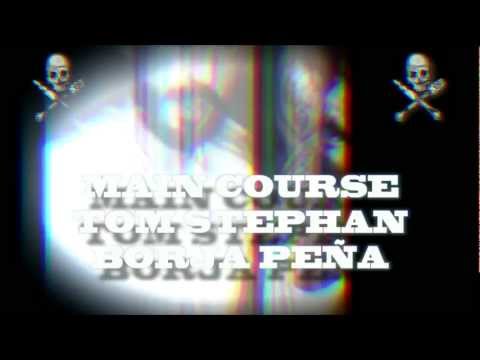 So that's the basis of DISH, but what will it be serving up in its latest & next instalment this coming Saturday? Well the music is pretty central to this clubbing creation, the team managing to use East Bloc's relatively tight knit spaces to extend the offer to not just two, but three rooms of rave, the "main course" space serving up sounds from DISH's main men, Tom Stephan & Borja Peña, Mr Stephan sure to pull out all the underground & tech house stops in a set that we are very much looking forward to, as much as our first attendance to DISH itself. And having been lucky enough to witness some stunning showings over the years, scores of sets at Crash from those brilliant bygone years real highlights, while more recent appearances ago clubs like Revolver, A:M, & even just last Saturday when he pitched a perfect performance at Deelooded, showcase Mr Stephan as still being at the top of his game, while The States is a continuing playground feature of this world renowned D.J./Producer, many of his works having been released under the Superchumbo name & label. However, our fondest recent memory will be that mesmeric music master class at MEAT, we closing our eyes in the first part of his set & finding ourselves back in Crash, while brand new beat dominated the second half, very much vindicating that "top of the game" claim we have made. But don't take our take Tom's towering talents on face value, go select his Souncloud site at http://soundcloud.com/tomstephan, his latest DISH devotion the best way to slide into Saturday.
But in Borja Peña we have a delightful D.J. too, this Spaniard now very much at home here in London & having made a name for himself in The Shoreditch scene, alternative antics across at The Dalston Superstore & The Joiners Arms, club night B(e)ast a huge highlight in his happenings & showings, while he was part & parcel of the MEAT offering, hence why he now stands side by side with Tom at DISH. And with a blend of tech, progressive & electronic house very much Borja's bag, we are very much looking forward to his set showing too, although if like us, you cannot wait for Saturday to savour some of his superb sounds, then a trip to http://soundcloud.com/borja-32 should satisfy your appetite in advance of his set serving at East Bloc. But while Tom & Borja will be your main course music DISH deliverers, the second space will be well worth a look in two, as side DISH'ers Scot Webster & Kartel Brown will be injecting their youth & enthusiasm into the event, that & their electro funk, while we will have more than an eye on the pudding lounge where special guests Julian J Smith & Jonbenet Blonde will be banging out bountiful beats to bop to, both in a delightfully different way & style that will be a sight to behold.
So that's DISH & its music, now all that's left to do is delight on the detail of his magnificent meal of a meet, Saturday (12th May) the day, or is that the night, as host venue East Bloc's doors open for the event at 10.30 p.m., entry a mere £7 before midnight, while it rises to £10 thereafter, this getting you in for the full six/seven hours as the clubs runs through to a planned 6 a.m. finish., the DISH door in the capable hands of fabulous French's Laurent & Benoit, while inside your hosts La Pequeña, Melvin and Kane Luke, will help inject heaps of horse-play as well as serving up suitable tasty treats to keep you on top form from start to finish, that along with Tom's now trademark art installations to keep your eyes on, while resident DISH go-go's  Fer & Claudio will certainly be turning & even popping out an eye or two (well many more we think) in a series of deliciously debaucherous dance delectations to delight.  And with more info up at http://facebook.com/DISHLONDON, it's also worth paying a visit to the clubs Tumblr page at http://dishlondon.tumblr.com/, where you can get to see some of the unedited images for this latest event, along with video & podcast links a-plenty. And, as we forge a path for East Bloc on Saturday, very much in review mode, you can keep up with the live action by following our nibble size tweets at http://twitter.com/discomatt, we sure to be making the most of all three courses of musical mayhem at this place to be & be seen on the scene on Saturday, leaving us to simply say, make sure you "Go There! Be There!" (DISCO MATT)
One Response to "Recommends – "Tasty Tom Treat" – DISH @ East Bloc – Saturday 12th May – Weekend Focus Special"